North Korean supreme leader Kim Jong Un made history Thursday by crossing the most heavily fortified border in the world to meet with South Korean President Moon Jae-in in a historic development that aims to unite two neighbors technically at war for nearly seven decades.
"I am happy to meet you," Moon Jae-in reportedly told Jong Un.
The meeting took place ahead of another highly-anticipated summit, a historic meeting between Kim Jong Un and President Donald Trump, who has used intense sanctions and military pressure in urging North Korea to abandon its nuclear program. North Korea argues the weapons are vital for self-defense, but has hinted at giving them up in exchange for an end to U.S. "hostile policy." Successive administrations in North Korea, South Korea and the U.S. have struggled to find common ground on this issue and Moon told a press briefing why Thursday's meeting would be no easier.
"Reaching an agreement on denuclearization would be fundamentally different in nature from the agreements in the early 1990s and 2000s at a time when the North's nuclear and ICBM capabilities have advanced," Moon told reporters prior to Thursday's meeting, according to the official Yonhap News Agency. "That makes our meeting this time around difficult."
North Korea remained mostly mum until hours before the event when it confirmed that "peace, prosperity and unification issue of the Korean Peninsula will be discussed," according to Yonhap. The report made no mention of denuclearization.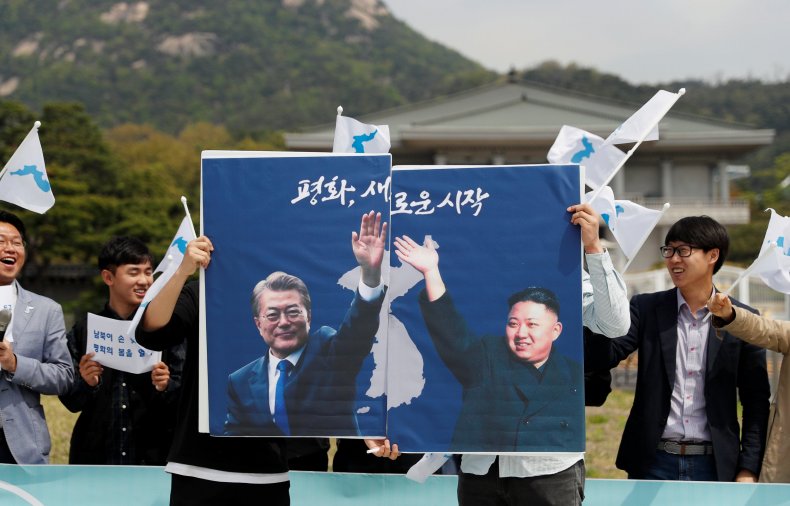 Following his trip to China last month, Thursday's summit would only be the second time Kim Jong Un has met a foreign head of state, as well as the third ever meeting between leaders from the two Koreas. In 2000, Kim Jong Un's late father and former supreme leader Kim Jong Il met with South Korean President Kim Dae-jung. The dialogue produced a joint declaration where they "agreed to solve the question of the country's reunification independently by the concerted efforts of the Korean nation responsible for it," an ideology summed by the phrase Uriminzokkiri, which roughly translates to "by our nation itself."
Despite North Korea's insistence that the reunification process takes place without any outside interference, however, the U.S. has played a leading role in attempts to reach peace and in navigating the nuclear crisis, which escalated when North Korea conducted its first nuclear test in October 2006. A year later, in October 2007, Kim Jong Il and South Korean President Roh Moo-hyun met for a second summit.
Both summits took place in Pyongyang, meaning Kim Jong Un would be the first supreme leader to cross the border and only the second member of his family to do so after he sent his sister, Kim Yo Jong, as part of a high-level delegation to February's Winter Olympic Games in South Korea. The games served as the basis for the current inter-Korean peace talks and Thursday's summit.
South Korea's 2018 Inter-Korean Summit Preparation Committee has meticulously planned out the rare occasion, which took place Friday morning local time, and announced a schedule for the day's events. Following their meeting on the South Korean side of the Panmunjom truce village, Kim Jong Un and Moon were set to inspect the honor guard and greet official delegates from both sides.
Kim Jong Un would then sign the guest book at the Peace House and join Moon to pose for photographs. Then, the committee said "the two leaders will jointly plant a commemorative tree as an expression of their wish for peace and prosperity," They would then begin informal and formal talks, sign an agreement, attend a dinner banquet and hold a farewell celebration.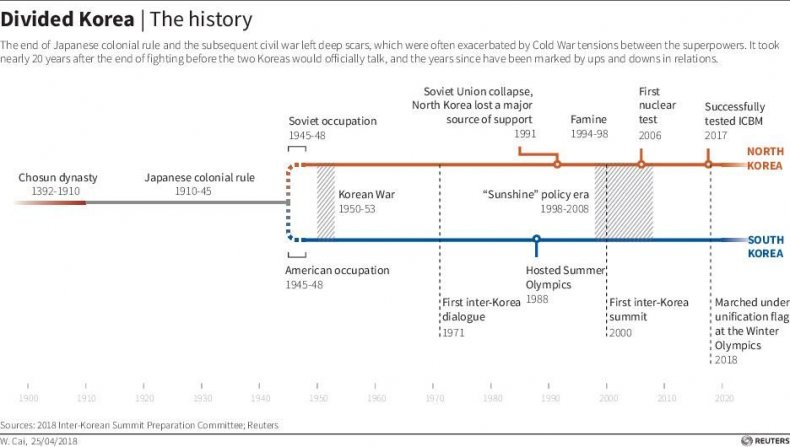 While ceremony was guaranteed, many observers were less sure about what sort of concrete developments the event would produce ahead of Kim Jong Un's meeting with Trump, which is set to take place sometime in May or June, if at all. Despite Trump's "maximum pressure" campaign Kim Jong Un launched his country's first intercontinental ballistic missiles and conducted his country's sixth and most powerful nuclear test, giving him a better bargaining position than ever. Harry Kazianis, director of defense studies at the Center for National Interest, said any agreements between the two had likely been worked out ahead of time.
"What we will see is simple: amazing theatrics, spectacular images that will showcase nicely on social media and lots of promises. But the status-quo will not change—at least not now. And there will be a big promise that most likely will be made: Kim will agree in some format to either talk about giving up his nuclear weapons or declare that he will do so—potentially as part of a press conference," Kazianis told Newsweek.
"This seems most likely as Kim Jong Un is bringing his most important ministers and sister with him to the summit. He would not do this unless something big had been prearranged. And considering summits almost always nowadays have predetermined outcomes that are negotiated weeks in advance, it stands to reason both Seoul and Pyongyang know what the big agreement will be. But no matter what happens with Kim's nuclear weapons pledges, North Korea can promise anything it wants, what matters is if they keep their word," he added.
South Korean newspaper Munhwa Ilbo cited an unnamed senior government official Tuesday as saying the two Koreas were negotiating a peace treaty, which if signed, would officially end the 65-year conflict between them.