Could Lake Mead Be Saved By Sacrificing Lake Powell?
As Lake Mead and Lake Powell water levels continue to decrease, people are growing desperate for a solution.
Federally mandated water cuts have already been established, primarily targeting Arizona and Nevada water usage. The Colorado River Basin states recently proposed their own solutions, with six of the seven states uniting in one proposal and California proposing a different solution.
Other people are proposing outlandish solutions, but some experts argue that the best fix is the most basic: reducing water use.
Suggestions to solve the issue span the spectrum, with some being "imaginative" and "very expensive," according to a blog written by University of California, Davis professor Jay Lund and associate professor Josué Medellin-Azuara.
The blog explained that the imaginative solutions included limiting further growth in Arizona to decrease water usage, desalinating salt water from California and Mexico, building new reservoirs and even moving icebergs to the area.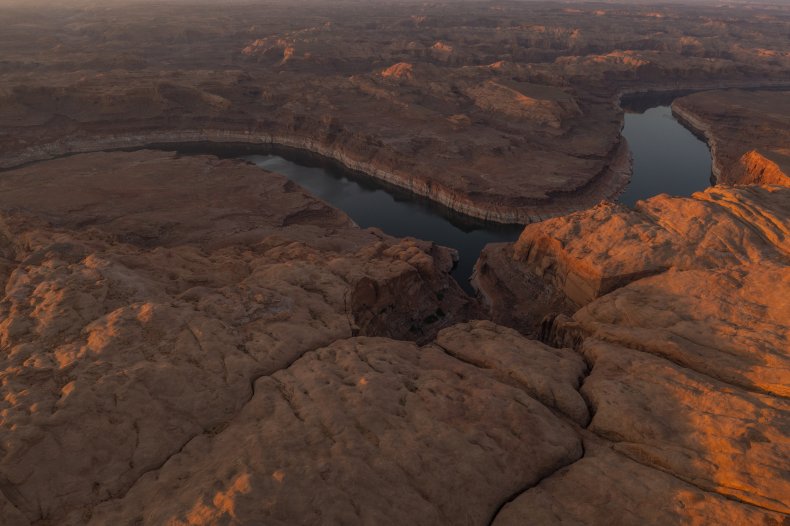 One climate change skeptic had a suggestion of his own.
"A lot of people ask me about Lake Mead. The Lake Mead problem could be resolved by draining Lake Powell and storing the water in Lake Mead," Tony Heller tweeted. "More than 5% of the water in the Colorado River evaporates off the surface of Lake Powell—which never should have been built."
However, Heller received mixed responses on Twitter, with people arguing their own solutions or expressing hope that a torrent of rain and higher-than-average snowpack melt might fix the problem.
In an email, Lund told Newsweek that Heller's proposal is "just moving water from one bucket to another."
"[It] isn't really a solution for the long term," he said. "It might have some merit (and resistance) for the short term, however."
Lund argued in the blog that the best way to preserve water is by reducing use, not bringing in more water from outlandish solutions.
"However, the great majority of Colorado basin water use is for irrigated agriculture, mostly for animal feed, which seems far cheaper to fallow than the cost of most other proposed actions," Lund wrote in the blog.
Lund most often explores the options of desalinating and conservation.
Desalination is a process that has been used around the world to add more water to freshwater lakes, such as the Sea of Galilee in Israel. Israel uses desalination, in which reverse osmosis is used to remove salt from seawater. The newly desalinated water is then used as drinking water or lake replenishment.
In the case of Lake Mead and Lake Powell, desalinating seawater from California or Mexico is possible, albeit extremely expensive. Lund said the desalination process costs between $2,000 and $3,000 per acre foot, which "greatly exceeds the economic value of most water uses."
Another potential solution is conservation of urban water use, but urban use is overshadowed by agricultural water use.
"Nearly all the Colorado River Basin's long-term water shortage will require permanent reductions in irrigated acreage," Lund wrote. "Permanent reductions of 1-2 million acres of irrigated land will be needed in the lower basin states, about 20-30% of irrigated agriculture in the basin."
The states have not yet agreed on a path forward.
Newsweek reached out to the Metropolitan Water District of Southern California and Arizona Department of Water Resources for comment.
Update 2/8/2023, 1:20 p.m. ET: This article was updated with a comment from Jay Lund.