President Joe Biden is getting the opportunity to appoint a justice to the Supreme Court—if members of his own party don't get in the way.
Justice Stephen Breyer has announced he will retire at the end of this term. Breyer, 83, is one of three liberal justices on the nine-person bench.
Breyer has faced calls to retire since Biden was elected last year and Democrats took control of both chambers of Congress. The pressure comes after the party saw former President Donald Trump secure a conservative majority on the court following bitter confirmation battles at the end of Barack Obama's presidency and after Justice Ruth Bader Ginsburg's death.
Biden has pledged to fill a Supreme Court vacancy with a Black woman, which would be a historic first if he follows through on that campaign promise.
Once Biden names a nominee to fill Breyer's seat, a confirmation process will begin in the Senate. The process includes public hearings with the nominee, a committee vote and a full floor vote. Senate Majority Leader Chuck Schumer promised Wednesday that Biden's pick will be confirmed with "all deliberate speed."
Since Republicans changed the filibuster rules on Supreme Court nominees in 2017, a simple majority is all that's needed for confirmation. Democrats will need all 50 members of their caucus on board to get a nominee through the evenly divided chamber, with Vice President Kamala Harris available to break any tie.
All eyes will presumably be on Senators Joe Manchin and Kyrsten Sinema, as the two moderate Democrats have opposed some of Biden's key legislative priorities.
"It's far from clear whether any Republicans will vote for any Biden nominee, in which case of course Biden would need both Manchin and Sinema's votes," Paul Campos, a constitutional law scholar, told Newsweek. He previously wrote an op-ed headlined "Justice Breyer Should Retire Right Now."
Manchin and Sinema have so far been reliable "yes" votes on Biden's judicial appointments. The two did not vote against any of the 42 federal judges nominated by Biden who were confirmed by the Senate last year.
CNN reported that Manchin has often deferred to presidents on Supreme Court nominations, as he backed two of Trump's picks: Neil Gorsuch and Brett Kavanaugh.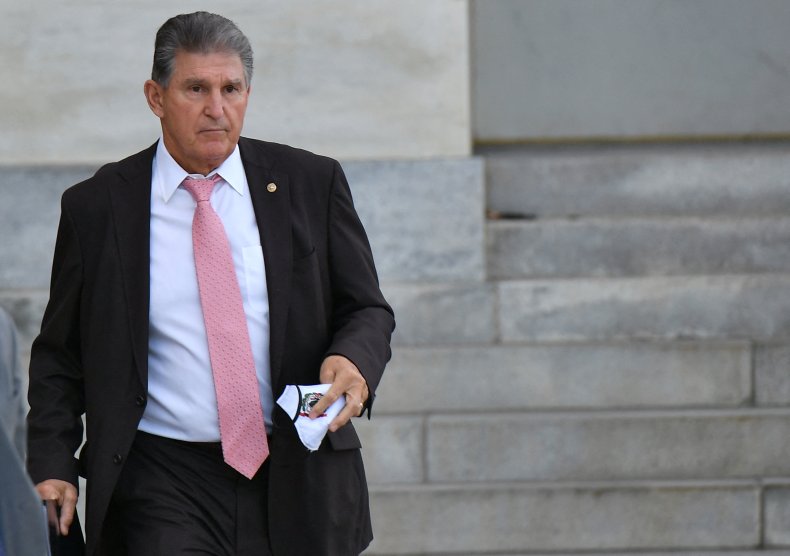 The Primary Sinema Project, which is raising money for an eventual Democratic challenger to the Arizona senator, said that Democrats need to be "united" in supporting a replacement for Breyer.
"We can't afford any obstruction or delay from Sinema," the group said in a statement. "She's already done enough to harm President Biden's first term. We will be watching her actions closely."
Newsweek reached out to Manchin and Sinema for comment but didn't receive a response before publication.
Depending on whom he chooses to nominate, Biden may even get some support from Republicans.
Ketanji Brown Jackson, who is considered a possible candidate on Biden's short list, had three Republican senators support her during her confirmation vote to serve on the U.S. Court of Appeals for the D.C. Circuit: Lindsey Graham, Susan Collins and Lisa Murkowski.
The three senators also voted "yes" to confirm Candace Jackson-Akiwumi to the U.S. Court of Appeals for the 7th Circuit, another potential contender to fill Breyer's seat.
Democratic strategist Michael Starr Hopkins warned that Manchin or Sinema opposing a well-qualified Biden nominee could mean "political hell" for the senators.
"I don't trust Manchin or Sinema one bit," Hopkins told Newsweek. "But I don't think that they're stupid enough to block the first African American woman from being put on the Supreme Court."
After Breyer officially announced on Thursday he was stepping down, Sinema thanked him for his service and offered a glimpse of what she will be looking for in a new justice.
"As with all nominees and as I did during the 2020 Supreme Court nomination, I look forward to fulfilling my constitutional duty to provide advice and consent by thoughtfully examining the next nominee based on three criteria: whether the nominee is professionally qualified, believes in the role of an independent judiciary, and can be trusted to faithfully interpret and uphold the rule of law," Sinema said in a statement.
Manchin said he'd be open to appointing someone more liberal than him.
"It's not too hard to get more liberal than me," the West Virginia Democrat told radio host Hoppy Kercheval. "So it would not bother me, having a person who was sound in their thought process, have been sound in their disbursement of justice and the rule of law, just because of their personal beliefs."
Update 01/27/22, 1:55 p.m. ET: This story was updated with more information and background.