Facing a hostile reception by the leaders of U.S. allies at the G7 summit, President Donald Trump lamented that Russia would not also be part of the event on Friday.
Trump travelled to Canada for a gathering with leaders from seven of the world's biggest economies, already setting up a tense room for himself as he has clashed with them on climate change, a major nuclear energy deal with Iran and most recently trade with U.S. allies. Setting off to Quebec, Canada, Trump lamented that Russia would not be joining Canada, the United Kingdom, France, Italy, Japan and Germany.
"You know, whether you like it or—and it may not be politically correct—but we have a world to run and in the G7, which used to be the G8, they threw Russia out, they should let Russia come back in," he said, according to the BBC.
Read More: Heading to the G7, Trump is doing Putin's work by pushing away allies, says ex-envoy to Moscow
The decision would be another U-turn on a policy that the previous U.S. administration managed to rally allies around, as the G7 countries excluded Russia in 2014, due to Moscow's annexation of Crimea from Ukraine in 2014.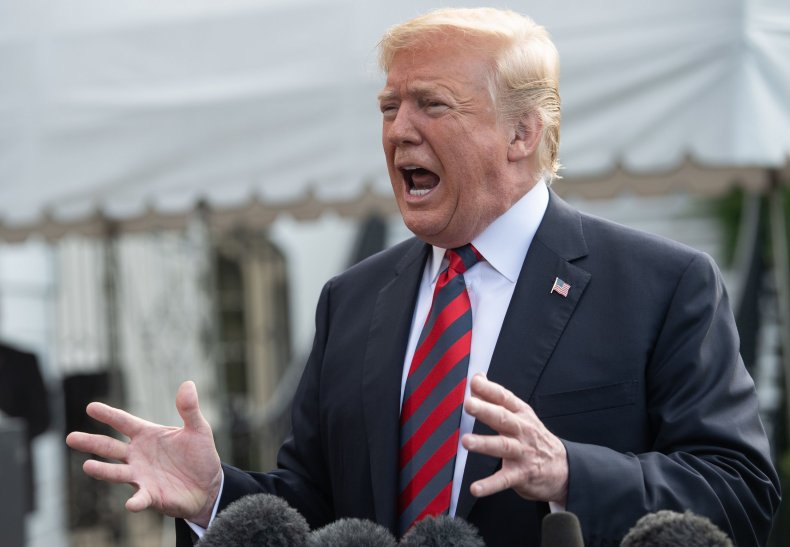 The comments by Trump appeared to serve as a retort to French President Emmanuel Macron on Thursday, when he suggested Trump did not mind "being isolated" but the remaining six nations would pursue unity.
"Trump picks fights with our allies, and bends over backwards to appease Putin. Why?" Michael McFaul, ex-U.S. Ambassador to Russia, wrote on Twitter. "What is the strategy here?"
"Seriously, who is writing his script?" Susan Rice, President Barack Obama's National Security Advisor and ex-U.S. envoy to the United Nations tweeted.
Trump's off-the-cuff statement triggered the Moscow stock market to rally slightly, reducing their drop from earlier in the day according to Interfax and earned support from Italy's new prime minister. Giuseppe Conte, who now leads a controversial and fraught new coalition of Italy's far-right and anti-establishment parties, tweeted his praise of Trump.
"I agree with President Donald Trump," he wrote. "Russia should return to the G8. It is in everyone's interest."
Asked about Trump's words, Russian President Vladimir Putin's spokesman Dmitry Peskov appeared unenthused, telling state news agency Itar-Tass : "We are accentuating other formats."
Prior to Trump's statement, Peskov gave a similar answer to hypothetical questions about Russia returning to the G8, saying that the western-dominated bloc was losing significance. "The relevance of this formation for Russia falls each year," he said. "It is reducing because in the changing political and economic environment the significance and relevance of formats such as the G20, where Russia is actively participating, decidedly increase."