Could Trump Sell Deadly Drones to Dictators? New Policy Makes It Easier to Sell Lethal Weapons Abroad
The Trump administration unveiled a new set of policies Thursday that could allow the U.S. to sell armed drones to foreign countries more easily.
For months, President Donald Trump has been hinting at his intention to make it easier for foreign countries to purchase U.S. weapons, including deadly unmanned aerial vehicles. A new protocol on weapons sales had been stalled as policymakers debated whether to include lethal drones among the items more easily exported. Now, the administration has released a fact sheet stating its intention to export deadly drones. The policy details, however, are classified.
"For me what's noteworthy is that the policy itself is classified. The U.S. is setting a risky precedent about drone use. It sets a tone of a lack of accountability," Rachel Stohl, director of the Conventional Defense Program at the Stimson Center, a policy research center in D.C., told Newsweek.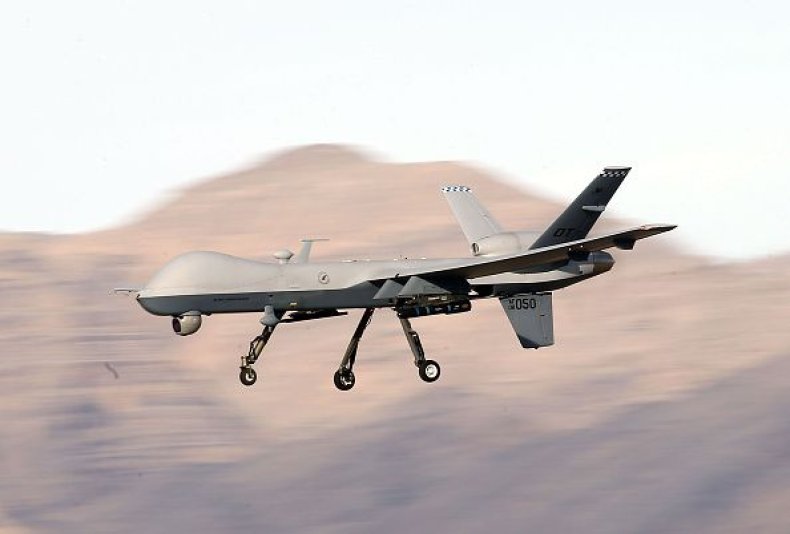 The new policy on drone exports replaces a previous set of policies launched at the beginning of 2015 by the Obama administration, according to the State Department fact sheet. It also allegedly promotes several main administration objectives, including increasing trade opportunities for U.S. companies and preserving the U.S. military advantage.
Also on Thursday, the White House released a new policy to govern the transfer of conventional arms abroad. Mimicking the language in the brief on drones, the new policy pledged to increase trade opportunities and bolster U.S. national security.
"When a proposed [arms] transfer is in the national security interest, which includes our economic security, and in our foreign policy interest, the executive branch will advocate strongly on behalf of United States companies," the policy read.
Still, some analysts argue that it is unclear exactly what the new policy is changing. The memo says a plan of action will be proposed by the secretary of state within 60 days.
"We all expected to see more tangible changes and it just isn't there. It's more of a political statement and appealing to the industry base, and putting a buy America, America-first spin on the conventional arms trade. But I think it's missing a fundamental understanding of how the arms trade actually works," Stohl told Newsweek. "I can't tell you what practical impact that will have in the short term. There are a lot of nice words about streamlining procedures. But there are a lot of things that aren't changed by the policy."