Could U.S. NASAMS Have Prevented Poland Missile Strike?
The missile that struck inside Poland's border and killed two people on Tuesday was likely a Ukrainian rocket that missed its target and malfunctioned, a Polish official said Thursday.
Jakub Kumoch, head of the Polish president's International Policy Bureau, told the Polish TVN24 channel that the missile's self-destruct system did not work, "and this missile unfortunately led to a tragedy."
NATO and Western leaders also believe the missile came from Ukraine, though they have stressed that they view Russia as the responsible party. Ukrainian President Volodymyr Zelensky has pushed back on suggestions that the rocket was fired by his country.
The apparent failure of the missile, which Polish President Andrzej Duda said was likely an "old" Soviet-made S-300 rocket, is a contrast to the high success rate of another air defense system that Ukraine has been using in the war.
U.S. Defense Secretary Lloyd J. Austin III said in a briefing Wednesday that the U.S.-provided NASAMS (National Advanced Surface-to-Air Missile Systems) in Ukraine have had a 100 percent success rate in intercepting Russian missiles. Zelensky said during an interview with CBS' Face the Nation in late September that Ukraine had received the systems from the U.S., and Austin revealed Wednesday that those NASAMS were now operational.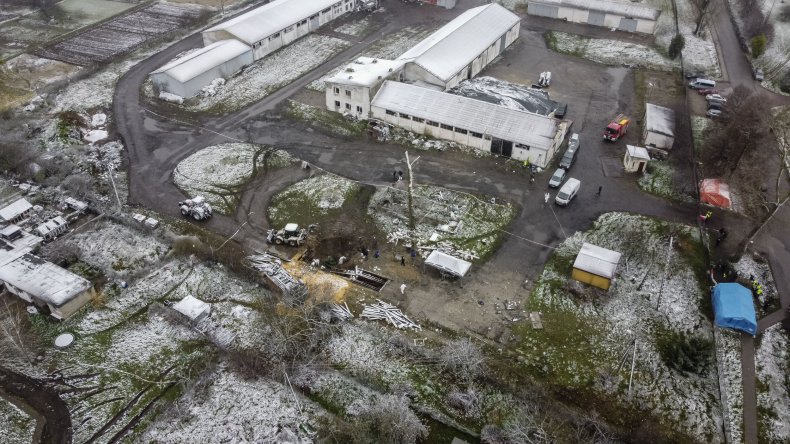 NASAMS are medium-range air defense systems that can identify and destroy aircraft, cruise missiles and unmanned aerial vehicles (UAVs). The less modern S-300 is a family of Russian-made surface-to-air missile systems "capable of engaging aircraft and UAVs [unmanned aerial vehicles] in addition to providing some cruise and ballistic missile defense capability," according to the Center for Strategic and International Studies' Missile Threat site. Both Russia and Ukraine reportedly own and have used S-300 systems in the war.
Though NASAMS may have an edge on the S-300 systems in terms of functionality and performance, experts were divided on whether Ukraine using the U.S. systems would have prevented the deadly strike.
Ian Williams, deputy director of the Center for Strategic and International Studies' (CSIS) Missile Defense Project, told Newsweek that the Soviet-era S-300 is older, bigger and has a heavier interceptor than its U.S. counterpart.
While the S-300 brings some unique elements to the table, such as a longer range, NASAMS "is a more modern, reliable system." The Soviet-era systems that Ukraine owns and uses "even by S-300 standards are quite old," said Williams, who is also a fellow in the CSIS International Security Program
He explained that the S-300 systems were acquired from Russia some time ago and may have had "questionable" maintenance over the decades.
It was not clear if the use of NASAMS in lieu of the S-300 on Tuesday would have prevented the Poland strike, Williams said. Because the S-300 has a longer range, it may have been the only viable air defense option in some parts of Ukraine depending on where the NASAMS are deployed at the moment.
The manner in which the S-300 is believed to have malfunctioned is also extremely unusual because misfires with any type of missile typically occur directly after launch, Williams said.
"A lot of stuff had to go wrong for this incident to occur," he added.
John Erath, senior policy director for the Center for Arms Control and Non-Proliferation, also told Newsweek that the NASAMS are "considerably higher tech" in comparison to the S-300.
"S-300, like most Russian hardware, has had its capabilities significantly hyped," Erath said. "Its actual record is spotty."
Erath said that it was believable that an S-300 missile could have malfunctioned and flew toward Poland, while it is "unlikely that a shorter range NASAMS would have done so."
"War is messy and accidents happen," Erath said. "Ultimately, the responsibility lies with Russia for starting the war."