Counter-Proud-Boys Protest Planned in D.C. Accuses Holiday Inn of 'Preferring White Supremacists'
Activists planned to protest Monday afternoon outside a Holiday Inn in northern Virginia, where right-wing protesters have reportedly booked rooms ahead of rallies in support of President Donald Trump on Wednesday.
The counterprotest, which organizers titled "No Rooms for Fascists," was set for 3 p.m., but less than an hour before then the event was canceled after organizers said they "received credible threats" from Proud Boys members.
Counterprotest participants originally aimed to "expose the Holiday Inn's preference for white supremacists," according to a digital flyer, shared to Instagram on Monday morning, that included information about the event.
"Holiday Inn Alexandria is hosting violent white supremacists and neo-Nazis on the week of Jan 6," the flyer said, referencing reports that members of the Proud Boys and other far-right groups secured accommodations there. Trump's supporters are expected to arrive in Washington, D.C., from across the country for the rallies on Wednesday, which many fear could turn violent.
"We reject Holiday Inn's support of violent fascists who intend to harm our community," organizers wrote in the statement on the Instagram flyer. A group called Smash the Fash NoVA is hosting the event. Another group, called Shut Down DC, reposted the message to its own account as a gesture of solidarity. Activists called on community members to participate in the demonstration.
An Instagram post announcing the afternoon action's cancellation replaced Smash the Fash NoVa's original flyer shortly after 2 p.m. Wednesday.
"URGENT UPDATE: we have received credible threats from fascists, in the interest of safety this event is CANCELED. Please share widely," the new post read. A spokesperson from Smash the Fash NoVA later told Newsweek that the threats came from Proud Boys members.
The spokesperson cited comments added to a blog post published by thedonald.win, a pro-Trump online forum that originated as a Reddit thread during the 2016 presidential race. It became an independent website this past summer after Reddit banned the community for violations.
Comments regarding the counterprotests appeared below an initial post notifying members of its timing and location details.
"Do they realize they will be outnumbered [by] A LOT?" one comment read, while another asked, "Why not come Jan 6th? Are they afraid?"
"If you're there early it's time to give them a show of force," another commenter added.
The spokesperson from Smash the Fash NoVA said demonstrators "were most concerned" by the final comment.
"We don't tolerate white supremacists in our community, but we also will not put our community members/leaders in [harm's] way," the activist told Newsweek in an email.
In a recent announcement posted to the conservative social media platform Parler, Proud Boys Chairman Enrique Tarrio confirmed that individuals associated with the far-right group would attend Wednesday's rallies "incognito." The Proud Boys are known for their involvement in violent confrontations at protests.
The pro-Trump rallies on Wednesday will coincide with House and Senate lawmakers meeting to certify President-elect Joe Biden's Electoral College victory last month. Those protesters oppose the certification, and several Republican representatives intend to formally object to it during Wednesday's meeting. Despite there being no evidence of widespread voter fraud, Trump and many of his supporters have not accepted Biden's win as legitimate.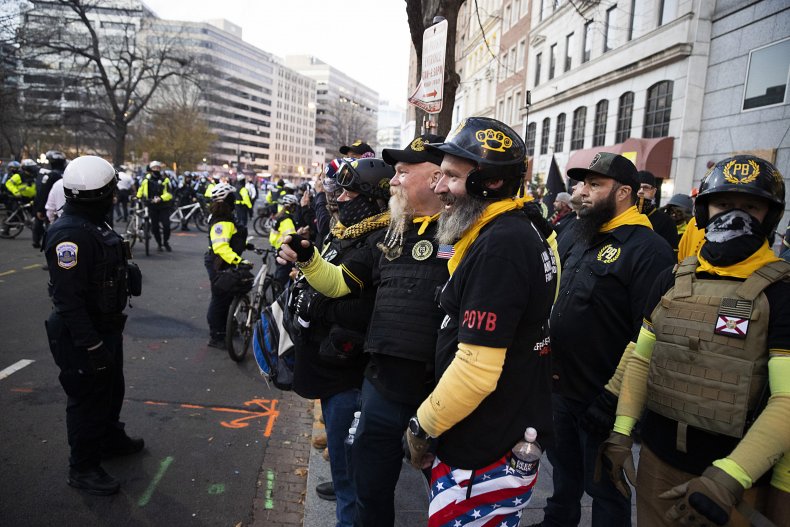 The Trump campaign and its allies have filed numerous lawsuits since Election Day seeking to reverse the voting results in key swing states that Biden won. Most of these legal actions have been quickly dismissed in court because of a lack of evidence. However, Trump and his supporters continue to question the validity of some states' voting outcomes.
This story was updated at 3:01 p.m. to reflect the counterprotest's cancellation and includes comments from a spokesperson at Smash the Fash NoVA.