Couple Claims They Were Removed From Flight Because of Trump Support
A woman claimed that she and her husband were removed from a plane for supporting former President Donald Trump after shouting numerous homophobic and racist slurs, as captured in a recent video shared to TikTok.
The video, seemingly taken by a fellow passenger, which was initially shared on TikTok and then cross-posted to Reddit on Monday, shows an unnamed woman lashing out after being asked to leave the plane, which was preparing to take off from West Palm Beach, Florida. As the three-minute clip plays out, the woman disparages the other passengers as "sheep" and insists that they are in trouble because things they said offended "masked passengers" and "the president."
When asked by a Reddit commenter about what caused the incident, the Reddit poster claimed that the couple was saying various slurs, prompting a passenger to inform the flight crew.
"Idk OP on tiktok said they were saying racial and homophobic slurs and that prompted man in black mask to tell flight attendants i believe," the poster claimed on Reddit.
Near the end of the video, the frustrated woman insinuates that they are being asked to leave the plane "because we're Trump supporters," which was met with derision from other passengers nearby. "Don't do that," one exasperated man can be heard saying in response. At various points, the woman also asserted that the U.S. was turning into China and called Elon Musk "the f***ing king."
In the video, the woman's husband remains relatively quiet while occasionally interjecting with homophobic slurs. At one point while speaking to a flight crew member, he claimed to be a retired FBI agent.
As far as can be gleaned from the video, the couple didn't have any support from their fellow passengers. At one point, when the woman promised to sue JetBlue and others over the incident, some passengers could be heard laughing at the threats.
Another short video, posted by an anonymous user to Vimeo, showed a crowd cheering as the couple arrived back at the terminal after being deplaned with the assistance of local police.
Newsweek reached out to JetBlue for comment.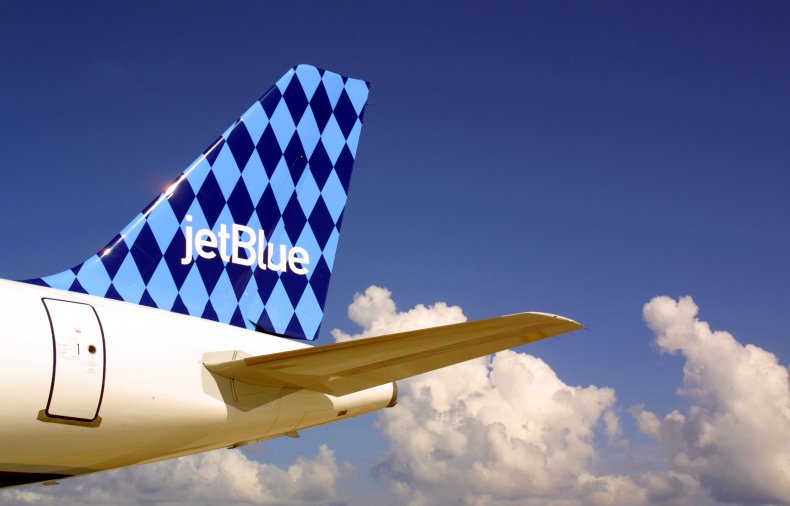 The phenomenon of unruly airline passengers has exploded in the wake of the pandemic, with the U.S. Federal Aviation Administration (FAA) reporting an average of 500 incidents a month in 2021. This year, that average has declined to a still-considerable 350 a month, so far.
In April, the Department of Justice reported that a Florida man had been arrested for sexually inappropriate conduct on a flight from Newark to Boston. A 21-year-old woman alleged that the 76-year-old man exposed his genitals to her, groped her thigh, and then began masturbating at one point.