Couple Finally Has Wedding Photos Taken After 65 Years Of Marriage
A husband and wife finally got to have their wedding photos taken almost 70 years after getting married.
An elderly couple, Wong Aou-Arun and his wife, Klin, from Thailand, never got to pose for pictures in their wedding attire during their ceremony in 1957. Thanks to their grandson, Ittipol, they got to receive a photoshoot they've always wanted. The couple has been married for 65 years.
In the heartwarming video, Klin is wearing a flowy white dress and Wong Aou-Arun has on a pair of sunglasses and a gray suit. The cute couple is photographed in a field holding hands and embracing each other, showing off how much they still truly love each other.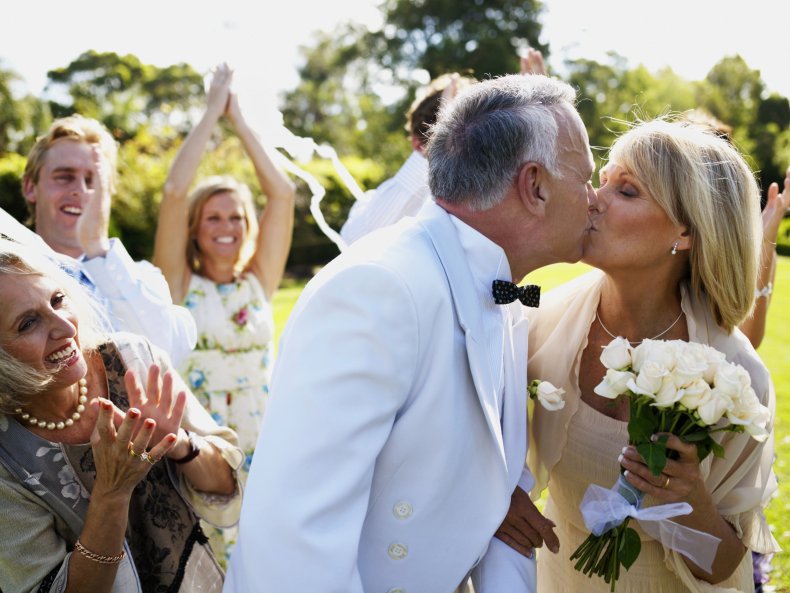 Ittipol says that he has been a photographer for 19 years and explains that his grandparents got married when they were in their early twenties. He wanted to give them photos to remember because they didn't have any from their special day decades ago.
"I have been working as a wedding photographer but I felt bad that my own grandparents didn't even have their own pictures," Ittipol said, "I gave them a surprise photoshoot with the help of friends. It was a really nice experience and they loved every moment.
"I asked them about their love life and I realised only then how long 65 years is. They have been through a lot over those years so now they are very close," he continued.
One of the photographers that helped but the photoshoot together, Aittipat, shared some videos of the couple on TikTok under the username @ioil20, even showing the couple the framed photos of them and their heartfelt reaction.
The wedding photos are on display in their home.
"The picture is very beautiful," one user exclaimed in Thai, as translated by Google Translate.
"cute," wrote another user.
"Oh, grandma is too cute," gushed a TikTok user.
Many people get married in Thailand. In 2019, a recorded estimate of 329,000 marriages took place in the country, via Statista.
According to traveltriangle.com, some popular places to get married in Thailand are the Phulay Bay Ritz Carlton in Krabi, Renaissance Phuket Resort, Sala Phuket Resort, Amari Ocean Resort, SO Sofitel Bangkok, Rayavadee Railay, Naka Island Resort, Soneva Kiri, Four Season Resort Chiang Mai and The Phi Phi Beach Resort.
Wedding photographers are an important add-on who help create fond memories of your special day that you can look back on in the future.
"Wedding photographs are the one thing you walk away with from your big day," photographer Emily Millay told Brides, "Brides and grooms are going through the motions of the day, but think of all the candid moments they miss. Those are the moments that make up their wedding, and that's why wedding photography is such an important investment."