Couple Find Massive Basement Behind a Hatch After Buying 1904 House
A couple discovered a massive basement hidden behind a hatch in their new house, which is tall enough to stand in.
Katie and Robin snapped up the semi-detached property, originally built in 1904, in Kettering, in the U.K., and moved in last December.
The pair have been sharing the restoration journey to their TikTok and Instagram accounts, as they painstakingly sand floors, cut tiles, hack off cement and redecorate.
They're trying to be sympathetic to the antique features of the house, reinstalling fireplaces and ripping up carpet to expose floorboards, but they found one original detail they weren't expecting.
The new homeowners uncovered a sprawling basement beneath their property, which spans the width of their "double living room."
It appears they were alerted to its presence after starting work on the flooring in the living room, when seems they then discovered the tiny entrance to the space behind a hatch in the kitchen, which they unscrewed to reveal the vast cellar.
They shared a clip of the incredible find to their TikTok account, @sweethomeketteringa, on Tuesday, saying: "So we have this tiny hatch in our kitchen. Look what it leads to. Robin decided to investigate further. I watched from a safe distance. Y'know, just in case the doorbell rang.
"There is another hole which goes even further. What would you do with this space?"
They added the hashtags "hidden room" and "scary" to the clip, which can be seen here, and shows Robin walking around the room, which is tall enough for him to stand up in.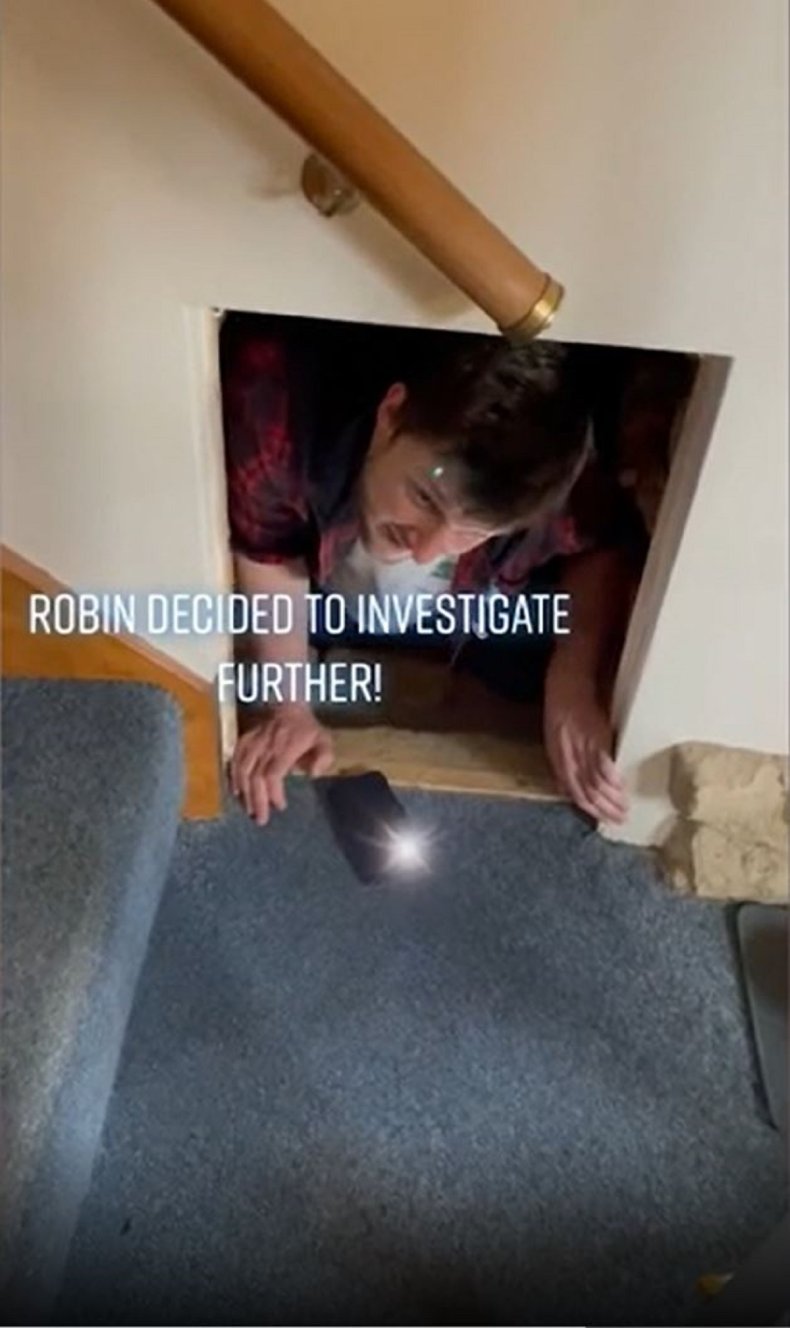 Katie, thought to be 31, explained more about its location in the comments, saying it's beneath "our double living room! We've just pulled up the carpet to restore the floorboard and one of the edge floorboards was loose."
Responding to someone saying it could make a "cosy and comfy" space, she replied: "That's a great idea!! You can hear the TV really clearly from underneath so I'd never have to leave."
Others suggested a man cave, to which she joked: "You mean I wouldn't have to watch football anymore?"
It seems the basement may have been omitted from the real estate documents, as not only was the space a surprise, Katie revealed: "Hilariously on our house's deeds it states we cannot distil and sell liquor on the land. (It doesn't say we can't drink it ourselves though!)"
Numerous people commented on the clip, which has amassed nearly 40,000 views, suggesting more practical suggestions for the space, including a pantry.
Katie seemed keen on the idea, but added only "if we can make a new way of getting in."
Another top suggestion came from Elizabeth Innes, who wrote: "Wine cellar big big wine cellar."
Olivia Faulkner wrote: "You could make a chill out / games room that would be so cool."
Expat_girl reckoned: "Put in a small door and turn it into a speakeasy / games room!!"
While Kelsey Dillon added: "Being from Tennessee, whenever I see people find these things I think, makes a perfect tornado shelter."
Newsweek reached out to Katie and Robin for comment.
Update 9/16/21, 4:30 a.m. ET: This article was updated with video and images from @sweethomeketteringa.