Couple Married at Hospice Three Days Before Bride Died of Cancer
A couple who were engaged for 11 years got married in a hospice care facility just days before the bride died of cancer.
Jen Cooper, 43, and Ben Cooper, 34, got engaged back in 2010 but put off getting married for various reasons and had three children in the process. Jen, who had two children from a previous marriage, was a mother of five who had recently celebrated five years of being breast-cancer free.
But recently, Jen was diagnosed with cancer again. The couple originally planned on getting married Nov. 27 but they had to push it forward when Jen's health quickly deteriorated.
The couple shared an intimate wedding ceremony Nov. 17 with just the two of them, Jen's mother, and two witnesses at the hospice center in Telford, England, the Mirror reported.
"I finally married the love of my life on Wednesday," Ben tweeted Nov. 19. "Not the day we had planned but amazing. I'm heart broken that this marriage will be counted in days not years. Don't put things off, tell the people you love that you love them now."
Jen died Nov. 20 with Ben at her side. The original arrangements for the Nov. 27 wedding were turned into a large birthday celebration for the couple's three daughters who all have upcoming birthdays.
Newsweek reached out to Ben Cooper but did not receive comment in time for publication.
In October, Newsweek reported on a couple that was engaged for 10 years before the two decided to get married.
But when Ann Ruddock, 56, was diagnosed with brain and lung cancer in September and learned she had about two weeks left to live, she decided to marry her fiance Keith Pearce on Oct. 21.
Doctors had originally told Ruddock she had about four to six months to live, but her prognosis quickly changed.
With the help of the hospice staff and a nonprofit organization that helps couples facing serious or terminal illness get married, a wedding was organized for the couple in just 48 hours.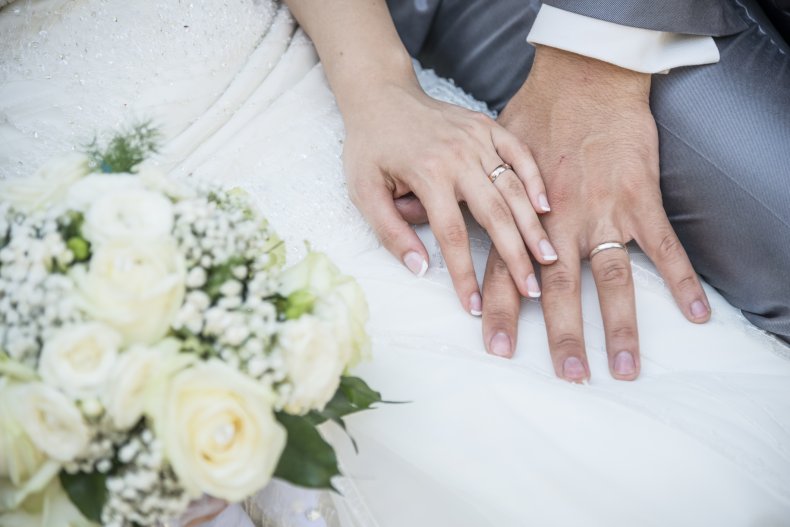 Pearce and Ruddock had been together for 12 years and met after they both went through divorces.
"When I found out about Ann's unexpectedly short prognosis and their wish to get married, I was determined to do all I could to help them," Jackie Murray, a social worker at the hospice center, told ITV.
Everything including a wedding dress, cake, food, and flowers were donated by local vendors for the wedding.