Couple Who Waved Guns at BLM Keep Law Licenses, Put on Notice by Top Court
A Missouri couple who rose to prominence for pointing guns at protesters passing their house in 2020 will be allowed to practice law for another year after the state Supreme Court put them on probation.
The orders issued by the state's highest court Thursday allow Mark and Patricia McCloskey to practice law for another year on a probationary status and petition to have their licenses fully reinstated. The court's response is the latest for the couple who became folk heroes in conservative political circles after photos circulated in June 2020 showing them pointing guns at a crowd that had entered a gated community in St. Louis.
Mark McCloskey told Newsweek Tuesday evening that he respects the court's order and he and his wife will comply with it. But he said he had difficulty accepting that he and his wife should face sanctions when they had been pardoned by Republican Governor Mike Parson and had the support of multiple political figures, including the state's attorney general and former President Donald Trump.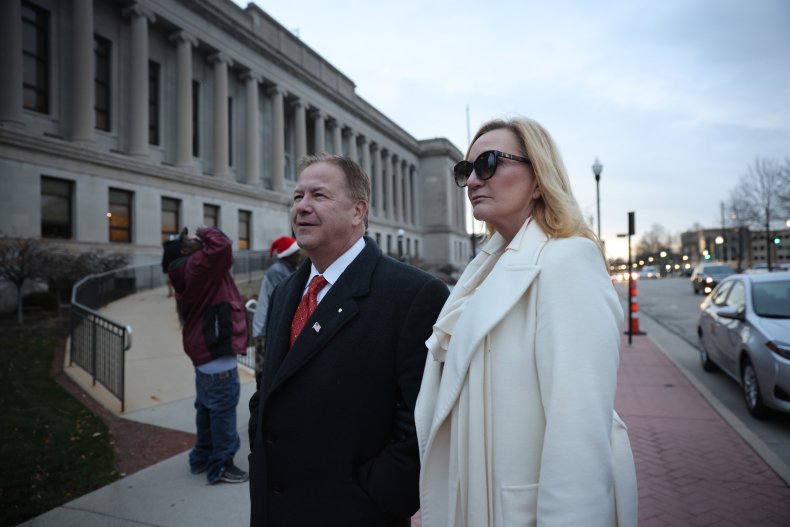 Despite the pardon, Missouri's chief disciplinary counsel in September asked the court to suspend the couple's law licenses, arguing their actions showed "indifference to public safety" and involved "moral turpitude."
"I don't think it's a crime of moral turpitude because I don't think it's a crime to defend your home and your family," McCloskey told Newsweek.
The McCloskeys didn't fire any shots at the crowd that entered the gated community. Since the incident, prosecutors determined the protesters were peaceful.
While the orders suspend both of their law licenses, the suspension is put on hold for a year. During that time, the couple must check in with the court and not violate any rules of professional conduct. They must also provide 100 hours of pro bono legal services during this time. After a year has passed, they can petition to have their licenses reinstated.
"I haven't had a problem complying with the rules of professional conduct and won't have a problem doing it for another year," said Mark McCloskey, noting he has practiced law for nearly 40 years.
Mark McCloskey told Newsweek that McCloskey Law Center, the St. Louis law firm he runs with his wife, regularly provides pro bono services anyway. He said he also provides free legal advice to indigent and incarcerated people.
The couple spoke at the 2020 Republican National Convention in defense of gun rights, and Mark McCloskey is currently running for U.S. Senate as a Republican.
Newsweek has reached out to St. Louis Circuit Attorney Kim Gardner for comment.