The California Supreme Court has upheld a previous lower court order that freezes enrollment at 2020-21 levels at the University of California, Berkeley, which "extremely disheartened" school officials said will impact admissions as soon as fall 2022 while potentially resulting in tens of millions of dollars of lost tuition.
The ruling was made in response to a petition request made by the university on February 14. Justices, in a 5-2 decision, denied an application for stay and a petition for review. The ruling, according to a university spokesperson, will decrease in-person fall enrollment by 2,629 students, rather than the originally estimated 3,050 students. It is also expected to cut admissions offers to high schoolers and transfer applicants by about 5,100.
Justices Goodwin Liu and Joshua Groban dissented, with Liu saying "the present impasse seems ripe for a mediated solution."
"It does not serve the university's long-term interest to negatively impact the local environment, and an outcome that negatively impacts the educational future of thousands of students would not appear to serve the long-term interest of litigants like SBN [Save Berkeley's Neighborhoods]," Liu said. "It is not too late to find a solution that mitigates the local community's environmental concerns without leaving 3,050 of our young people behind."
Previously, a California First District Court of Appeal decision announced on February 10 required the university to adhere to a lower court ruling, which means that student enrollment must freeze at 42,347—the same amount of students who enrolled in 2020-21. It prompted UC Berkeley to appeal the ruling to the California Supreme Court.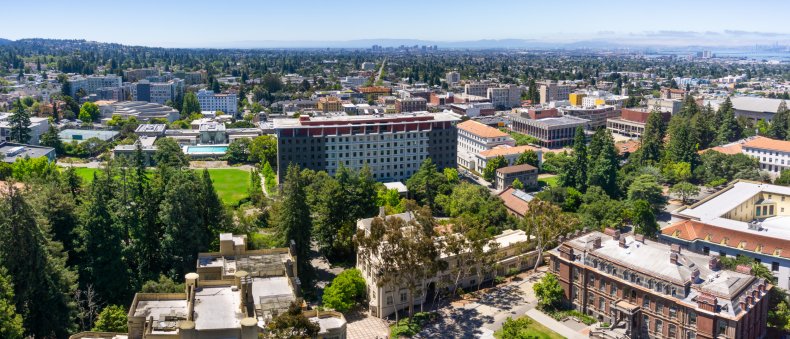 "This is devastating news for the students who have worked so hard for and have earned an offer of a seat in our fall 2022 class," said Chancellor Carol Christ and Interim Executive Vice Chancellor and Provost Catherine P. Koshland in correspondence to the university on Thursday. "Our fight on behalf of every one of these students continues."
University officials added that it will "engage with state leaders to identify possible solutions that could address the significant impacts of the lower court's ruling on enrollment decisions at UC Berkeley and other campuses." Also, "in case there is no timely fix," it expects to adjust enrollment strategies.
Those strategies involve mitigating harm to prospective students, the university said in a separate statement, such as by largely increasing online enrollment and/or asking new, incoming students to delay enrollment until January 2023. The options are admittedly "far from ideal."
"We are a residential university, and we would like all students to have a full, rich, in-person experience starting in the fall when all of their classmates enroll," the university said. "However, we believe this effort is preferable to drastically reducing the number of offers of admission and denying so many students a Berkeley education. We have designed this strategy so that if the legislature provides relief very soon, we can pivot to making more in-person offers for the fall."
Dan Mogulof, assistant vice chancellor in the UC Berkeley office of communication and public affairs, told Newsweek of the different strategies the university is implementing to mitigate the effects.
They include: Enrolling over 1,000 freshmen in an all-remote first semester, prior to them being able to begin in-person studies in January 2023; approximately 650 students, or primarily transfer entrants, who would have been enrolled in-person this fall will instead be enrolled starting January 2023; and in-person enrollment will be further reduced by approximately 200 continuing students studying off-campus in programs like Cal in the Capitol in Sacramento and UCDC in Washington, D.C.
More than 400 new students, most of whom were graduate students who would have otherwise been at UC Berkeley this fall, will not be enrolled there. The campus will also create an expanded waitlist in case of timely legislative action.
Regarding California residents vs. nonresidents, Mogulof said the campus is aiming to have, in total, about 6,334 or 91 percent of California residents and approximately 641 or 9 percent of non-resident students enrolled as in-person first year undergraduates and new undergraduate transfer students in fall 2022.
"To be clear, the harm caused by this court decision extends beyond the students who should be offered an in-person seat in our fall 2022 class," he said. "It impacts prospective students generally, our campus operations, and the university's ability to serve students by meeting the enrollment targets set by the state."
The California Supreme Court decision was the latest in a series of litigation originally linked to a group called Save Berkeley's Neighborhoods, as part of a larger ruling that stopped the campus from moving forward with the Upper Hearst Project. The university said the project would provide new academic space in additional housing for faculty, postdoctoral researchers and graduate students for UC Berkeley's Goldman School of Public Policy (GSPP), including approximately 225 new residence hall beds to campus while not increasing enrollment beyond an additional 30 graduate students.
Save Berkeley's Neighborhoods, which includes locals who work in cohesion to protect Berkeley's "unique quality of life," filed suit under the California Environmental Quality Act as a challenge to the environmental impact of the Upper Hearst Project.
Last July, a month before the enrollment freeze was ordered, Alameda County Superior Court Judge Brad Seligman ruled that UC Berkeley failed to study the impacts of increasing its student enrollment by 33.7 percent, calling for a more comprehensive review.
In response, the university contended that it had no need to consider enrollment reduction "in order to minimize adverse impacts." However, the court ultimately rejected that argument.
"The CEQA (California Environmental Quality Act) environmental analysis for the (Upper Hearst) Project included analysis of the growth in student enrollment at UC Berkeley that had occurred independently from the project and had not previously been analyzed," the school said in a statement Monday. "Because the regents' approval of the GSPP project did not include any decisions to increase enrollment, the regents contend that the court had no authority to set aside enrollment decisions or suspend enrollment at Berkeley."
The university's regents filed an appeal of the trial court's August 23 judgment on October 18. It wasn't until February that the university's request was rejected, causing UC Berkeley to appeal to the state's highest court.
UC Berkeley typically offers admission to approximately 21,000 freshmen and transfer students annually, enrolling about 9,500 of them.
Officials said the court's "devastating" ruling will have a "tragic outcome" for thousands of individuals who studied hard to get into the university.
UC Berkeley also said that the court-ordered reduction in enrollment would result in a tuition revenue loss of at least $57 million.
"Due to the pandemic, 2020-21 was an anomalous year when enrollment dropped as a large number of new and continuing undergraduate and graduate students decided to temporarily suspend their enrollment," the university said in a statement. "By tying its unprecedented action to the 2020-2021 academic year, the court has effectively forced future enrollment to match the dramatically lower enrollment rate experienced during the height of the pandemic."
Mogulof told Newsweek following the original court decision that the Upper Hearst Project "had nothing to do with increasing enrollment," and that the judge's ruling in the case last August was "so unprecedented" based on existing law.
He mentioned the example of the university being ordered to analyze the impact of enrollment growth on homelessness, which "had never been done before."
The 2022-23 admissions cycle is already at peril, as certain students have already been sent admissions. Remaining admission is scheduled to be sent out March 24 for freshmen and April 2 for transfer students.
Mogulof originally said there was no way of knowing how the California Supreme Court would rule, or whether it would even take UC Berkeley's appeal.
"We're not waiting. ... We won't be complacent and assume anything and are working as if this is the hand we've been dealt and how do we mitigate the effect on students," he said.
Without speculating, Mogulof originally added that if the California Supreme Court either rejects UC Berkeley's case or decides not to rule on it at all, other public institutions statewide would likely be impacted in the future.
"The stakes are really high and this is going to be watched really carefully," he said.
Newsweek reached out to Save Berkeley's Neighborhoods for comment.
Updated 03/08/2022, 12:12 p.m. ET: This story has been updated with comments from Dan Mogulof, assistant vice chancellor in the UC Berkeley office of communication and public affairs, and additional information and background.
Updated 03/04/2022, at 11:06 a.m. ET: This story has been updated with comments from UC Berkeley officials and additional information and background.