Boris Johnson Approval Drops by 20 points in Four Days after Dominic Cummings controversy
Prime Minister Boris Johnson's approval rating has dropped by 20 points in four days, following the government's handling of its chief adviser Dominic Cummings' journey 260 miles across England while lockdown restrictions were in place.
According to data by polling group Savanta ComRes, public opinion of both the prime minister and the ruling Conservative Party has turned sharply, after Dominic Cummings admitted he drove 264 miles from his London property to his parent's home in Durham, despite suspecting that both he and his wife had COVID-19.
At the same time, lockdown measures imposed by Johnson on March 23 meant people were told they "must stay at home" and that they could not meet family or friends that they do not live with.
Johnson's approval dropped to -1 percent yesterday, which is down from the +19 percent he enjoyed just four days ago.
Overall government approval fell by 16 points in a single day to -2 percent, based on a sample size of 1,129 people, representative of UK adults aged 16+, according to Savanta ComRes.
Out of all the key individuals examined in the data, which includes the health secretary, the chancellor, the chief medical officer and chief scientific adviser, Johnson now has the lowest approval rating.
Health Secretary Matt Hancock's is the second lowest at 4 percent. Cummings' rating has not been tracked.
Meanwhile, opposition Labour leader Keir Starmer's approval rating lifted to 12 percent on Monday, while Chancellor Rishi Sunak dropped from 35 percent four days ago to 20 percent.
The drop in approval ratings comes as the political storm over Dominic Cummings refusing to apologize or resign continues to dominate Westminster, with a junior minister today resigning.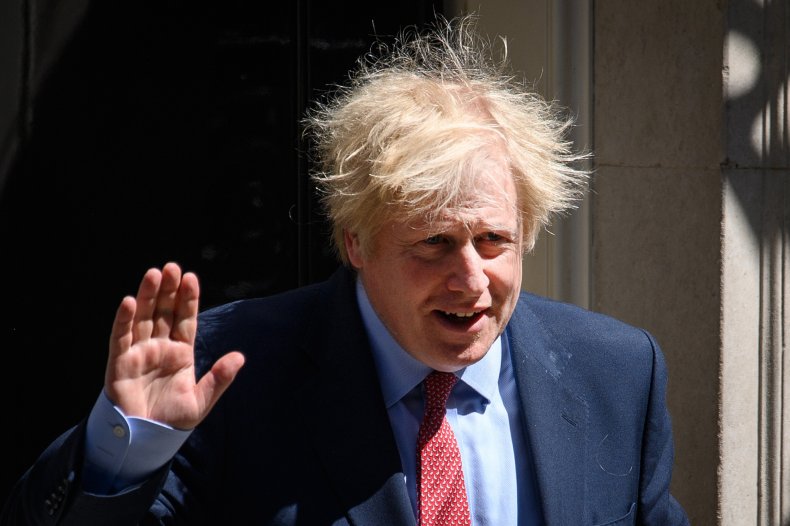 Douglas Ross, the minister for Scotland, announced on Twitter: "I haven't commented publicly on the situation with Dominic Cummings as I have waited to hear the full details.
"I welcome the statement to clarify matters, but there remains aspects of the explanation which I have trouble with. As a result I have resigned as a government minister."
Cummings admitted making the trip to Durham during a press conference, saying that on the night of March 27 after his wife fell ill with COVID-19 symptoms, they became concerned that if they both became ill, there was nobody in London they could "reasonably ask to look after our child and expose themselves to COVID".
However, it has since emerged that despite ministers insisting Cummings stayed put once he reached his parent's property, he had also made a trip 30 miles away to Barnard Castle, a market town in County Durham in the northeast of England, on April 12.
He says that the fact it was his wife's birthday on the same day was purely a coincidence.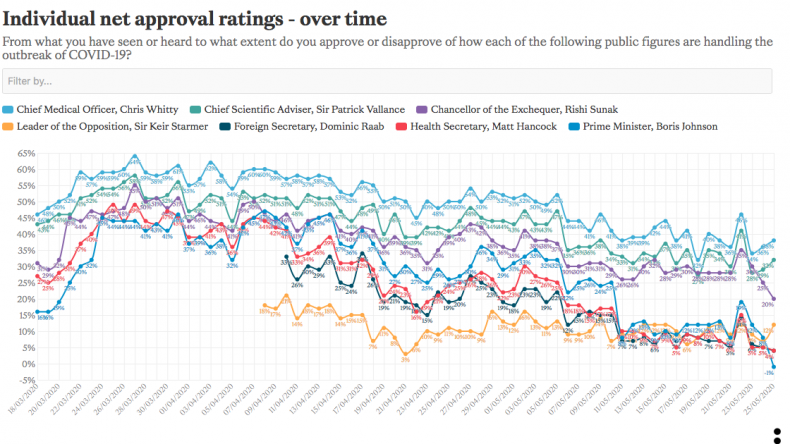 It is also alleged by the newspapers that he was back in Durham on April 19, though Cummings says that this is false and can be proven with information on his mobile phone.
The prime minister has continued to insist that his chief aide acted "responsibly, legally and with integrity."
Chris Hopkins, Head of Politics at Savanta, said: "Following a difficult weekend for the Prime Minister, his chief adviser, and the government in general, approval regarding the government's handling of the crisis, once exceedingly high, has taken a dramatic fall.
"While we are still seeing high levels of self-stated compliance among the public regarding the rules, despite Mr. Cumming's perceived flouting of them, his actions may have led to the public not being as worried about the pandemic as they once were, with Savanta's 'level of worry' rating being at its lowest level since we started tracking 10 weeks ago."
In the U.S., President Trump's disapproval rating has continued to rise as COVID-19 deaths neared the 100,000 mark.
The FiveThirtyEight approval rating tracker found that Trump's average disapproval rating was at 53.5 percent on Monday.
The President's average approval rating slumped to 42.7 percent, which is slightly more than three points down on his post-acquittal peak last month.
According to polling company Savanta ComRes, the sample size for yesterday's data was 1,129, representative of UK adults aged 16+
The company carries out a daily tracking survey of 1,000 people everyday to track approval ratings.
The full report can be read here