COVID-19 Isn't Over: Ringo Starr and Other Musicians Share Positive Tests
As the COVID-19 pandemic inches toward its third year, many have ditched their masks and are up-to-date on vaccines. But the virus has still been making the rounds in recent weeks, targeting musicians like former Beatle Ringo Starr and singer-songwriter Regina Spektor.
Earlier this month, after catching the virus, 82-year-old Starr had to cancel certain dates on his North American tour. But on Monday, the legendary drummer announced his recovery in a post on Instagram, which included a photo of him smiling while flashing a peace sign.
"On the road again I will see you in Seattle on Tuesday the 11th Portland Wednesday I am negative peace and love everybody thanks for waiting. Ringo," the famed musician wrote, along with a series of emojis denoting peace and love.
Grammy Award-nominated musician Spektor wrote on Instagram Tuesday that she effectively avoided COVID-19 for more than 2 1/2 years, but she's currently out sick with a "bad case."
Spektor apologized to fans who had planned to see her on her 2022 tour, which had 10 remaining shows.
"I have gone from feeling bad, to worse, to terrible. I've lost my voice. I am a bit delirious from fever," she wrote in part.
"I have had a really hard time lately, and all your love has been helping me so much," Spektor continued. "I hope mine reaches you as well. For now—I will have to sing to you from past recordings, and we will reschedule the shows for when the theaters are able to have me back."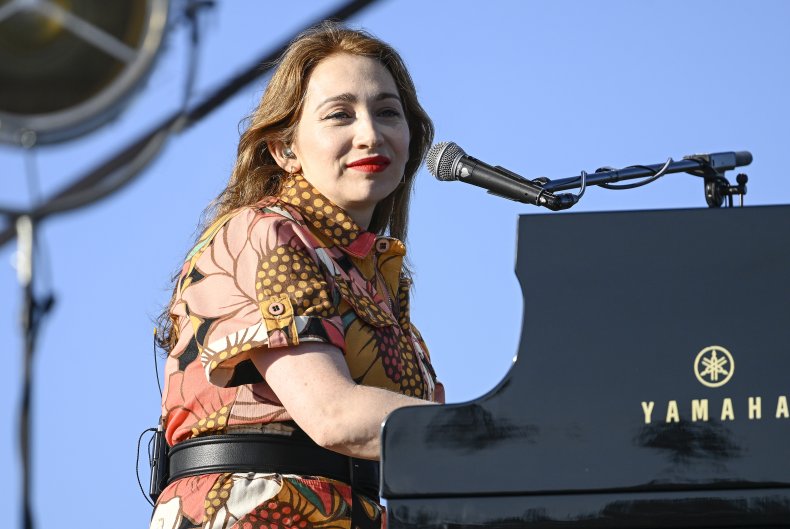 Other celebs have also come down with the virus in recent weeks. Funny Girl star Lea Michele missed several performances after falling ill in September. And in August, Blink-182 drummer Travis Barker wrote on Instagram: "Covid sucks. I'd rather be playing drums."
It's hard to predict whether another surge will strike, but the country seems to be in good shape overall, according to Dr. Rodney E. Rohde, a professor and chair of the Clinical Laboratory Science Program at Texas State University. He told Newsweek that he's hoping to see a calm COVID-19 season in the coming fall and winter months.
It's possible that a wave of cases could strike if a new variant emerges, he said. But he pointed out the high number of COVID-19 vaccinations, also noting those who've been infected but survived.
"We're just in a much better place than we were one to two years ago because of all that immunity," said Rohde, who's also an associate adjunct professor at Austin Community College.
Rohde added that even today, the COVID-19 vaccine is subject to politicization by some partisans. Still, he stresses that the jab can stave off severe illness and death.
"It's just unfortunate, you know, people are utilizing it again [as] kind of a political weapon, when it really shouldn't be," Rohde said. "Vaccines save lives, pure and simple—just like clean water and antibiotics and chemotherapy—but people still want to turn this into something that it's not."
Newsweek has reached out to representatives for Starr and Spektor for comment.