People with suspected COVID-19 in Italy's third-largest city, Naples, have been given oxygen treatment in their cars after a nearby hospital reached its maximum capacity.
Queues of cars formed outside Cotugno Hospital, with fears that there may not be enough doctors available to treat patients. As a second wave of the virus takes place across Europe, Italy has recorded over 990,000 cases and over 42,000 deaths, according to data from Johns Hopkins University.
Antonio Abenante, a local resident in the regional capital of Campania, told Sky News that he was unable to get information about his father's condition. He said: "Today my father didn't reply to me on the phone, and I am worried. We called a doctor, and he told us all the doctors in the ward are in isolation because they got COVID-19, and this was the doctor on duty and he didn't know anything."
Filippo Anelli, head of the National Doctors' Association, has warned that if cases continue to grow at the current rate, there soon won't be enough doctors to go around.
British Prime Minister Boris Johnson has imposed a nationwide lockdown in England after he warned that the NHS could be overwhelmed by the first week of December without action. Johnson warned of a peak of mortality far bigger than the one the country had seen in April.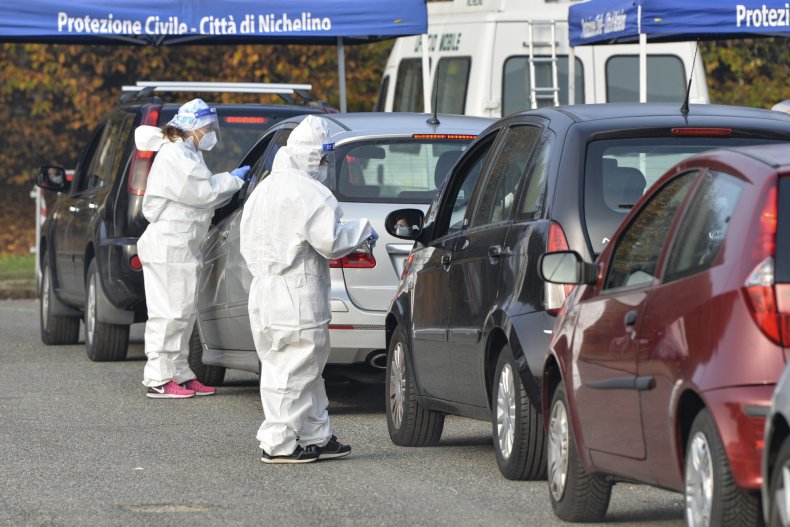 Announcing the new national lockdown, he said: "Even in the South West, where incidence was so low, and still is so low, it is now clear that current projections mean they will run out of hospital capacity in a matter of weeks unless we act."
In the U.S. meanwhile, hospitalizations have reached their highest level since the pandemic began, soaring above 60,000 and overtaking the previous record high of 59,940 set on April 15, according to data compiled by The COVID Tracking Project.
The Institute for Health Metrics and Evaluation (IHME) has said that the number of beds needed across the country is forecast to nearly double by late December, with around 120,423 beds projected to be needed on December 27.
However, Dr. Anthony Fauci, the country's top infectious disease expert, has said that a vaccine for the virus could be made available to the most vulnerable groups by the end of the year.
"They're going to dot all the i's and cross all the t's, but I believe with the impressive nature of the data that it should go through smoothly that by the time we get into December, we'll be able to have doses available for people who are judged to be at the highest priority to get it first," Fauci told MSNBC.
Pharmaceutical giant Pfizer said on Monday that it and German partner BioNTech have developed a COVID-19 vaccine that is 90 percent effective, based on early test results that must still receive full approval from independent researchers at the Food and Drug Administration (FDA).