COVID-19 Patients Facing Choice Between Amputated Limbs or Death
The battle against COVID-19 doesn't end when a person is discharged from the hospital, and for some it means adjusting to life without all of their fingers, arms or legs.
Severe blood clots and gangrene, a condition that causes tissue in the body to die, in hospitalized COVID-19 patients are rare, but they can be life-threatening. For some patients, it's meant having to choose between losing limbs or potentially losing their life. The complication has affected COVID-19 patients from all age groups, including children as young as 10.
"COVID ends up affecting a lot of different parts of the body," said Dr. Ben Klausing, an infectious disease specialist at Baptist Health in Louisville, Kentucky, told local TV station WDRB.
"When you're not getting enough oxygen in your lungs, through your lungs, because of the COVID, your body naturally takes the oxygen and gives it to the most precious resources, so your brain and your heart and your lungs, and it will rob oxygen from your limbs and your blood in order to save your life," Klausing said.
In the case of Zyrin Foots, a 10-year-old boy from Texas, his mother was told that amputating his arms and legs would give him a 25 percent chance of survival. Foots had developed multisystem inflammatory syndrome (MIS-C), a complication of COVID-19 that inflames organs, and his heart struggled to pump blood, causing him to develop gangrene in his legs.
Without the amputation, he didn't have "any chance to live," his aunt Ashley Engmann told KTRK-TV. His mother made the difficult decision to "let him go" because she considered it to be the most "humane and compassionate thing she can do for her child."
Gangrene is often caused by a lack of blood flow and can require amputation of a body part to save a person's life. It can also be fatal if left untreated. Blood clots were an early concern among doctors treating COVID-19 patients, and amputations have been performed since the start of the pandemic.
In April 2020, Broadway actor Nick Cordero, whose battle with COVID-19 rallied supporters from around the world, had his leg amputated after clotting made it difficult for blood to flow to his toes. Blood thinners doctors hoped would resolve the clots caused other problems in his body, according to Cordero's wife, Amanda Kloots, who posted about their experience with COVID-19 on Instagram. Cordero died in July 2020.
Information about COVID-19 has increased tremendously since the start of the pandemic, and doctors have made great strides in how they treat the disease and its complications. However, COVID is still new, and blood clots continue to be life-threatening for some hospitalized patients.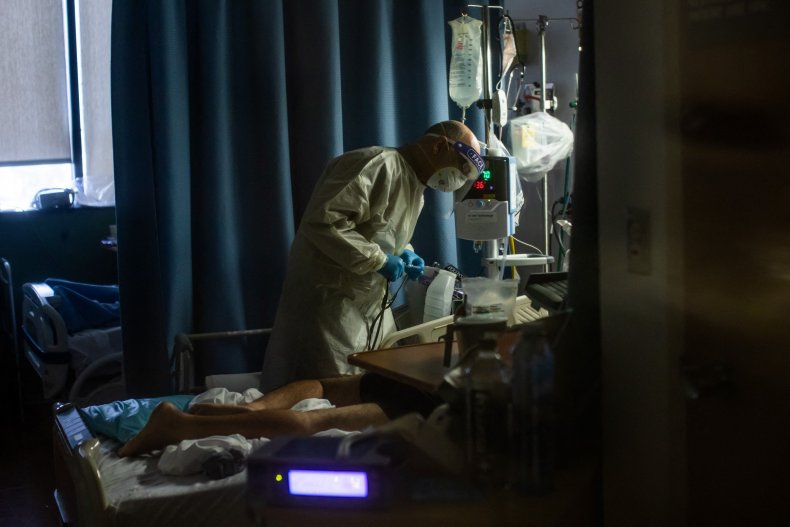 Pepe Forina, 54, was hospitalized with COVID-19 in July. About a week later, he noticed that his feet were black. "It was either amputate my feet and live or leave them on and die, so it was a no-brainer," Forina told KVEO-TV in September.
Forina had peripheral vascular disease, hypertension and other high-risk factors that put him at increased risk for limb amputation, according to Federico Vallejo, a doctor who cared for the 54-year-old.
Amputations in COVID-19 cases are rare, but they're not only affecting those with preexisting conditions that put them at high risk. Bryan Thompson, a 43-year-old who had never been hospitalized before this summer, spent five days in the hospital being treated for COVID-19. The day after he was released, he lost color in his foot, according to Mississippi's Clarion Ledger newspaper.
Thompson returned to the hospital, where doctors found a partial blockage in his left calf. Blood thinners failed to resolve it, and more clots formed, raising Thompson's concern that he would lose his toes, the Clarion Ledger reported. Doctors ended up having to amputate Thompson's left leg below the knee.
Although he'll have to adjust to a new way of life with a prosthetic leg, Thompson told the newspaper that in a choice between his leg or his life, he would "give that leg up" every time to be able to see his wife and son again.
Thompson, who was unvaccinated when he got sick, urged others to get a COVID-19 shot to help avoid living through the same experience he had.
Vaccines have proved to be one of the best protections against a person getting seriously ill from COVID-19, and officials are imploring parents to get their children inoculated against the coronavirus. Vaccines are now available for children as young as 5.
On Wednesday, Dr. Anthony Fauci, director of the National Institute of Allergy and Infectious Diseases, said the shot could prevent children from developing MIS-C. A rare but serious condition, MIS-C typically develops two to eight weeks after infection and can occur even in children who had no or very mild COVID-19 symptoms.
For Dae'Shun Jamison, 10, MIS-C caused the loss of both his legs and his hands. Fluid build-up in his legs prompted doctors to amputate one leg, a decision that made Brittney Autman, his mother, question what her son's life would be like after the surgery, according to WXMI. While the amputation was successful, it caused a lack of blood flow to his other extremities, and doctors had to amputate his other leg and two hands.
His mother started a GoFundMe page to help with the medical bills, and updates show his progress in outpatient therapy, using prosthetic limbs.
"I'm trying to find ways to get him back to the way he was as much as possible," Autman told WGN back in February. "That's my goal for him. That's what I want for him."