Some Scientists Think COVID-19 May Have Been Spreading Far Earlier than Previously Thought
Scientists have told Newsweek it is "plausible" that the coronavirus may have been circulating in some countries earlier than previously thought. The suggestion follows a recent claim by doctors in France that a man they treated in December later tested positive for COVID-19—a month before the county's first known case was confirmed.
However, it is unlikely that large numbers of people were sick with COVID-19 last winter, despite the claims of some, experts told Newsweek.
Reports of a mystery pneumonia-like illness first emerged from the central Chinese city of Wuhan, Hubei province, in December 2019. On January 13, the first case was reported outside of China, in Thailand. The disease has since reached every continent except Antarctica.
According to Johns Hopkins University, more than 3.6 million people have been diagnosed with COVID-19, almost 258,000 have died, and over 1.2 million have survived.The U.S. is currently the country with the most known cases, as the graph below by Statista shows.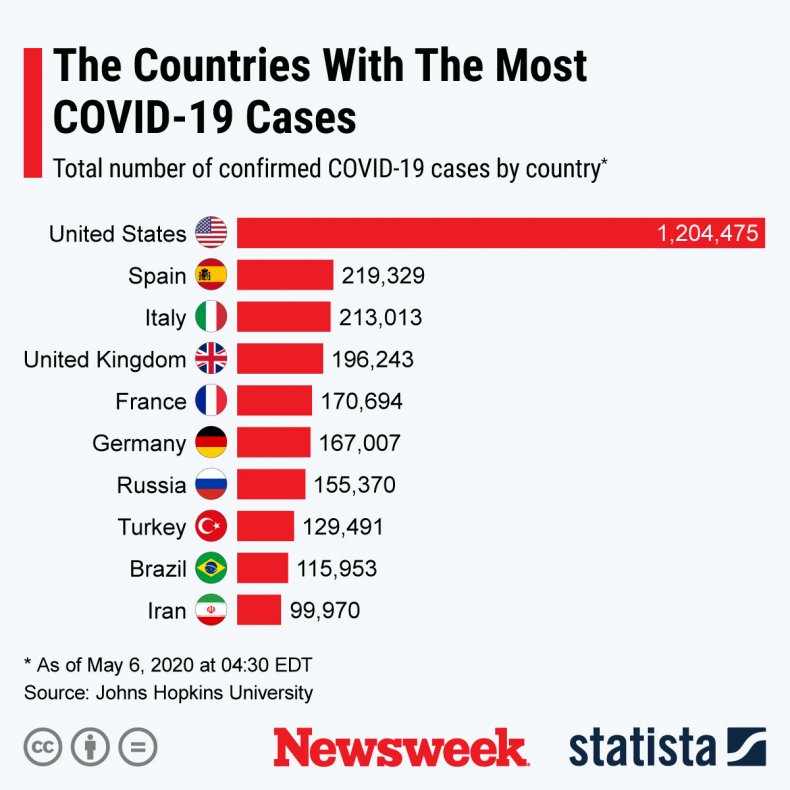 Andrew Brouwer, assistant research scientist in the Department of Epidemiology at the University of Michigan, told Newsweek: "It is very plausible—and even probable—that the coronavirus was beginning to spread long before the first cases were reported.
"The ability to test possible cases has only ramped up in the last few months, so many people who ought to have been tested were not tested.
"By the time that a severe case of COVID-19 is detected, the virus has already been circulating in the community, transmitted by people who are pre-symptomatic, asymptomatic, or who have only mild symptoms."
David Hamer, an infectious diseases specialist at Boston Medical Center and professor of global health and medicine at the Boston University Schools of Public Health and Medicine also told Newsweek it is "plausible" the virus reached Western Europe and the U.S. earlier than January.
Hamer's colleagues at the Boston Medical Center treated patients in mid to late-February with an "unusual pneumonia," with chest scans characteristic of COVID-19, but without a known cause. "We therefore strongly suspect that the virus was circulating in Massachusetts in February," before the surge in cases in early March, he said.
Peter Drobac, a physician and specialist in infectious diseases and public health at the Saïd Business School at the University of Oxford, told Newsweek asymptomatic and mild cases could be a factor in the early, undetected spread of the coronavirus.
"It would not be surprising to find evidence of COVID-19 transmission in weeks before the first reported infection," he said. "This happened recently in the U.S., when autopsies of two people in California who died in early February revealed evidence of SARS-CoV-2. Those individuals would likely have been infected in mid-January. Previously, the first reported case in the U.S. had been February 26."
A COVID-19 case in France in December
A 42-year-old fisherman visited the emergency department of a hospital near the French capital of Paris on December 27, 2019, suffering from a cough, headache, and a fever, according to an article published in the International Journal of Antimicrobial Agents. He was also coughing up blood. At the time, the patient's spit did not test positive for a specific pathogen, and he was treated in intensive care until December 29. The patient had not traveled since he visited Algeria in August 2019. His child first came down with flu-like symptoms before he fell ill.
When the COVID-19 outbreak started in China, Europe was dealing with seasonal flu. To check patients admitted to their intensive care units with flu-like symptoms were not misdiagnosed COVID-19 cases, the team re-tested respiratory samples.They found the man's tested positive for SARS-CoV-2. They reassessed his radiology scans and clinical signs, and saw that in hindsight they mirrored those of COVID-19 patients in China and Italy, the team said.
The finding "dramatically" changes knowledge of when the coronavirus spread in France, as the first case was reported on January 24 in a man who had traveled to China, they argued. "Moreover, the absence of a link with China and the lack of recent travel suggest that the disease was already spreading among the French population at the end of December, 2019," the authors wrote.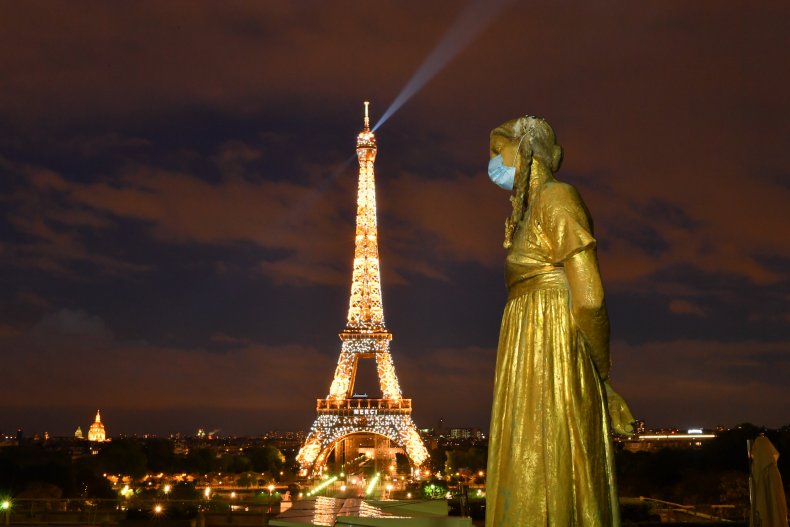 Experts not involved in the study said the claim is interesting but should be viewed with caution. Jonathan Ball, professor of molecular virology at the University of Nottingham, U.K., said in a statement: "It's not impossible that it was an early introduction, but the evidence isn't conclusive by any means." He said the test may have been contaminated, and given a false positive.
Stephen Griffin, associate professor at the U.K's Leeds Institute of Medical Research, said the finding is "potentially important," but said a number of steps need to be taken, including mapping the genome of the virus in the sample and comparing it to other SARS-CoV-2 samples, to confirm the report. Until then "we must be cautious when interpreting these findings," he said.
Following the report from France, Sweden's state epidemiologist Anders Tegnell said he would not find it surprising if there were cases of COVID-19 in his country in November. According to the U.K.'s Telegraph, he told his country's TT news agency: "I think you could find individual cases among travellers to Wuhan who were there back in November and December last year. That doesn't sound strange at all, but more completely to be expected."
However, Tegnell said he does not believe the virus was spreading significantly in Sweden or Europe before cases started to rise in February and March, and stated he did not think samples should be retested while the country copes with COVID-19.
The prospect of the coronavirus silently spreading outside of China was also raised in March. Reuters reported Italian researchers planned to investigate whether a higher than normal number of severe pneumonia and flu cases in the Lombardy region between October and December were in fact COVID-19.
Tim Spector, professor of genetic epidemiology at the U.K.'s King's College London told the Sunday Times the results of a COVID-19 tracking set up by his team suggest the coronavirus may have been circulating in his county from early January. "The reports I am getting are from people who were ill from early January onwards and strongly suggest they had COVID-19 but were not recognised as such," he said.
However, experts cast doubt on the idea that many people were sick with COVID-19 in the winter of 2019.
Brouwer said: "If you had respiratory illness symptoms back in November/December and are wondering if you had COVID-19, the answer is probably not.
"Many respiratory viruses, such as influenza, circulate at that time of year. Even if COVID-19 was beginning to spread undetected at that time, the actual number of people infected was probably relatively small, so the likelihood that any individual illness was COVID-19 is also small."
Antibody tests being developed should be able to tell people if they were infected, he said.
Simon Clarke, associate professor in cellular microbiology at the University of Reading, also said in a statement that other respiratory illnesses like the flu circulate in the winter "causing people to feel very unwell and can also be fatal."
Drobac commented: "Nearly everyone I know thinks they had COVID-19 in December or January. In most cases, of course, it was probably a run-of-the-mill winter respiratory infection.
"Based on what we know about COVID-19 transmission dynamics, it's unlikely that there was ongoing transmission outside of China as far back as November 2019. If that were the case, the epidemics should have exploded much earlier than they did.
"That said, this has proven to be a wily virus. Every time we think we know something, it seems to surprise us. So we need to stay humble and keep working."