Despite COVID-19 hospitalizations steadily inching up in the U.S., mask mandates on planes are unlikely to make a comeback, experts told Newsweek.
The U.S. Centers for Disease Control and Prevention (CDC) issued an order in January 2021 requiring people to wear masks on public transportation, including planes and in transportation hubs.
The mandate was struck down by a federal judge on April 18, 2022, freeing airlines, airports and other transportation hubs to make their own decisions about mask requirements. All the major airlines quickly switched to a mask-optional policy.
Although the severity of the COVID-19 pandemic has passed, there are still thousands of hospitalizations and hundreds of deaths in the U.S. each week and hospitalizations have been increasing since late summer.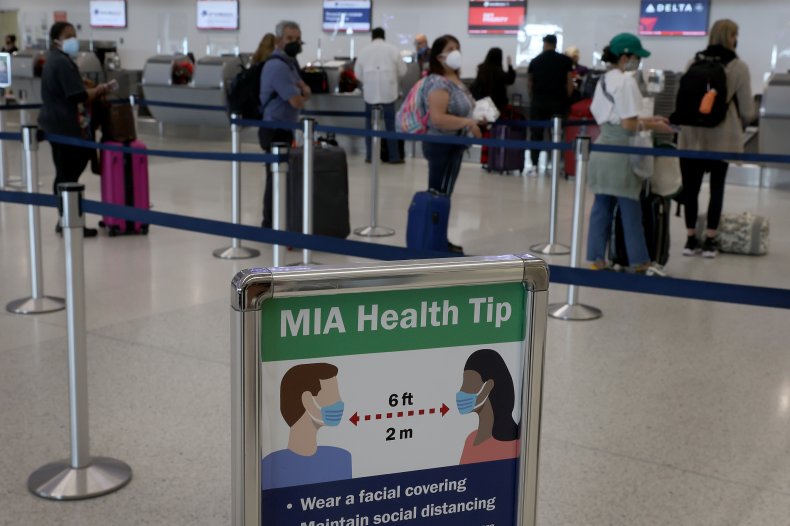 Some businesses, schools and hospitals have imposed mask mandates in response to an uptick in COVID cases, prompting some concern that masks may soon be required on planes.
All major U.S. airlines say masks are currently optional for both passengers and crew. A spokesperson for Alaska Airlines told Newsweek that the airline has "no changes planned for that policy." Other airlines have been contacted for comment.
A CDC spokesperson told Newsweek on Wednesday that the agency "continues to recommend that all people are up to date on their COVID-19 vaccines and take steps to protect themselves and others. Anyone may choose to wear a mask at any time."
The spokesperson said the CDC's advice for individual and community actions around COVID-19 "are tied to hospital admission levels, which are currently low for more than 92 percent of the country." A CDC spokesperson also recently said that "rumors we've seen about plans for mask mandates are not true."
Meanwhile, experts on infectious diseases say it is unlikely that masks will be required on planes this fall and winter despite the risk of another winter coronavirus surge.
"It's unlikely that we'll see airlines implement masking mandates again for a few reasons—we are no longer in an emergent state of the pandemic [meaning federal and international directives], cases are not as high as they were historically, and quite frankly, public sentiment towards mask mandates is likely to make any attempt extremely challenging," Dr. Saskia Popescu, an epidemiologist and assistant professor at the University of Maryland School of Medicine, told Newsweek.
Popescu said it would be good to see airlines move to widespread mask recommendations during periods of higher spread, as well as discourage people from traveling if they are sick.
"Traveling recently, you can see the high volumes of people flying in this post-emergent state of COVID, which is a strong indicator of what we'll see this winter and further reinforces why we should recommend and normalize masking during periods of high respiratory virus transmission," Popescu said.
"The hard part though is that unlike flu, COVID doesn't just stick to the winter months, and we often see summer surges, so for the sake of operational ease, it may be easier for airlines to implement a two-fold plan—masking recommendations during winter months and during any significant peaks of COVID cases. Unless cases drastically change and/or there's a shift in vaccine protection, I would be hard-pressed to see any airlines make these changes, though."
Dr. Leana Wen, a public health professor at George Washington University, said she believes it is "extremely unlikely" that federal mask requirements will return.
"There are many more tools compared to earlier in the pandemic, including vaccines and treatments that can dramatically reduce the risk of hospitalization and death from COVID-19," Wen told Newsweek.
The Food and Drug Administration approved updated COVID-19 vaccines from Moderna and Pfizer on Monday, and the CDC on Tuesday recommended that anyone 6 months and older should get at least one dose of an updated shot.
Although masks, especially N95 and KN95 respirators, provide a measure of protection, Americans are "not in a mood to accept new mask mandates," said Dr. William Schaffner, a professor of preventive medicine at Vanderbilt University Medical Center.
"Thus, the use of masks is left to the discretion of the individual person," he told Newsweek.
The experts said those who are at higher risk of becoming seriously ill if they contract COVID-19 should seriously consider masking while traveling.
"One-masking is highly protective, so individuals who prioritize avoiding infection should wear a well-fitting N95 or equivalent mask while at the airport, on flights, and in other crowded indoor public settings," Wen said.
Schaffner added that those at higher risk of becoming seriously ill if infected with COVID (or influenza or RSV) should seriously consider wearing masks now as they travel or go to indoor events with many other people.
"These persons include those who are age 65 and older, anyone with chronic medical conditions [heart or lung disease, diabetes, etc.], those who are moderately or seriously immunocompromised and women who are pregnant," he said.
The CDC says masking is "a critical public health tool for preventing the spread of respiratory diseases," including COVID-19 and the flu.
"When people properly wear a high-quality mask or respirator, they protect themselves and those around them, and help keep travel safer for everyone," the agency says on its website.
Uncommon Knowledge
Newsweek is committed to challenging conventional wisdom and finding connections in the search for common ground.
Newsweek is committed to challenging conventional wisdom and finding connections in the search for common ground.
About the writer
Khaleda Rahman is Newsweek's Senior News Reporter based in London, UK. Her focus is reporting on abortion rights, race, education and capital punishment. Khaleda joined Newsweek in 2019 and had previously worked at the MailOnline in London, New York and Sydney. She is a graduate of University College London. Languages: English.
You can get in touch with Khaleda by emailing k.rahman@newsweek.com