A significant drop in COVID-19 cases over the last month has U.S. officials like Dr. Anthony Fauci speaking optimistically about the immediate future.
Since the peak of the recent COVID resurgence in mid-September, cases of the virus in the U.S. have dropped by roughly 44 percent, according to a report from ABC7NY. The decline has been consistent, with case numbers dropping by 28 percent in the last two weeks, according to the Financial Times. Hospitalizations also declined by around 20 percent in the same amount of time.
The new wave of cases was largely attributed to the rise of the more infectious Delta variant and the continued issue of vaccine hesitancy in many parts of the country. Data compiled and graphed by The New York Times showed that the resurgence began to spike cases in the U.S. in early July, peaking on September 13. The drop in deaths has been notably less steep, with the Times data showing only a 2 percent decrease in the last two weeks.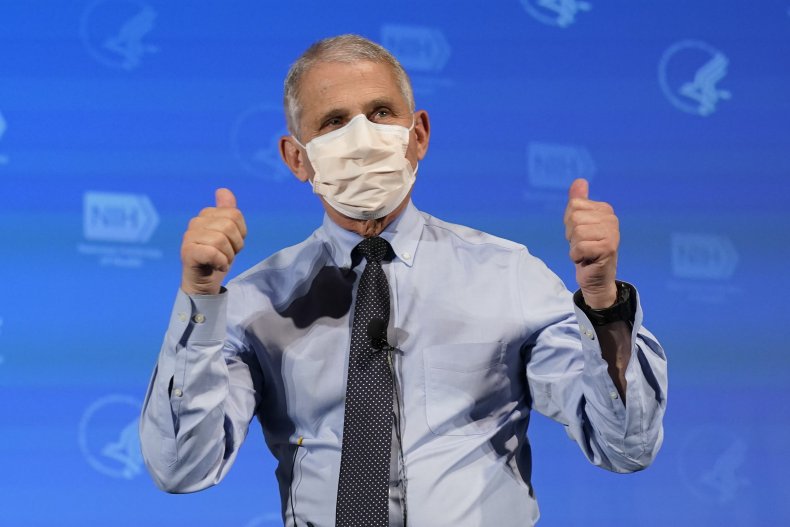 Even in Florida, once considered the epicenter of the recent COVID resurgence, case numbers have seemingly leveled off. In the past week, the state saw around 24,000 new cases, in line with the likes of New York, North Carolina and Virginia.
Reflecting these numbers, leading infections disease expert Dr. Anthony Fauci has recently begun expressing optimistic sentiments about the immediate future. During an interview that aired on Sunday, Fauci said that he "strongly suspects" that COVID deaths will decline during the upcoming winter months. He also explained that the slower decline in deaths is a "lagging indicator."
"Fortunately, right now, over the last few weeks, we've seen a turnaround in the slope is going down in both cases and hospitalizations," the doctor explained. "Deaths are still up, but it's really flattening, so it's a lagging indicator. I strongly suspect that you're going to start seeing the deaths go down similar to the hospitalizations.
"How quickly they go down and how thoroughly they go down is going to depend a lot on a number of circumstances, which will be influenced by things like the colder weather, people doing things indoors, how well they go by the [Centers for Disease Control and Prevention] guidelines."
During an appearance on CNN's State of the Union, Fauci said that families can expect to be able to safely go trick-or-treating this Halloween and "enjoy it." He did, however, also stress that individuals should still get vaccinated if they are eligible in order to be as safe as possible.
"Particularly if you are vaccinated," he explained. "If you aren't vaccinated, think about it, that you'll add another degree of protection to yourself and your children and your family and your community, so it's a good time to reflect on why it's important to get vaccinated."
About the writer
Thomas Kika is a Newsweek weekend reporter based in upstate New York. His focus is reporting on crime and national politics. In the past, he has also focused on things like business, technology, and popular culture. Thomas joined Newsweek in 2021 and previously worked at the International Business Times. He is a graduate of the University at Albany. You can get in touch with Thomas by emailing t.kika@newsweek.com. Languages: English.