COVID Concert Isn't the First Time Smash Mouth Singer Steve Harwell Has Courted Controversy
A man once said "I ain't the sharpest tool in the shed." That man was Smash Mouth frontman Steve Harwell, on the band's deathless hit "All Star." And now, Harwell is in the news for something else he said, about coronavirus. During an August 9 concert in Sturgis, South Dakota, Harwell shouted into the crowd, "We're all here together tonight! F*** that COVID s***!"
TMZ reported that upwards of 1,000 people attended the concert, which was part of a 10-day long Sturgis Motorcycle Rally festival, and very few were wearing face coverings and practicing social distancing. Other bands on the festival's lineup include Buckcherry, Trapt, Lit and Drowning Pool.
This isn't the first time that the "All Star" singer has been embroiled with controversy and scandal, though.
During the 2015 Taste of Fort Collins food festival in Colorado, Harwell became seriously angry when fans started throwing bread at him onstage. He then began cursing at the crowd, and threatened to beat up the culprit.
"You throw one more piece of s*** on f***in' stage, I'm gonna come find your a**, I'm gonna beat your a**, whoever the f*** you are out there," Harwell screamed, as per Billboard. "You wanna be a bada**? Come up here. Come on. Come be a badass up here. Come on! Come onstage! Come onstage, bada**! Come on! Come onstage! You bring your ass onstage, whoever's throwing s*** at me!"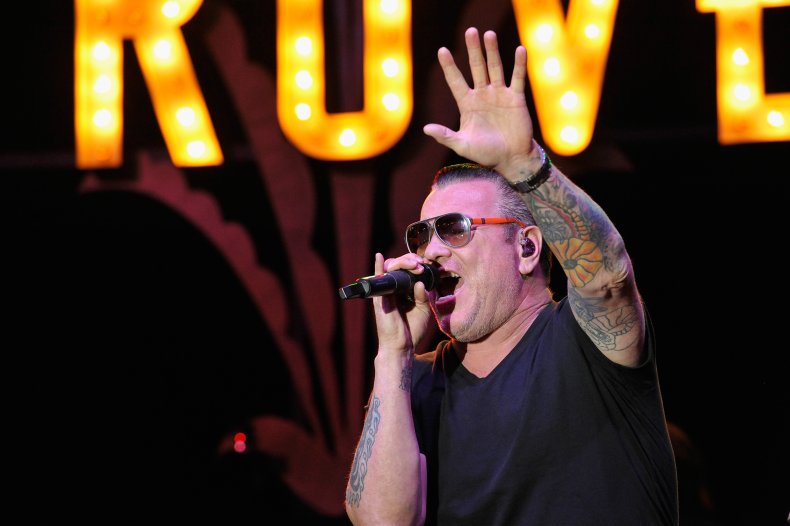 Years later, in September 2019, TMZ reported that Harwell's fiancée at the time, Esther Campbell, was seeking a restraining order for what she called "threatening behavior." The couple had recently gotten engaged, but according to legal documents obtained by TMZ, Campbell didn't want Harwell to move into her house because of his alleged behavior.
She also was hoping that a judge would order Harwell to rehab or to start attending AA meetings. Campbell alleged that his drinking had gotten out of hand, and that he was harassing her with phone calls and text messages.
In May 2020, Harwell was hit with a temporary restraining order from Campbell, according to TMZ. She alleged in court documents reportedly obtained by the outlet that Harwell was mentally and verbally abusive, and described him as "vindictive, angry, vile and mean." Campbell also claimed in the legal docs that Harwell appeared to be doing better after spending some time in rehab, but that he relapsed in early 2020 and had to seek further treatment. Campbell alleged that, following that more recent round of treatment, Harwell stole and destroyed her phone.
In a much less serious controversy, Smash Mouth recently drew the ire of Taylor Swift fanatics, after the band's official Twitter account shaded Swift's surprise album folklore, calling it "borelore." Swifties were quick to respond to the band's poor review of the new album, and slammed Smash Mouth for having "one hit in a children's movie about ogres."
Newsweek reached out to a rep for Smash Mouth but did not receive comment in time for publication.