As the highly contagious Delta variant of COVID-19 continues to spread in the U.S., a handful of states have been hit harder than most amid fears of a fresh wave of infections over Fourth of July weekend.
The U.S Centers for Disease Control and Prevention has analysed data collected from 25 U.S. states over four weeks to June 5, and concluded that the states with the highest proportions of the Delta variant—or B.1.617.2—are Missouri at 29.9 percent, Colorado at 12.2 percent and New Jersey at 10.2 percent.
The CDC data only covers states with at least 300 sequences from collected specimens. This process, genomic sequencing, enables scientists to monitor the coronavirus' shifts into new variants and how these changes affect its characteristics.
In Missouri—one of the poorest U.S. states—45 percent of people have received at least one dose of the COVID vaccine by July 2, according to data compiled by The New York Times. In Colorado and New Jersey, over half of the populations have had one dose, at 58 percent and 63 percent respectively.
At a press briefing on Thursday, CDC Director Dr. Rochelle Walensky pointed to "incredible progress towards ending the pandemic," with "overall low number of cases, hospitalizations and deaths."
"However, looking state by state and county by county, it's clear that communities where people remain unvaccinated are communities where people remain vulnerable," she said. "This is all true as we monitor the continued spread of the hyper-transmissible Delta variant."
Walensky said the Delta variant was forecast to become the second most prevalent variant in the U.S. She expects it to eclipse the Alpha variant, or B.1.1.7., in the coming weeks.
"An estimated 25 percent of all reported SARS-CoV-2 sequences nationwide are the Delta variant," she said. "And in some regions of the country, nearly one in two sequences is the Delta variant.
"There are communities that are vulnerable and where we are now seeing surges in cases and, indeed, also hospitalizations due to what could be the spread of the Delta variant and low vaccination rates in these communities."
Walensky estimated that approximately 1,000 U.S. counties—primarily in the Southeast and Midwest—have vaccination coverage of less than 30 percent.
"In some of these areas, we are already seeing increasing rates of disease," she said. "As the Delta variant continues to spread across the country, we expect to see increased transmissions in these communities unless we can vaccinate more people now."
Walensky added later that preliminary data from a collection of states over the past six months suggested 99.5 percent of deaths from COVID-19 in these states had "occurred in unvaccinated people."
"Any suffering or death from COVID-19 is tragic," she said. "With vaccines available across the country, the suffering and loss we are now seeing is nearly entirely avoidable."
During the briefing, White House COVID response coordinator Jeff Zients announced the deployment of COVID-19 surge response teams to contain the variant.
"These are dedicated teams working with communities at higher risks for or already experiencing outbreaks due to the spread of the Delta variant and their low vaccination rate," he said.
Among other responsibilities, the teams will help expand detection of the virus and contact tracing, provide therapeutics to people with COVID, deploy federal personnel to support local staff, and increase vaccination rates among unvaccinated communities.
The graphic below, provided by Statista, shows countries where the Delta variant is gaining ground.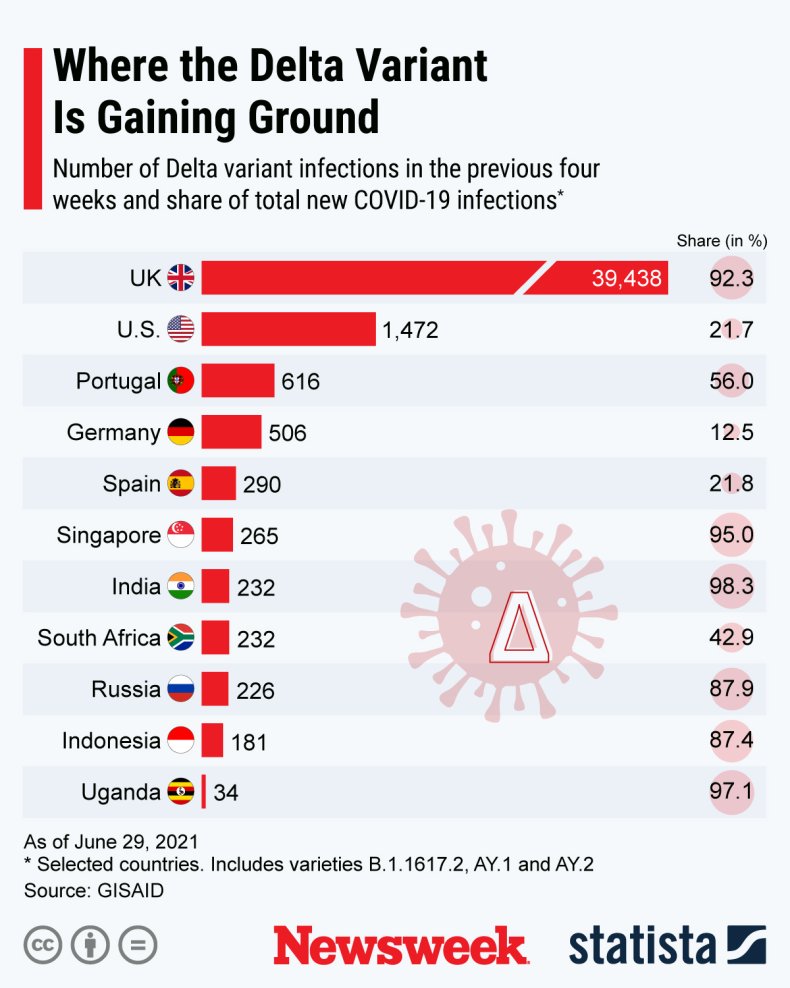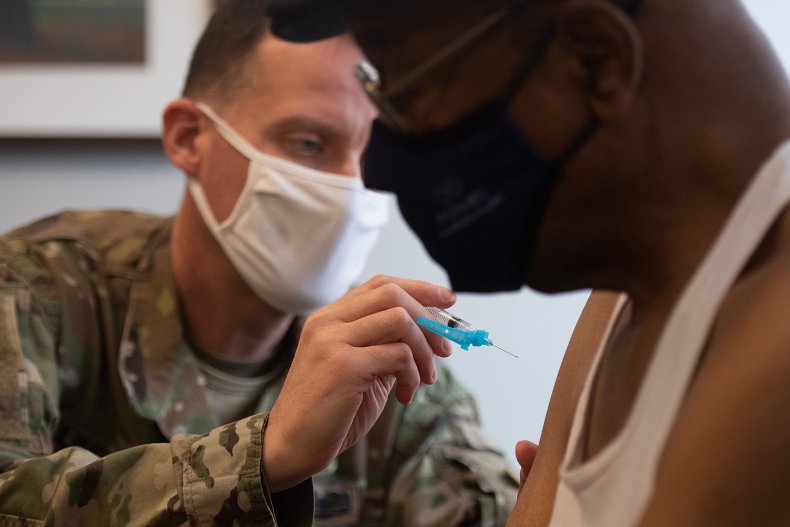 Newsweek, in partnership with NewsGuard, is dedicated to providing accurate and verifiable vaccine and health information. With NewsGuard's HealthGuard browser extension, users can verify if a website is a trustworthy source of health information. Visit the Newsweek VaxFacts website to learn more and to download the HealthGuard browser extension.