COVID Hitting Kids, Teens Harder Than Any Other Demographic in Florida
Children and teenagers now have higher coronavirus positivity rates than any other demographic in Florida, according to the latest data from the state's health department.
As the virus's highly contagious Delta variant continues to rage across the U.S., data from Florida shows that one in every four new infections involves someone 19 or younger.
Children aged 12 and younger now have a test positivity rate of 23 percent, according to the most recent weekly report. For teenagers 12 to 19, the positivity rate is nearly 25 percent. For both age groups combined, that represents a total of 37,641 new cases in the past week.
By comparison, the Florida demographic with the next highest positivity rate was adults aged 20 to 29, with 21 percent, while the lowest positivity rate was found in adults 65 or older, with just 14 percent.
The data, compiled from August 13 to 19, comes after Florida recently reported having the highest rate of hospitalizations among children in the U.S., with more than 50 new patients a day. In general, Florida is one of the worst-hit states when it comes to coronavirus infections and hospitalizations.
The U.S. Department of Human and Health Services said Sunday that 17,253 patients were hospitalized for COVID-19 in Florida—an increase of more than 1,300 from the week before. The state's hospitalizations now account for one in every five COVID-19 patients in the country.
On Monday, nine Central Florida hospitals reported having intensive care units at capacity, with at least two over capacity, according to WFTV. The Florida Hospital Association predicted that 75 percent of the state's hospitals are expected to face a "critical staffing shortage" this week.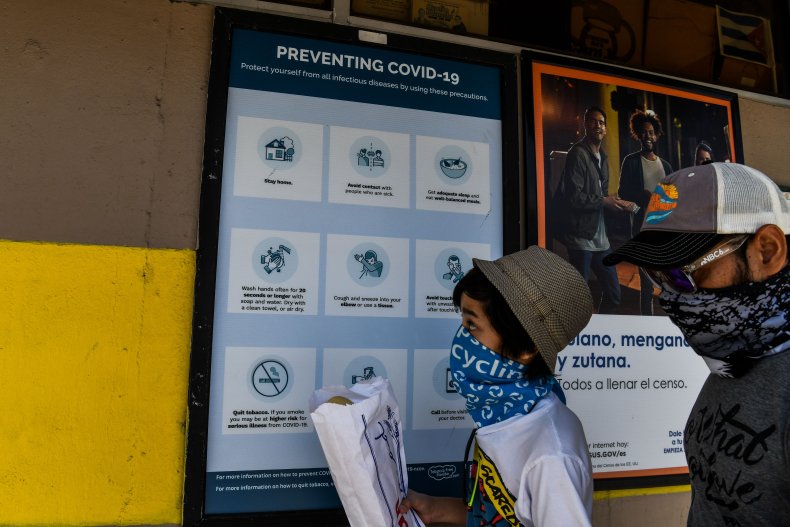 But despite the surge in cases and hospitalizations, Republican Governor Ron DeSantis has banned mask and vaccination mandates, as well as further lockdowns, in the state. He also signed an executive order on July 30 prohibiting school officials from issuing mask mandates.
However, at least seven Florida school districts in charge of over 1 million students have defied DeSantis' order as of Monday morning. Now, a three-day hearing to consider a lawsuit filed by Florida parents challenging DeSantis' order is taking place in a state court. The hearing began on Monday.
"Because of the Delta variant, our schools are not safe and secure unless everyone wears a mask," said Charles Dodson, a former judge who is representing the parents in the lawsuit. "It is certainly an emergency."
In response, lawyers for DeSantis and state officials, who were named as defendants in the suit, argued that parents do not have any legal standing to sue the governor over an issue between the state and dozens of Florida school boards.
Newsweek contacted DeSantis' office for additional comment but did not hear back in time for publication.