New British COVID Lockdown Could Last Until Anniversary on March 23
With exams canceled, schools closed, pubs shut and people only allowed outside once a day for exercise or essential journeys, England's third national lockdown feels just like the first lockdown announced on March 23. But, if whispers around Downing Street are to be believed, that March date has more significance than just to mark COVID Groundhog Day.
If a week is a long time in politics, a year has been an infinity in COVID, as England enters its third national lockdown alongside Scotland, Wales and Northern Ireland. A "stay at home" order for millions has been issued after a new COVID-19 variant that is more transmissible continues to spread.
The new variant, government scientists say, is between 50 and 70 percent more transmissible. Confirmed cases and hospital admissions in the U.K. are as high as they have ever been and are likely to rise further because of the lag between transmission of the virus and any symptoms.
"Our hospitals are under more pressure from COVID than at any time since the start of the pandemic," Prime Minister Boris Johnson said in a national address. "In England alone, the number of COVID patients in hospitals has increased by nearly a third in the last week, to almost 27,000. That number is 40 percent higher than the first peak in April.
"On 29 December, more than 80,000 people tested positive for COVID across the U.K.—a new record. The number of deaths is up by 20 percent over the last week and will sadly rise further."
It is this lag that means the new lockdown, already confirmed to last until at least early February won't start being eased until March, a senior British minister said, with schools potentially remaining shut until then.
"We will have a chance to review on February 15 at the start of what would have been the traditional half term to see how much progress we've made and which schools and in which circumstances they can return," senior minister Michael Gove said. He said that the government "should be able" to begin easing lockdown in early March with current restrictions "progressively" relaxed as transmission rates fall and vaccination rollout becomes more advanced in, as Gove calls it, a "race against time." This February 15 review would leave ministers hoping to lift full national restrictions on February 22 and return to a tiered system similar to the one in force in recent months.
And it is this "race" that has been filled with every cliche under the sun. There is a "light at the end of the tunnel" and we're in the "final round" of the battle with COVID-19. But there is a date looming on the horizon that is being worked towards, if whispers are to be believed, for when Boris Johnson can say that the "final round" is coming to an end and a "knockout blow" is being landed: March 23, one year to the day since the first national lockdown was announced.
There are a number of factors at play to make this date so significant—some scientific, others logistical—but at the heart of this is the political will of getting this done in a year. Johnson's televised address back in March 2020 was one of the most-watched television events in history, with over 27 million people watching, a number only lower than the 1966 World Cup Final and Princess Diana's funeral.
If he steps up a year to the day and says that it's over, it would draw a neat political line under what has been a generation-defining event and helps Johnson's attempts to regain his popularity amid deep unrest both within his party and around the country. Political sources have hinted to Newsweek that this date is important within Downing Street, though nobody would say anything of the sort on the record.
It also acts as a useful deadline to have the vaccine, or at least the full infrastructure for it, rolled out across the country. Senior officials have said that all of the most vulnerable will be immunized by the middle of February and, scientists say, immunity for a patient is reached around three weeks after the first dose of the vaccine. That's that middle of March date again.
Jonathan Van-Tam, England's deputy chief medical officer, has said that it was important for the vaccine rollout to go "as fast" as possible with the "highest volume" of people vaccinated but warned that current vaccination numbers, around 200,000 a week, should not be extrapolated to predict how quickly people would be given their first dose.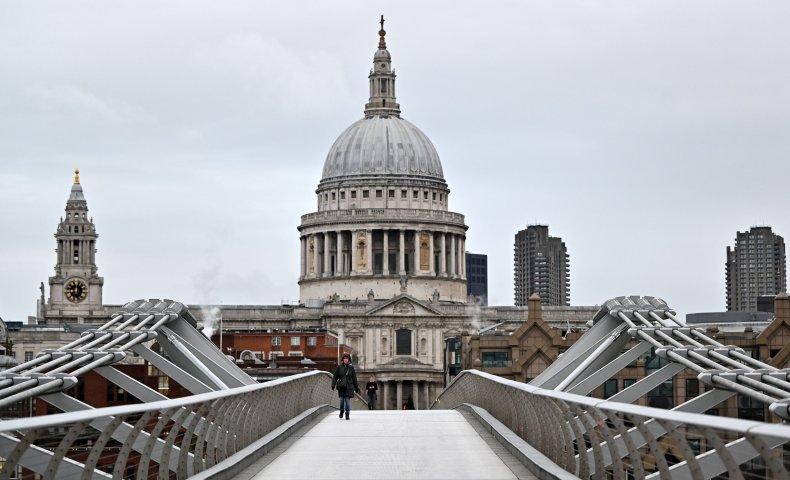 Johnson has promised "tens of millions" of people will be vaccinated over the next three months. For that to be true, 1.5 million people on average would need to be vaccinated each week. The U.K. now has a testing capacity of over 500,000 a day but the technical ability to administer a vaccine is very different from overseeing a test.
The government has set out nine priority groups for the vaccine, accounting for up to 99 percent of the deaths. This covers anybody over 50, with an underlying health condition or frontline health care or care home workers. This amounts to around 30 million people and is expected to take until around Easter. Easter Sunday falls on April 4 in 2021 and again, the same pattern emerges.
Schools would be broken up and most Brits would be off work for a bank holiday. March 20 is the first day of Spring so every announcement would offer a chance for "spring in the step" and "rebirth" cliches alongside the scientific assurance that a virus like COVID-19 is less likely to transmit between people over the summer months.
There are still many unknowns—the pace of vaccine rollout, how quickly case numbers will fall, how tightly new lockdown laws are followed—about when COVID-19 measures will not be needed but this date is said to be a clear one on the horizon. An easing of restrictions would not mean that everything went back to normal straight away but if Johnson really does get to announce the "end" of COVID restrictions on March 23 to rollout over Easter, chances are that more than 27 million people would be watching.
Downing Street referred Newsweek to the prime minister's comments when contacted for the piece and said there was no specific date in mind for restrictions to be ended.