COVID Mutation 'Will Spread More' Says U.K. Chief Scientific Adviser
Strict lockdown rules to stop the spread of a new fast-moving strain of COVID-19 may have to be applied to all of England "and not reduced", the country's chief scientific adviser has warned. Sir Patrick Vallance, the U.K. government's science chief, said that due to household mixing over Christmas "there will be increases in numbers [of COVID cases] over the next few weeks."
Speaking at a press conference at 10 Downing Street, Vallance said it is "likely" that the current lockdown measures in England "may need to be increased in some places in due course and not reduced". Prime Minister Boris Johnson announced a strict new lockdown for millions on Saturday which has seen people's holiday plans ruined under a warning to stay at home, just days after Johnson said it would be "inhuman" to cancel Christmas.
The restrictions came after scientists discovered a new variant of COVID-19 in England's southeast that could be up to 70 percent more transmissible. The new strain is fast-moving, scientists have said, but does not appear to be deadlier or have an impact on the success of a COVID vaccine. With evidence suggesting the new variant spreads more easily, Vallance was asked why the whole of England was not placed under the toughest "tier 4" stay at home lockdown measures. This currently applies to London, Kent, Essex and swathes of the southeast of England, and will see people unable to form bubbles with other households over Christmas.
The majority of the rest of the country is under tiers two and three. In all other tiers, Christmas bubbles can continue with up to three households able to meet on Christmas Day. Vallance said tier decisions are not for him, but suggested the new COVID mutation may well have already spread across England. "I think it is likely this will grow in numbers of the variant across the country," Vallance said.
"It's likely, therefore, measures will need to be increased in some places in due course and not reduced. I think it is the case this will spread more." The scientific adviser said the message for people planning to travel across the country over Christmas is to "stay local".
He was speaking alongside Johnson and Transport Secretary Grant Shapps after a growing number of countries across the globe placed the U.K. under travel bans as a result of the fast-spreading virus.
France closed its border to ban freight hauliers from crossing the English Channel over fears surrounding the new COVID variant. Johnson told the press conference he had spoken with French President Emmanuel Macron and both sides are working to "unblock the flow of trade as fast as possible".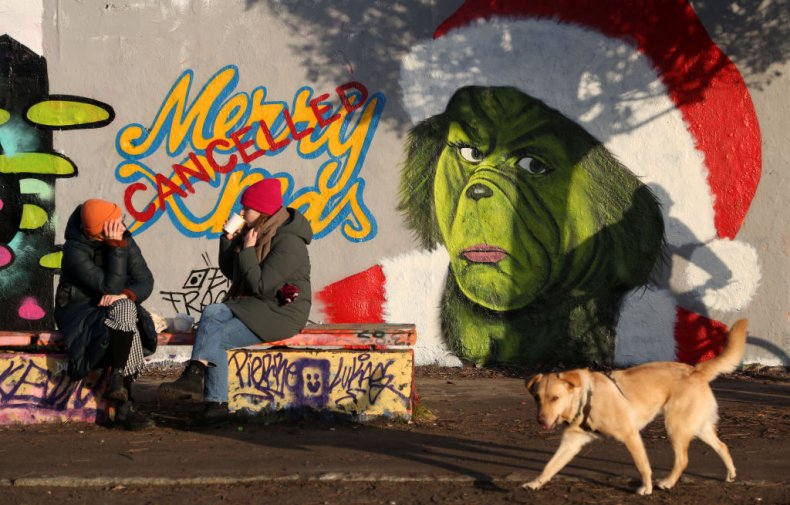 The U.K. prime minister said the "vast majority" of food and medical supplies are unaffected by the ban, over fears supermarkets could run low on produce ahead of Christmas, as huge queues of lorries were seen at the Port of Dover, in Kent.
"It is vital first to stress that these delays - which are only occurring at Dover - only affect human-handled freight, and that is only 20 percent of the total arriving from or departing to the European continent," he said.
"These delays only apply to a very small percentage of food entering the U.K., and as British supermarkets have said, their supply chains are strong and robust, so everyone can continue to shop normally."
Despite bans on incoming U.K. flights into much of Europe and Canada, the U.S. has shown no sign of shutting its borders to travelers from the U.K. At least 70 flights departing London have landed—or are scheduled to land—in the U.S. over the past 48 hours, data obtained by Newsweek from flight tracking website Flight Aware shows.
The latest official figures recorded 215 deaths and 33,364 new cases of COVID-19 across the U.K.