As New COVID Strain Hits U.K., At Least 70 London Flights Landed in U.S. in Past 48 Hours
As the U.K. is a hit by a new and potentially more virulent and transmissible strain of COVID-19, at least 70 flights departing London have landed—or are scheduled to land—in the U.S. over the past 48 hours.
Despite new regulations introduced in Canada and much of Europe to halt incoming flights from the region, the U.S. has shown no sign of shutting off the dozens of flights arriving each day.
The tough new travel restrictions came after scientists discovered a new variant of the coronavirus in England's southeast that could be up to 70 percent more transmissible.
Announced last week, the new strain VUI202012/01 is fast-moving and comes as the country is already battling a surge in cases.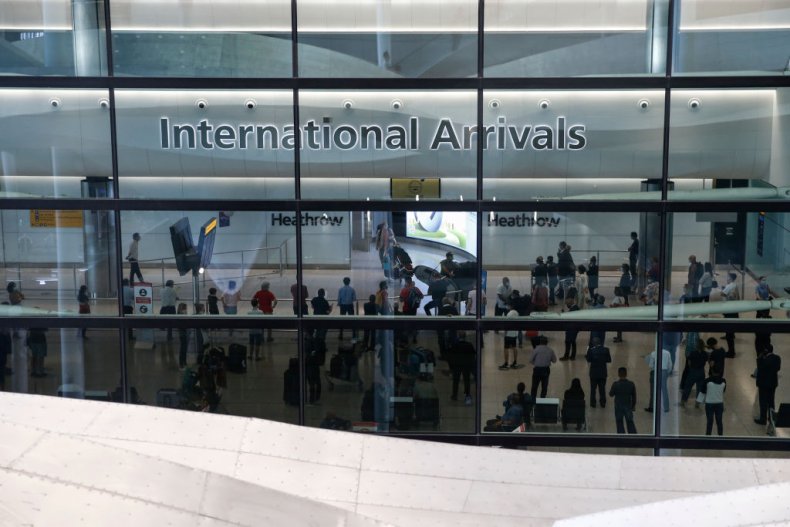 Data obtained by Newsweek from flight tracking website Flight Aware shows that at least 70 nonstop flights departed from London airports and arrived, or are scheduled to arrive, in the U.S. over the past two days.
New York saw the highest volume of arriving flights, with 10 non-stop passenger flights leaving London on Sunday and arriving at either John F. Kennedy (JFK) or Newark Liberty (EWR) airports. Another ten flights departed on Monday.
Chicago saw the second-highest number of flights with 6 departing from London Heathrow (LHR) and arriving at Chicago O'Hare (ORD) on Sunday and a further 4 are scheduled to land on Monday.
Four flights arrived in Los Angeles (LAX) on Sunday, with another two set to touch down on Monday.
While these three airports accounted for the majority of flights (36) incoming from the U.K., a handful of other U.S. airports welcomed arrivals from Britain.
Another 34 non-stop flights were registered to have arrived, or are scheduled to arrive, in San Francisco, Dallas, Washington, Atlanta, Miami, Boston, Philadelphia, Seattle and Houston, over the same time period.
New York Governor Andrew Cuomo has questioned why flights are continuing to arrive in his state from the U.K., despite a new variant of the virus spreading there.
"We have about six flights a day coming in from the U.K. and we have done absolutely nothing," Cuomo said, as reported by WABC. "To me this is reprehensible because this is what happened in the spring. Coronavirus is in China. No it wasn't, it's in Europe. It came from Europe and we did nothing.
"Right now this variant in the U.K. is getting on a plane and flying to JFK. Right now today. 120 countries require a test. We don't. Other European countries have done a ban. We haven't. And today that variant is getting on a plane and landing at JFK. How many times in life do you have to make the same mistake before you learn. Be one of the 120 countries that requires a test before you come to the U.S. This is the mistake we made."
Cuomo said the Port Authority did not have the authority to ban passengers or monitor the health of passengers and it would be a federal decision.
"Where is HHS? Where is CDC? Where is NIH?, he asked. "This is the same mistake and literally six flights a day. And all it takes is one person."
About 120 countries now require a negative test before arriving from the U.K., and many have closed their borders entirely.
Canada joined several European nations including Germany, Italy, the Netherlands, France, Portugal, Switzerland and Ireland by halting flights from the U.K. on Sunday.
The Public Health Agency of Canada said in a statement that those passengers who had already arrived in Canada from the U.K. would be now subject to enhanced screening measures, including stronger scrutiny of their quarantine plans.
Newsweek has contacted the U.K. Civil Aviation Authority, the U.K. Department for Transport, the U.S. Transport and Security Administration and Airlines for America for comment.