Endemic vs. Pandemic—How COVID Is Evolving Amid Avalanche of Omicron Cases
A tailing off of COVID-19 cases in parts of the U.S. has raised hopes that the Omicron variant has peaked, as calls grow in Europe to switch the designation of the disease from pandemic to endemic.
Top U.S. infectious-diseases expert Dr. Anthony Fauci said on Wednesday the highly contagious variant that the Centers for Disease Control (CDC) says accounts for 95 percent of new COVID cases, "will find just about everybody."
But with the U.S. reporting nearly 1 million new coronavirus infections a day, there is hope that things could soon turn a corner.
The New York Times reported that the number of new COVID cases has fallen in New Jersey and Maryland, and is leveling off in a number of major cities.
It said in Boston, the COVID virus detected in wastewater, which is an indicator of previous case trends, has gone down by about 40 percent since its peak just after the start of the year.
In New York City, COVID cases have flattened after rising more than twentyfold in December 2021. New York Governor Kathy Hochul said last week that it "looks like we may be cresting over that peak."
Meanwhile, a University of Washington model projects daily reported cases in the U.S. will peak at 1.2 million by January 19 and will then fall sharply because it will run out of new people to infect, The Associated Press reported.
Spain's prime minister, Pedro Sánchez, called on the EU to debate the possibility of treating the virus as an endemic illness like the flu, telling a radio station: "It's a necessary debate. Science has given us the answer to protect ourselves."
Professor David Heymann of the London School of Hygiene and Tropical Medicine told the Chatham House think tank that "probably, in the U.K., it's the closest to any country of being out of the pandemic, if it isn't already out of the pandemic and having the disease as endemic as the other four coronaviruses."
Pandemic Versus Endemic
A pandemic is declared by the World Health Organization (WHO) when a disease's growth is exponential and covers a wide area, affecting a number of countries. The term has nothing to do with virology, population immunity, or disease severity.
An endemic disease is one that is constantly present but usually limited to a particular region, and its spread and rates are predictable, according to the CDC.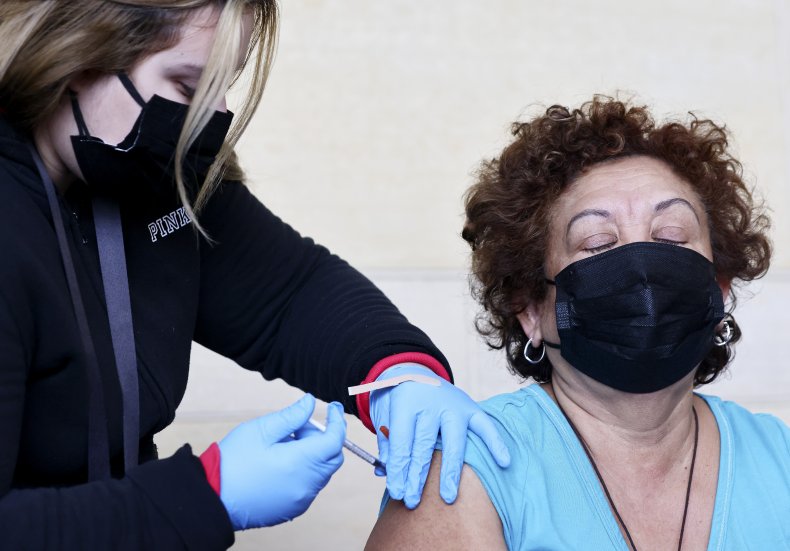 Boston University epidemiologist Eleanor Murray told Vox in 2021 that a disease is endemic if the reproductive number is stably at one, in which "one infected person, on average, infects one other person."
The end of the pandemic will be declared when the WHO decides enough countries have a handle on COVID-19 cases, hospitalizations and deaths. But on Tuesday, the WHO sought to dampen down hopes that COVID will soon be given the new status.
"We still have a huge amount of uncertainty and a virus that is evolving quite quickly, imposing new challenges. We are certainly not at the point where we are able to call it endemic," said Catherine Smallwood, WHO's senior emergency officer for Europe, Reuters reported.
The Experts' View
COVID-19 becoming endemic does not mean that the pandemic will end and the virus will suddenly disappear.
"Instead, the optimistic view is that enough people will gain immune protection from vaccination and from natural infection such that there will be less transmission and much less COVID-19-related hospitalization and death," experts from Harvard TH Chan School of Public Health said in an article published in August 2021.
Health experts agree that it is too early to say that the pandemic is over.
"There are still a lot of people who will get infected as we descend the slope," Lauren Ancel Meyers, director of the University of Texas COVID-19 Modeling Consortium, told the AP.
Marco Cavaleri, head of biological health threats and vaccines strategy at the European Medicines Agency, said regarding whether the pandemic becomes endemic, "nobody knows when exactly we'll be at the end of the tunnel."
"What is important is that we are moving towards the virus becoming more endemic," he told a press briefing this week, CNBC reported. "But I cannot say we've already reached that status, so the virus is still behaving as a pandemic."
Virologist Dr. Angela Rasmussen tweeted on Tuesday: "I keep getting asked if SARS-CoV-2 is endemic yet. Record-busting case counts are not endemicity."
Her message was shared by WHO infectious diseases epidemiologist Maria van Kerkhove, who said: "Nope, not endemic yet."