COVID Patients Could Be Moved To Hotels To Free up Hospital Beds in England
COVID-19 patients in Britain's National Health Service (NHS) may be discharged into hotels to free up hospital beds as cases continue to rise, Health Secretary Matt Hancock has said.
Senior doctors at some NHS Trusts have warned hospitals are at risk of becoming overwhelmed by COVID patients with critical care beds running out. More than 35,000 COVID patients are currently in hospitals across the U.K. - more than during the peak of the first wave. Hancock said the U.K. government would "look at all options" to relieve pressures on the NHS following a Guardian report that thousands of hospital patients are to be discharged early to hotels or their own homes to free up beds for Covid-19 sufferers needing life-or-death care.
"We'd only ever do that if it was clinically the right thing for somebody," Hancock told Sky News. "But in some cases, people need step-down care, they don't actually need to be in a hospital bed. We work very closely with the social care sector to make sure that capacity is available. But we look at all options. So this isn't a concrete proposal by any means, but it's something we look at, because we look at all contingencies."
The health secretary said the NHS Nightingale Hospital in London - created at the beginning of the pandemic as an overflow ICU - had begun taking non-COVID patients as "back-up" but that ministers had alternative plans "in case there's more that's needed" in future. "There are huge pressures on the NHS and, as you'd expect, we're looking to all different ways that we can relieve those pressures," he said.
The Guardian reports that patients discharged early into a hotel will still receive help from voluntary health organizations such as St John Ambulance and the British Red Cross, armed forces medical personnel, and any available NHS staff. Patients will not be asked to leave the hospital early if they are still medically at risk, NHS officials said.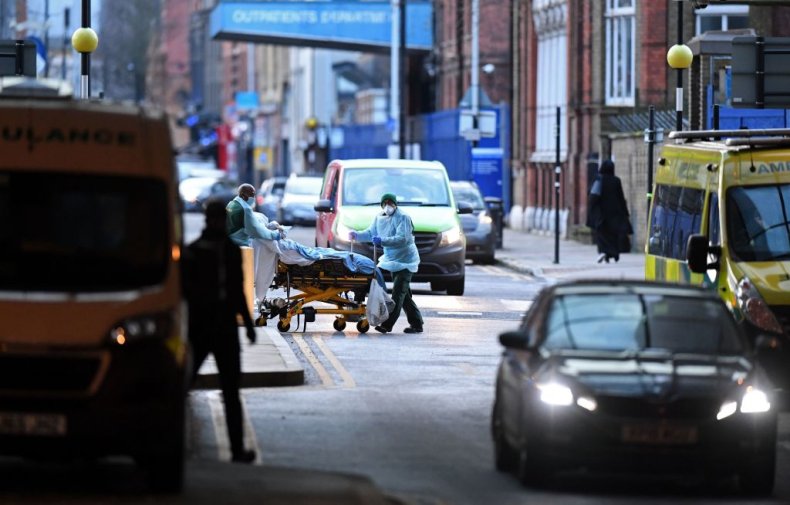 Heath leaders fear that the new COVID variant, first detected in the south of England before Christmas, is leaving many hospitals struggling to cope particularly in London and the south-east of England, where infection rates are soaring. One in 30 people in London is now believed to have COVID-19. It is feared the new variant has already spread across the U.K. and will soon have the same impact on infections in the south-west and north-west of England.
Prime Minister Boris Johnson is due to review England's current national lockdown measures in mid-February, which may see school pupils return to classrooms following their half-term holiday. But health secretary Hancock said it is still "impossible to know" when the restrictions will be relieved.
He said the government is "on track" to meet its aim of giving up to 15 million of the most vulnerable people the first dose of a COVID vaccine by February 15. Britain has approved three vaccines, from Pfizer, AstraZeneca and Moderna, but is yet to receive doses of the Moderna jab. Up to January 11, 2,431,648 people in the U.K. had received the first dose of a COVID vaccine. Vaccines are being given to the most vulnerable first, as set out in a list of nine high-priority groups, covering around 30 million people in the UK.