'Worst Point of COVID Pandemic' Hitting Hospitals Now Says England's Chief Medical Officer
England's Chief Medical Officer Professor Chris Whitty has warned that Britain is now entering the "most dangerous time" of the pandemic with over 30,000 people and rising being treated in hospital for COVID.
Whitty said that, on average, one in 50 people in the U.K. are currently infected, with that narrowing to one in 20 in parts of London, which he said means that "there is a very high chance that if you meet someone unnecessarily, they will have COVID" and steps should be taken to avoid that.
"We are now at the worst point of this epidemic for the U.K," Whitty told BBC Radio 4. "The numbers are higher than they were at the previous peak by some distance."
Speaking to British media as the country began a mass vaccine program to inject 15 million people by mid-February, Whitty said the new variant "makes every situation slightly more dangerous" than with the original strain of COVID-19. It is now the dominant variant across the U.K., he said. England, Scotland, Northern Ireland, and Wales have all implemented strict lockdowns, with British Prime Minister Boris Johnson warning people to stay at home unless in exceptional circumstances. Schools remain in operation for the children of key workers, while nurseries for younger children are still open.
But a record number of people are now in hospital across the U.K. with COVID-19, with 32,294 patients up to January 7 compared to the peak of around 18,000 in April. More than 80,000 people have now died within 28 days of a positive test across the U.K. Mass vaccination centers are opening in England this week, with GP-led and hospital services also opening to ramp up the number of COVID shots being administered. The most vulnerable people are first in line for injections, with the aim that all over-70s, healthcare workers and those required to shield will be vaccinated by the Spring.
Describing the situation in Britain as "appalling", Whitty urged people to follow the rules and take social distancing seriously. He said the ultimate aim for vaccination would be to offer wider herd immunity - but warned that is still a long way off.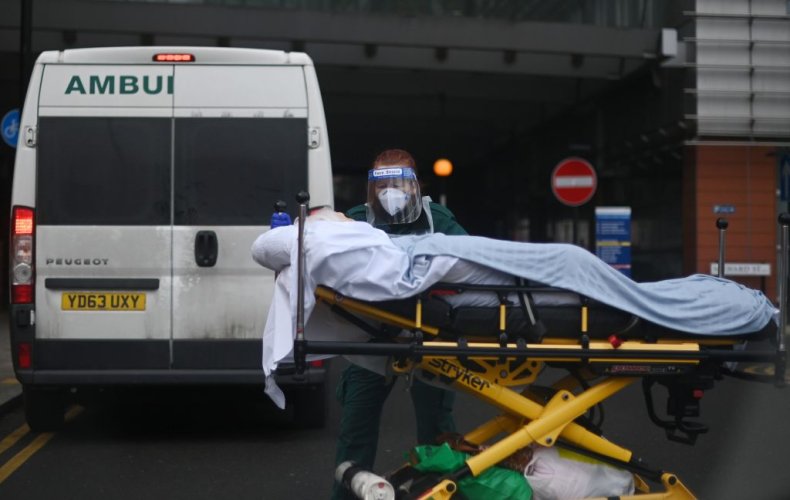 Explaining the difference between natural herd immunity - where a sufficient percentage of the population has become immune due to prior infection - and herd immunity by vaccination, Whitty said: "The initial discussions around [herd immunity] were I think a misunderstanding by some people, about the fact that actually natural herd immunity would have led to very very large numbers - hundreds of thousands of people - dying.
"Herd immunity given by vaccination is a different issue and if we get to a point where actually a very high proportion of the population has been vaccinated, and if the vaccine prevents transmission...and it lasts for a reasonable length of time, then we may get to a stage where so many people are vaccinated and so many people are immune, that the remaining small number of people who aren't vaccinated are protected by that wider group. I don't think we are anywhere near that at the moment, that's a state we would all like to get to and is one of the reasons, if people are offered a vaccine, I would strongly encourage them to take it up."
Johnson is reportedly looking at tightening national lockdown rules even further if case numbers do not begin to fall. The prime minister met cabinet colleagues on Sunday to discuss further limits, with new rules on outdoor exercise, compulsory mask-wearing outdoors and strict measures on household "bubbles" reportedly being considered.