Spiraling COVID Cases Are Overwhelming Hospitals In U.K
There are currently a record 30,451 patients in hospital with COVID-19 across the U.K and admissions are rising, as the impact of the relaxation of social distancing rules over Christmas hits critical care wards.
This week, the U.K. recorded more than 1,000 deaths in a day for the first time since the peak of the first COVID wave in April. Doctors are warning COVID wards will soon become overwhelmed in some regions within the National Health Service (NHS), with intensive care beds running short.
The time from exposure to symptom onset, known as the incubation period, is thought to be between three and 14 days, meaning that those who caught COVID over Christmas when rules relaxed and whose conditions deteriorate to the point they need hospitalization are starting to be admitted now.
Modeling early on in the pandemic found that on average around 10 percent of positive COVID cases will need to be hospitalized*. Looking at the latest available data, 20,263 people tested positive for COVID on December 14, two weeks before December 28, when 3,075 new COVID hospital admissions were recorded - around 15 percent of the December 14 cases.
On December 26, more than 40,000 people tested positive, suggesting the U.K. could see as many as 4,000 new daily hospital admissions within the next few days. With the U.K. now recording daily cases above 60,000, the modeling suggests this could result in around 6,000 new hospital admissions a day by the end of January - a doubling of daily admissions in a month.
London hospitals are warning they will be overwhelmed within two weeks even in the best-case scenario, the Health Service Journal reports. It published slides sent to senior doctors by NHS England which show that even if the number of COVID patients grows at the lowest rate considered likely and surge capacity measures like the opening of overflow Nightingale Hospitals are implemented, the NHS in London would be short of nearly 2,000 general and acute and intensive care beds by January 19.
The concern among health workers is that the reality of the situation is not being heard. Critical care doctors and nurses working across the NHS have taken to social media to describe the situation as "desperately bad" and for some, the worst they have witnessed in their careers.
The British government is relying on a tough national lockdown alongside an ambitious vaccine rollout program to bring cases down. Both the Pfizer and AstraZeneca vaccines have been approved by the U.K. health regulator and are now being administered to people across the NHS.
Downing Street has said it aims to vaccinate around 13 million of the most vulnerable people in Britain by the middle of February. Up to December 27, 944,539 people had received the first dose of the COVID-19 vaccine, according to government figures. But it's not just COVID treatment that is under threat by rising cases. The NHS is keen to reassure the public that non-COVID treatment, diagnosis, and surgery is ongoing throughout the second wave.
Across the majority of the U.K. this remains the case, thanks to a deal struck with the private sector to provide overflow beds and staff for patients receiving non-COVID care, including cancer patients. But the rise in COVID cases is already hitting patients in London. One of the NHS's biggest hospitals was forced to cancel urgent cancer surgery this week as so many ICU beds were occupied by COVID patients.
King's College hospital in south London called off all "priority two" cancer operations on Monday and Tuesday, surgery which specialists have judged to be urgent and need to be done within 28 days of the decision to undertake them.
Kruti Shrotri, head of policy at Cancer Research U.K., tells Newsweek the postponement is "extremely concerning". She said: "We know that delays to diagnosis and treatment lead to worse chances of survival, so they do have a real impact on people's lives. By and large, it seems that cancer services are continuing across the country but clearly there are some parts where this is not the case.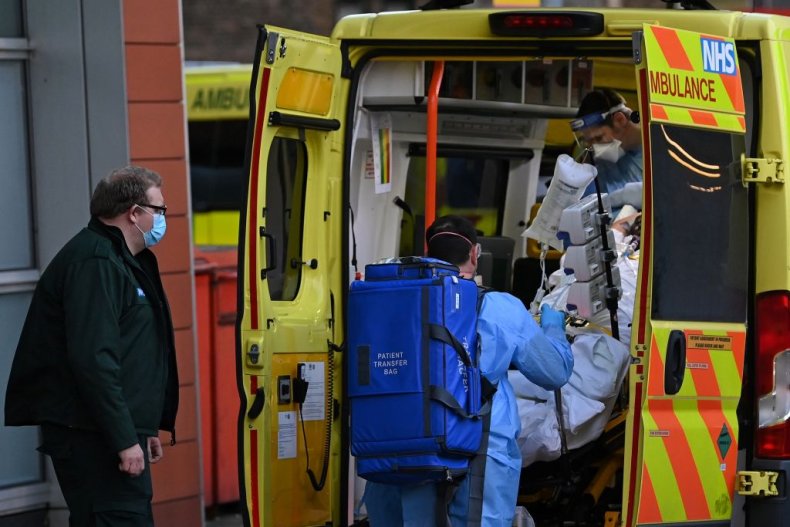 "Cancer services were heavily impacted back in March, April and May when we were experiencing the first wave of the pandemic and the impact of that on the number of people waiting for cancer services, that includes cancer screening, diagnostic tests and treatment, was really significant."
Between March and September 2020, Cancer Research U.K. estimates around three million fewer people than normal had a cancer screening test, and between March and October more than 400,000 fewer people were on an urgent suspected cancer referral and around 3.8 million fewer key diagnostic tests were carried out compared to the same time the previous year in England. Nearly 40,000 fewer patients started treatment for cancer in the U.K. between April and October 2020, a reduction of 20 percent on the previous year, the charity said.
"The health service has been working extremely hard to look after its patients and the decision to pause cancer surgery won't have been made lightly and they do indicate the real pressures which the NHS is facing right now," Shrotri says.
"It's really important that the measures and learning from the first wave continue to be used as we get through this next wave to make sure that as much as possible cancer services can be protected. Not doing so has a devastating impact on people's lives."
An NHS spokesperson said: "NHS trusts continue to treat as many elective patients as possible, prioritizing those who have been waiting the longest, whilst maintaining cancer and urgent treatments. However, the health service is under severe pressure and urges the public to follow government social distancing guidance."
The original deal between NHS England and the independent hospital sector was agreed in March 2020 and has been extended to March 2021. The deal includes the provision of thousands of hospital beds across England as well as thousands of nurses, doctors and other clinical staff.
Analysis shows that 300,629 operations, 47,121 chemotherapy sessions, 413,000 medical tests and 1,125,000 consultations were carried out for NHS patients by independent hospitals between March and December 2020, the NHS said.
Chris Hopson, chief executive of NHS Providers, which represents hospital trusts in England, said: "Any cases that have to be temporarily delayed for a few days will obviously be rebooked for as quickly as possible. But no-one should confuse this with being widespread or standard practice. It's a temporary emergency response to a temporary emergency problem."
Newsweek first wrote about health workers' fears of COVID beds running out in October, when doctors warned a combination of a lack of space and a crippling shortage of staff could see treatments unrelated to the COVID crisis have to be abandoned.
More than 82,000 people have now died with COVID in the U.K., according to death certificate data published by the Office for National Statistics.
*Study Methodology & Notes
The percentage of symptomatic cases requiring hospitalization based on modelling by Imperial College London in March 2020 varies across age groups. It found three percent of people in their 30s require hospitalization, five percent of people in their 40s, 10 percent of people in their 50s, 16 percent of people in their 60s and 24 percent of people in their 70s, require hospital treatment.
For those aged over 80, 27 percent of positive symptomatic cases will require hospitalization. The average percentage is 9.7 percent.