A group of activists, ex-employees, and members of the Southern Workers Assembly union protested Amazon's decision to roll back its universal mask mandate outside a company warehouse in Durham, North Carolina on Wednesday.
On February 10, Amazon said fully vaccinated employees would not have to wear masks while working inside company warehouses. The company also said that staff who had not been fully vaccinated would no longer be eligible for COVID-19-related paid leave. That decision spurred the Wednesday demonstration as protesters said Amazon was not doing enough to keep workers safe.
The protestors marched around the facility carrying signs reading "safe jobs save lives" and "Amazon: Put workers before profits?" WNCN CBS 17 News reported. Dante Strobino an organizer with the Southern Workers Assembly labor union, said the purpose of the demonstration was, "to demand hazard pay, social distancing, continued enforcement of masks, [and] they need to supply N95 masks."
Gloria Lee, a former employee, told WNCN that she did not agree with the decision to drop the mask mandate. "I don't think that's a good idea because they're still not saving jobs. They're not practicing safety," she said.
Amazon's announcement came around the same time Walmart, Goldman Sachs and JPMorgan Chase also took steps to relax the rules surrounding their company mask mandates.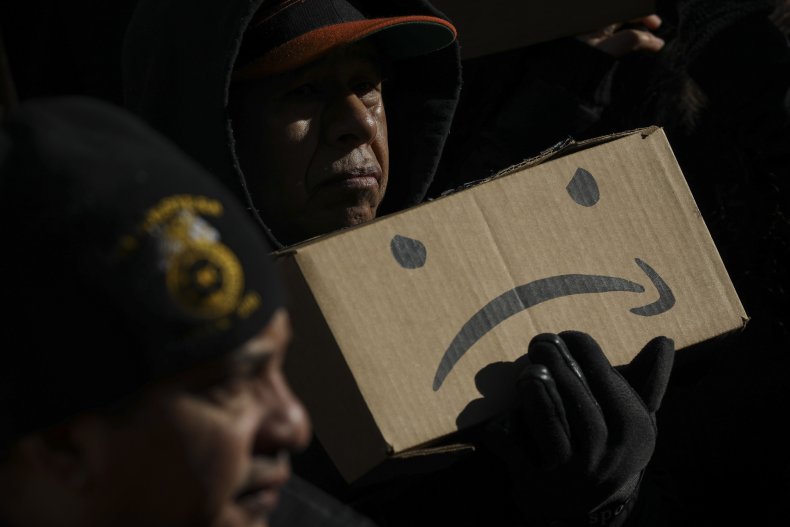 "There has been a sharp decline in COVID-19 cases across the country over the past weeks," Amazon's February 10th memo said. "Along with increasing vaccination rates across the country, this is a positive sign we can return to the path to normal operations."
Over the past two weeks, instances of new COVID-19 cases have dropped by 68 percent. Hospitalizations have fallen by 39 percent and deaths have decreased by 13 percent.
In Durham County, North Carolina, the site of Wednesday's demonstration, cases have fallen by 62 percent over the last two weeks and hospitalizations fell by 26 percent. There have been 10 reported COVID-19-related deaths over that time.
While the CDC continues to promote vaccination as the safest means of reducing severe disease and avoiding death, breakthrough cases among the vaccinated are still known to occur. A study by the Washington State Health Department of over 4 million fully-vaccinated people published on February 16 indicated instances of breakthrough cases are rising.
"The data showed a rate of about 1 in 5,000 experienced a breakthrough infection between January 17 and August 21, 2021," said a report from Johns Hopkins Medicine regarding the study. "More recently, some populations have shown breakthrough infection rates of approximately 1 in 100 fully vaccinated people."
With the risk relatively low and cases on the decline, cities across the country have also moved to loosen their regulations on masking and proof of vaccination. Chicago, Minneapolis, Denver, and Washington D.C. have all taken steps toward bringing their communities closer to a pre-pandemic level of normality. Despite these moves at the local level, the federal government has been slower to shift its stance.
"I committed that I would follow the science, the science as put forward by the CDC, and the federal people. And I think it's probably premature, but it's, you know, it's a tough call," President Joe Biden told NBC News on February 10.