COVID Testing Beset by Long Waits, Slow Turnaround As Demand Surges Across U.S.
America's holiday season is once again fueling surges in COVID-19 testing and despite President Joe Biden's commitment to ramp up testing access, the system is still struggling to handle the influx in demand.
Testing sites across the country are seeing hours-long wait times for COVID-19 tests and are advertising results taking between two and 10 days. While there's no shortage of physical tests, a surge in people looking to get tested can cause delays and long wait times if there aren't enough people to administer the tests and run them in labs.
Rapid tests don't seem to be having as many issues as PCR tests and while people may have to wait in line for hours or wait a few days to secure an appointment, results are still coming back within hours.
In New York City, people have been lined up around the block to get COVID-19 tests and often have had to wait hours. Some places are doing appointments for COVID-19 testing, but they're few and far between and can even come with a wait time of their own.
Clinics with laboratories on site that can run the test often get their PCR test results back sooner than those who have to send tests to a lab and then wait for the results. Testing centers largely don't guarantee results in two to three days and some have said results can take up to 10 days, a similar turnaround time seen last year around the holidays.
At McCoy Stadium in Rhode Island, the state's largest testing site, testing is up 30 percent and turnaround times can be delayed up to 72 hours, according to WLNE. Dr. Wilfredo Giordano-Perez, who works at Tri-County Health in Rhode Island, told WLNE part of the problem is that there are fewer couriers because of COVID-19.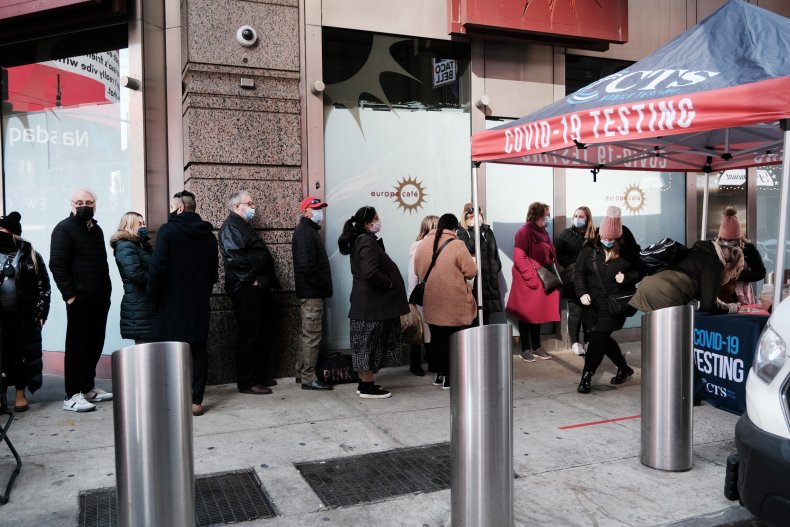 With tests only getting picked up from sites once a day, it means there's going to be delays in receiving results. They're also struggling to sufficiently staff testing clinics because they're double and triple booking slots, whereas they used to have empty time slots.
Negative COVID-19 tests are required for some international travel and often need to be done within 24-72 hours of a traveler's departure flight. So, around the holidays, when many people are traveling, it's reasonable to expect a surge in COVID-19 tests. Combined with people who have COVID-19 symptoms and those who want to get tested before seeing family and friends, the strain on testing sites and laboratories was bound to cause problems.
Shortly after taking office, Biden began increasing testing in the United States and he announced in early December that the country's on track to quadruple the supply of rapid at-home tests from late-summer.
Giordano-Perez is hopeful that Rhode Island sending out 40,000 at-home tests will help alleviate some of the burden on testing sites, but they haven't proved to be a solution to the long wait times and delays America's currently seeing.
At-home tests aren't accepted for travel and cost money upfront, unlike some PCR tests, although Biden announced Americans would be reimbursed for the cost of their at-home tests. They're also less accurate than a PCR test, causing some to be skeptical of using them. However, Chicago Department of Public Health Commissioner Dr. Allison Arwady recently said people can feel confident in their results if taken within 24 hours of a gathering.
The surge in COVID-19 testing demand may not peter out as quickly this year after the holidays as it did last, either. Omicron is spreading rapidly throughout the United States and it's expected to be extremely transmissible. This could lead to a surge in COVID-19 infections, especially among those who are unvaccinated or haven't gotten a booster dose, which means more people could be looking to get tested.
"The testing landscape is still not where we need it to be at a time when we need testing to be ramped up and widely available with quick turnaround times," Keri Althoff, a professor of epidemiology at Johns Hopkins Bloomberg School of Public Health, told CBS News. "There has to be broader testing availability regardless of income or where you are located."