Family of COVID Victim Who Didn't Want Vaccine to Host Vaccination Event at Wake
The family of a 28-year-old COVID victim who did not want the vaccine will offer tests and shots at his wake to help stop anyone else dying from the virus.
A wake for Marquis Davis, who recently died after contracting COVID, will be held at the Faith Temple Christian Center in Rockledge, Florida, on Friday, with his wife Charnese Davis hosting vaccinations and COVID tests for anyone in the area who wants one.
The event is in collaboration with Dr. Reverend Shaun Ferguson, pastor for Faith Temple Christian Center, who told ABC affiliate WFTV9 that the local community was saddened to hear of Davis' death.
"To see someone that young lose their life, it was devastating for his family, devastating for our community, to see a 28-year-old pass away from COVID-19," Ferguson said on Thursday.
Charnese Davis told Spectrum News that her husband was not vaccinated and told her he did not want to get the shot, but informed her while in hospital battling the virus that he would get it once he left the medical facility.
"He was in the hospital. He said, 'Bae, I'm going to get the vaccine when I get out of here,'" Charnese Davis said. "So, he was going to get it. I was like 'Good, I'm so happy you said that, but it's too late.'"
Following Marquis Davis's death, his wife spoke to Ferguson and they decided that his wake on Friday would be the best time to offer vaccinations.
The church has partnered with the state of Florida to offer both the Pfizer and Johnson & Johnson vaccines at Faith Temple's administrative offices, while testing for COVID will also be available on site.
The vaccine event and COVID testing will start prior to the wake's 5:00 p.m. start at the church from 4:00 p.m. on Friday and will run until 7:30 p.m. that day. It will then reopen on Saturday at noon and will run until 5:00 p.m.
"Don't wait too late," Davis told the local station as she urged local residents to get their COVID vaccine. "Get it now, get it while you can."
The U.S. has seen COVID hospitalizations more than triple over the last month as the virus' highly contagious Delta variant continues to spread across the country.
However, the graphic below, provided by Statista, shows that only around 6,000 people have contracted COVID after being vaccinated, with breakthrough cases of the virus remaining rare.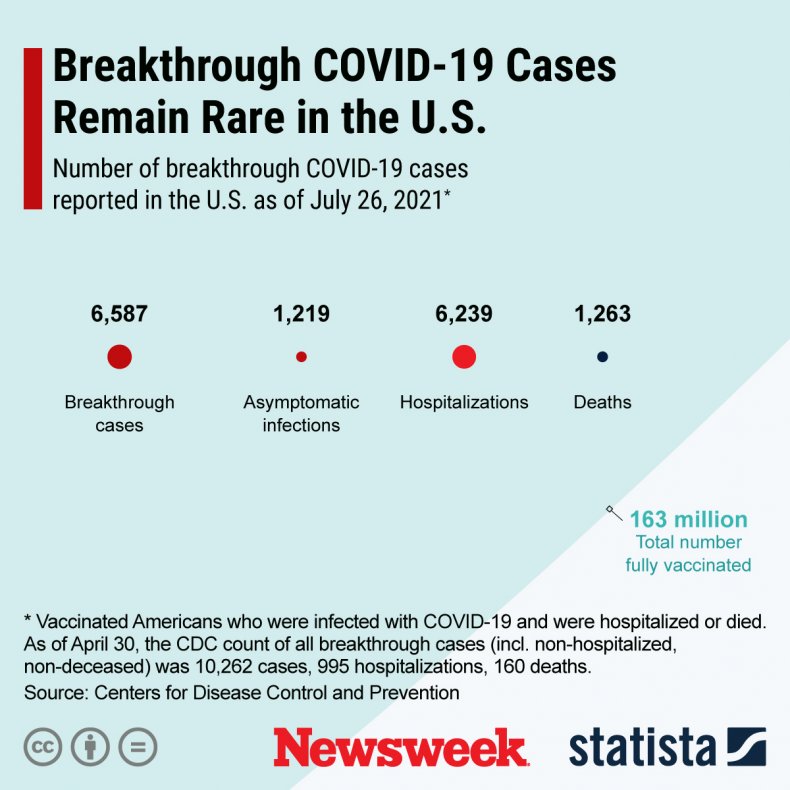 Florida, which does not have a face mask mandate despite the rising COVID cases, has been the worst affected by the variant in recent weeks, as the state has repeatedly broken its previous record-high COVID-19 hospitalizations this week.
Over the past two weeks, an average of 68 people have died of COVID-19 per day in Florida, while since the start of the pandemic Florida has recorded the third-highest number of total infections of any state in the country, with more than 2.6 million in total.
Florida has also recorded the fourth highest number of deaths, with 39,319 reported as of Thursday as cases continue to rise in the state.
Newsweek has contacted the the Faith Temple Christian Center for comment.