COVID Vaccine Deals at Krispy Kreme, White Castle, Target and More
Getting a COVID-19 vaccine is the first step towards normality, and after waiting for more than a year since the pandemic first took hold, it is a step worth celebrating. Food brands, retail stores, and restaurants are celebrating with their customers, by offering freebies and discounts to those who have received their first dose.
According to the Centers for Disease Control and Prevention (CDC), nearly 150 million people in the U.S. (or just over 44 percent of the population), have received their first vaccine shot, and around 107 million (32 percent of the population) are fully vaccinated.
The CDC says: "A growing body of evidence suggests that fully vaccinated people are less likely to be infected without showing symptoms (known as asymptomatic infection) and potentially less likely to spread the virus that causes COVID-19 to others."
Aside from these obvious benefits, getting vaccinated has some other fun bonuses, too. Fast food brands such as Krispy Kreme and White Castle are offering free doughnuts and desserts, while restaurants and bars across the U.S. are offering diners free drinks for receiving their vaccine.
If you have had at least one COVID-19 vaccine shot, find out below which deals and freebies you can make the most of.
COVID-19 Vaccine Deals
Krispy Kreme
Budweiser
White Castle
Target
Staples
Office Max
Krispy Kreme
Krispy Kreme is giving away free doughnuts to anyone who has had at least one shot of the Moderna, Pfizer, or Johnson & Johnson vaccine.
Vaccinated Krispy Kreme customers simply need to present their COVID-19 Vaccination Record Card to claim their free doughnut (a COVID-19 vaccine sticker does not qualify for the promotion).
The offer is limited to one original glazed doughnut per customer, per day, at participating U.S. locations, including at a shop or via the drive-through. However, the offer is not available to claim through online ordering nor via delivery.
Budweiser Beer
Budweiser is giving away free beer to those who have been vaccinated as part of its 'Reunite with Buds' giveaway. The first 10,000 people to respond to the giveaway by uploading proof of their vaccination, such as a selfie or a vaccination sticker, to ABeerOnBud.com, will receive a $5 virtual debit card to spend on beer.
Budweiser is not the only beer brand to tempt its customers to get vaccinated, as Samuel Adams Beer did something similar. Sam Adams gave away 10,000 free beers to customers who had been vaccinated as part of its 'Shot for Sam' promotion.
White Castle
Until May 31, White Castle is giving vaccinated customers free desserts-on-sticks. Those with proof of having received a COVID-19 vaccine can claim a Gooey Buttercake-on-a-Stick, Fudge Dipped Brownie-on-a-Stick, Fudge Dipped Cheesecake-on-a-Stick, or a Birthday Cake-on-a-Stick for free.
Jamie Richardson, a vice president at White Castle, said in a press release: "This 'vax for snacks' effort is just another way to support our communities as we make our way through this pandemic. Our desire is for all of our friends, neighbors, and Cravers near and far to enjoy good health. For those getting vaccinated, we are here to celebrate with you!"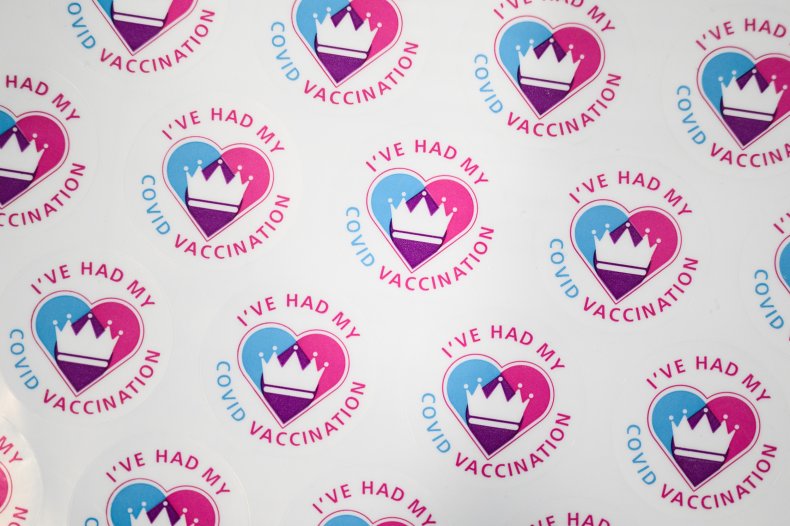 So Good So You
So Good So You is offering those who have received their COVID-19 vaccination a free juice shot as part of its "Get Your Shot, Get Our Shot Free" promotion. Customers can claim their free So Good So You juice by visiting www.freejuiceshot.com and registering for a coupon. So Good So You has currently paused new sign-ups, but check back soon.
Cincinnati Reds Baseball Ticket Discount
Fans of the Cincinnati Reds can buy view level tickets for just $10 when they show their COVID-19 vaccination card, after having received one shot. The offer applies to baseball games from Monday to Thursday throughout June, subject to availability, and can be redeemed at ticket windows at Great American Ball Park.
Drop Cash Rewards
Shopping rewards app Drop is offering up to $50 in cash rewards from companies including Uber Eats and Amazon for sharing a vaccination selfie using the hashtag #DropCOVID, tagging @joinDrop, and geotagging a location.
Junior's Cheesecake
Vaccinated New Yorkers can get a free mini cheesecake from Junior's Cheesecake's Downtown Brooklyn location at Flatbush Avenue EXT and DeKal. The Brooklyn-based bakery is offering a cupcake-sized cheesecake to those who have received at least one shot of the COVID-19 until Memorial Day weekend.
Target Coupon
Target is giving away $5 coupons to customers who receive their vaccine at CVS at Target locations. Simply visit CVS.com to check availability and schedule the COVID-19 vaccine appointment, and after they receive the vaccine, customers will get a $5 Target coupon to spend on in-store purchases of $5 or more.
Free Drinks
Certain breweries in New Jersey are offering their customers who have been vaccinated a free beer through the end of May, while more than 200 restaurants in Connecticut are offering vaccinated diners a free drink with the purchase of food later this month. More states may follow suit, so keep up to date with your local restaurants and bars to find out if they'll be offering similar deals.
Staples, Office Depot, and Office Max
Staples, Office Depot, and Office Max are making it easy to keep your completed vaccine card in pristine condition by laminating the card for free. Simply head to Office Depot and Office Max from now through July 25, (there is no end date for the Staples offer), once you've had both shots to get your card laminated.