COVID Vaccine Distribution Could Be Delayed Because Trump Admin Isn't Sharing Data With Transition Team, Biden Says
President-elect Joe Biden said Wednesday that the distribution of COVID-19 vaccines could be delayed by "weeks or months" if President Donald Trump's administration does not soon provide his transition team with the data it needs.
Biden said during a virtual meeting with front-line health care workers that he was "optimistic" but that his team "should be further along."
"One of the problems that we're having now is the failure of the administration to recognize—the law says that the General Services Administration has a person who recognizes who the winner is, and then they have to have access to all the data and information that the government possesses to be prepared," Biden said.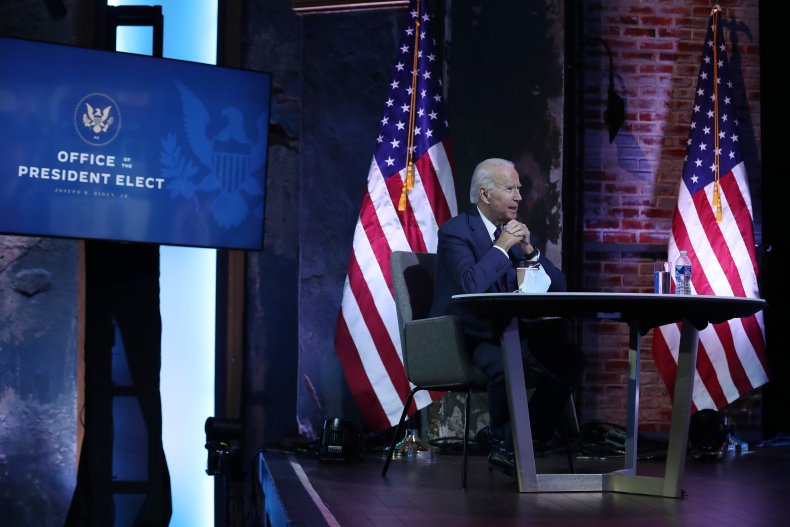 The agency only requires the incoming administration to be the "apparent" winner of the election, Biden added.
"There's a whole lot of things that we just don't have available to us. Which, unless it's made available soon, we're going to be behind by weeks or months," Biden said.
The president-elect referred to two potential COVID-19 vaccines that are reportedly more than 90 percent effective. He described those vaccines, which were produced by Pfizer and Moderna, as showing "enormous promise."
Pfizer announced on Wednesday that its COVID-19 vaccine was found to be 95 percent effective in its Phase 3 study, with more than 94 percent efficacy found in patients 65 and older. Moderna said earlier this week that its vaccine is also more than 94 percent effective.
While Biden and members of his coronavirus advisory board have said vaccine progress announcements like these are promising, members of his transition team have in the past week raised concerns about delays that might occur as a result of Trump's decision not to concede to Biden.
Official sources declared Biden the winner of the national race on November 7, but the head of the General Services Administration has yet to acknowledge Biden as the winner. That acknowledgment is needed in order to free up funding to assist with the transition between the Trump and Biden administrations.
"We've been unable to get access to the kinds of things we need to know about the depth of the stockpiles," Biden said. "We know there's not much at all. We get to the point where we have a sense of when these vaccines come out, how they'll be distributed, who'll be first in line, what the plan is.
"There are over 300 million Americans and beyond our border that are going to have to be taken care of," he added.
White House deputy press secretary Judd Deere disputed Biden's comments in a statement shared with Newsweek.
"These statements are irresponsible and not based on fact," Deere said. "At the direction of the president, we have been working nonstop for months with states, territories, tribes, local public health programs and their partners on distribution plans. The CDC's distribution playbook is publicly available, and state plans were produced by governors weeks ago and published online."
Deere said that Operation Warp Speed's chief operating officer, General Gustave Perna, is ready to distribute doses once a vaccine receives emergency use authorization (EUA) by the Food and Drug Administration.
"General Perna and his deputy have also confirmed preparedness to ship vaccine doses to every ZIP code in America within 24 hours of the issuance of an EUA by the FDA," Deere told Newsweek.
This story has been updated with additional information, background and a response from White House deputy press secretary Judd Deere.