Vaccinating children against COVID-19 is a crucial step toward bringing the pandemic under control, experts say.
To this end, manufacturers such as Pfizer and Moderna are testing their shots—which are only authorized for emergency use in individuals as young as 16 and 18 respectively—on younger people to assess whether they are safe and effective in these age groups. But do we have any idea yet how safe the vaccines are for younger people?
On Wednesday, American pharmaceutical giant Pfizer and its German partner BioNTech announced in a press release that their COVID-19 vaccine demonstrated 100 percent efficacy and a "robust" antibody response in a trial of more than two thousand participants aged between 12 and 15 years of age.
In addition, the companies said that the vaccine was "well tolerated" with side effects "generally consistent" with those observed in participants aged 16 to 25 in earlier trials.
"This is important: safety is a serious concern when introducing a new vaccine," Stephen Griffin, an associate professor from the University of Leeds in the U.K. who is not involved in the trial, said in a statement. "Given that the vaccine is safe in other age groups, we should not expect problems in this age group. The study size was not large when looking for uncommon side effects; but it may have been sufficient."
It is important to note that Pfizer and BioNTech have yet to submit the data for scientific peer review in preparation for publication, although the companies say they plan to do so.
"As with most such press releases, details are scant, making it hard to comment confidently on the validity of the claims made. It would be very helpful to see the full details in one or more peer-reviewed papers," Griffin said.
"The press release does not tell us whether the participants were likely to have been exposed to any of the variants that have caused concern. It would be reassuring to know that the vaccine was equally effective against all variants."
But Griffin said when the full, peer-reviewed papers appear—or when regulators receive the data directly from the companies—it will "open up the way" to extending vaccination to the 12-15 age group, and likely younger people as well.
"It will be important to do this to achieve herd immunity," he said.
While the press release did not go into details about the side effects experienced by the 12-15 age group participants, previous trials have shown that adverse reactions in people over 16 years old include pain at the injection site (84.1 percent), fatigue (62.9 percent), headache (55.1 percent), muscle pain (38.3 percent), chills (31.9 percent), joint pain (23.6 percent), fever (14.2 percent,) injection site swelling (10.5 percent), injection site redness (9.5 percent), nausea (1.1 percent), malaise (0.5 percent), and lymphadenopathy (0.3 percent).
Most side effects tend to be minor and short-lived, usually subsiding in a few days. Nevertheless, a small number of severe allergic reactions have been reported following administration of the Pfizer-BioNTech vaccine outside of clinical trials.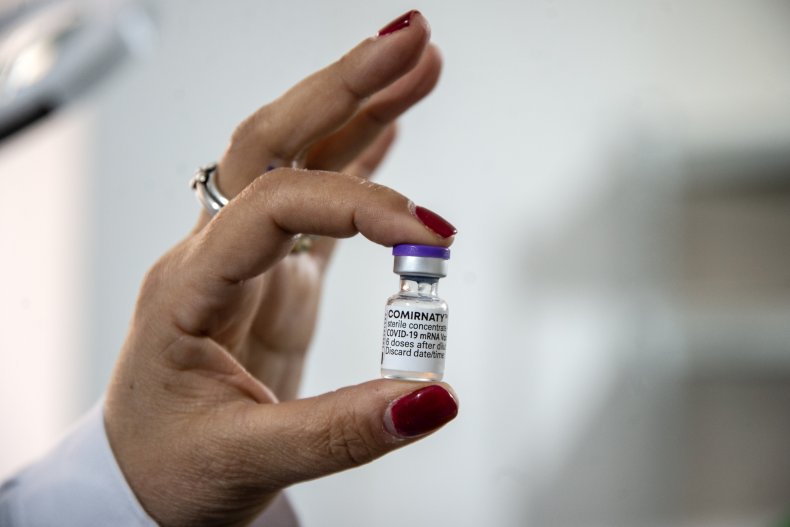 Uncommon Knowledge
Newsweek is committed to challenging conventional wisdom and finding connections in the search for common ground.
Newsweek is committed to challenging conventional wisdom and finding connections in the search for common ground.
About the writer
Aristos is a Newsweek science reporter with the London, U.K., bureau. He reports on science and health topics, including; animal, mental health, and psychology-related stories. Aristos joined Newsweek in 2018 from IBTimes UK and had previously worked at The World Weekly. He is a graduate of the University of Nottingham and City University, London. Languages: English. You can get in touch with Aristos by emailing a.georgiou@newsweek.com.