Covington Catholic Students in Blackface During Pep Rally Video Were 'Just Showing School Spirit,' Students Says on Fox News
Two students from Covington High School addressed the photos and videos circulating on social media of students wearing blackface during basketball pep rallies, claiming the kids in the video "meant nothing by it" because they were "just showing school spirit."
During an episode of Fox & Friends on Wednesday, host Steve Doocy asked Covington students Sam Schroder and Grant Hillmann about the photo that was taken five years ago circulating on social media. In the photo, there are students in blackface who appear to be yelling at a black basketball player during a game.
Doocy asked the students to explain the photos and videos circulating through social media. Schroder explained that the students participate in different themes during pep rallies like "nerd, business, white-out, blue-out, and black-out" days to show their school spirit.
"I know ever since we've gone to Cov Catholic we haven't been able to wear black paint because of the video, but I know the kids meant nothing by it," said Schroder. "It's just showing school spirit."
Doocy then asked Hillmann if he's worried that the school's reputation would prohibit him from continuing onto college following the controversy over the video of a teen from the Catholic school wearing a "Make America Great Again" hat confronting a Native American beating a drum at an Indigenous Peoples Rally. The teen said he is not worried anymore since there is more information out about the video, but he said it was worrisome when the initial video came out without any context.
"Ever since the truth has been circulating I think [all] have been accounted for," said Hillmann. "So right now I'm not as worried as I was."
The viral video has sparked controversy after a Twitter account posted a partial clip of the incident. In the clip, student Nicholas Sandmann wearing a MAGA hat smiling smugly while a Native American elder played on the drum. Many suggested that Sandmann and the teens surrounding the elder were mocking him.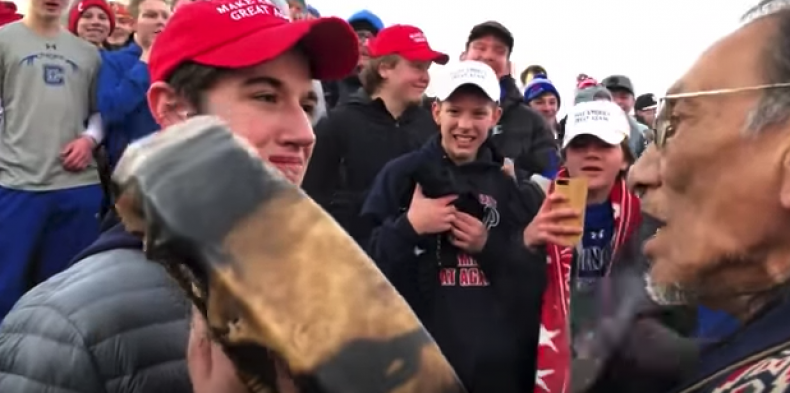 Following the clip, other videos emerged showing different sides of the story. Sandmann said in a statement on Sunday that the video was spreading "misinformation" about the incident at the march. He also claimed that African-American protestors, who identified as Black Hebrew Israelites, were saying "hateful things" to him and his classmates. The Catholic school canceled classes on Tuesday because the school had been receiving threats.
"I cannot speak for everyone, only for myself," Sandmann wrote in his statement. "But I can tell you my experience with Covington Catholic is that students are respectful of all races and cultures."
The Twitter account that only showed a portion of the scene at the rally was suspended by Twitter. President Donald Trump has shown support for the teens and the other students at the Kentucky Catholic school.
"Nick Sandmann and the students of Covington have become symbols of Fake News and how evil it can be. They have captivated the attention of the world, and I know they will use it for the good - maybe even to bring people together. It started off unpleasant, but can end in a dream!" Trump tweeted on Tuesday.