Very few anime have the enduring legacy of Cowboy Bebop. Some 20 years since it was first released, it is still being discovered and loved.
Shinichiro Watanabe's ground-breaking work changed the game completely, both in terms of the way anime was seen around the world and how it influenced the medium itself.
It's something voice actors Steve Blum, Beau Billingslea, Wendee Lee, and Melissa Fahn continue to be appreciative of, even two decades on from portraying the beloved Bebop crew: Spike Spiegel (Blum), Jet Black (Billingslea), Faye Valentine (Lee), and Edward Wong (Fahn).
The quartet spoke with Newsweek about the anime's ongoing success, their appreciation for fans, and what they hope to see in Netflix's live-action adaptation.
The anime's continued success
Blum, Billingslea, Lee and Fahn all speak fondly of Cowboy Bebop and their time recording the show's English dub.
"I am so proud," Fahn says of the anime and the impact it has had since it was first released in English in 2001.
"You never know when you go in the booth what the outcome is going to be. But with this show, we were given a little flavor of it, I know I was on my first session.
"I know you guys have heard this story before, but on my first session our director Mary [Elizabeth McGlynn] brought me into another studio with a huge, big screen and said 'I just want you to watch the opening credits of this show, and it'll give you a little flavor of what we're about to embark on.'
"And I watched it and my jaw dropped, and I thought,' oh wow this is something special,' this is so different and so ultra cool.
"And, then, to jump in and create the character and have so much fun with it... to see how the fans have embraced us over the years is more than you can even imagine."
She added: "It's so gratifying as an actor, especially a voice actor, to know that you're cutting through and you've been a part of something that has gotten even bigger, and I love each person right here on this screen, and that makes it even sweeter."
Lee agreed with her co-star, saying: "Just to be in something with such a huge legacy is a huge honor and to know it's going to have another life is just so exciting, so we're super thrilled that people still care about it."
Billingslea added that they never thought they'd still be talking about the show two decades later, calling it a "real blessing" to be part of work that has had such an impact around the world.
Blum went on: "Back in those days we weren't sure if anything would fly, and sometimes we took a really negative hit for [it] because we were 'messing with the artform,' it was the subbers versus dubbers back then.
"This was such a breakthrough show because it allowed us to go to conventions safely, I think. Prior to that I had my life threatened by otaku [obsessive fans] who couldn't accept a dubbed product, and this show was really ground-breaking in that respect, and it opened the whole world to us."
He continued: "Now it's multi-generational, families are passing this down and sharing it, and the influence that it's had on our community and on the genre, the whole medium of anime, made it acceptable to an audience outside when it used to be tucked away for those nerds and those of us who'd be playing Dungeons & Dragons in a closet somewhere. Now you can actually talk about it, it's really brought people together."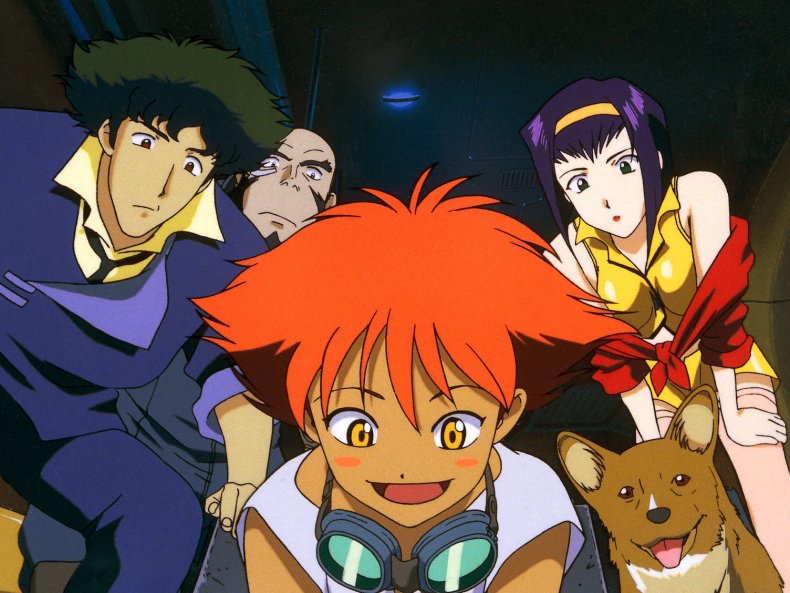 The Netflix live-action version
Of course, with the Netflix live-action adaptation being released on November 19, it was impossible not to talk to the quartet about it, and they admitted they'd love to make an appearance in the new version one day.
Blum admitted he hoped Netflix could one day "put us in it somewhere," and Lee added: "Like he said, we want in!"
Billingslea agreed with the pair, and Fahn went one step further by suggesting they could put "a bounty on [them]" in a future episode.
Lee went on: "I'm really excited to see how they're going to treat the world, what they are going to add to this incredible legacy, and I'm sure it'll be heightened and taken to the next level, which we are really excited about."
Billingslea said of the live-action: "It's generated interest in the anime, that's really cool. People are re-watching it now and people are introducing their nieces and nephews, sons and daughters to it, so I think it's something to extend the life of the anime, which is cool."
And Blum added that fans should "go back and watch the original. I think it's really important, no matter what happens with the live-action. The buzz it's had all these years, and it really holds up. Funimation has done a great job."
Creating Edward and Faye
Bebop would be nothing without its crew of Spike, Jet, Faye and Edward. Lee and Fahn spoke of how they came to create their iconic characters.
"I don't think it was a far stretch for me, to be completely honest," Fahn said of portraying Edward. "The casting of all of us was so on point and there is an essence of all of us [in their characters].
"As actors we're asked to do so many things, but when you get a part that there's an essence of you [in] that's dying to come out, and it's conveyed and everyone gets it, and they get what you're feeling, it's a beautiful thing.
"I love Ed so much, I love her effervescence, I love the childlikeness, that's definitely a part of me."
She went on: "Edward is just so near and dear to my heart, it was a joy to [voice] her and it was a joy to create these fun little things.
"Of course I watched the original, as you dub you watch and then they take away the Japanese and you put your voice in, but I had so much fun bringing all of what Melissa can bring to it.
"As to what Steve and Wendy and Beau brought to their characters too... it just was so electric."
Lee added: "I think because the score is like a cast member we were all approaching our roles with some musicality, cadence, pacing, tone.
"I think that that's critical to what made our show go to the next level, it was a great opportunity to fold our musicality."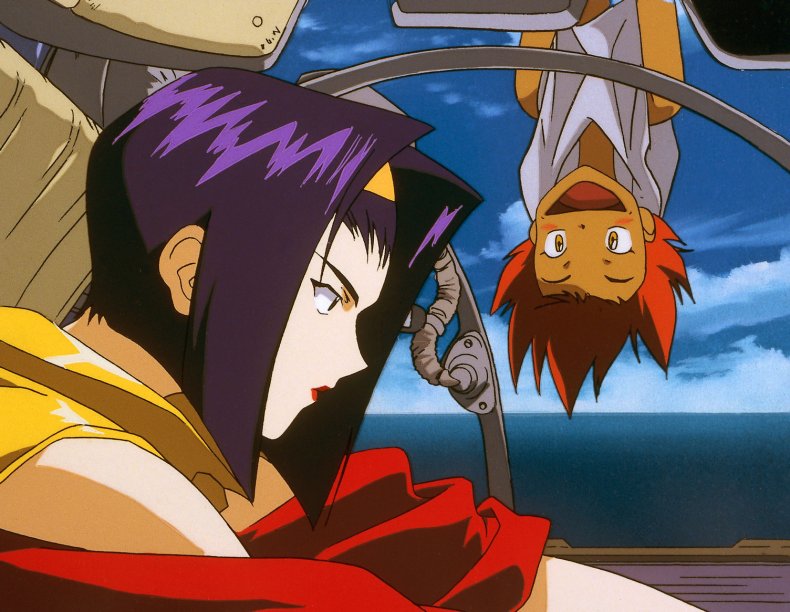 Going on to speak about Faye, who can be seen as being defined by her sex appeal, Lee said she felt "protective" of the character because she knew girls like her in real life, and found it freeing to portray someone like her.
"I knew those girls, I ran with those girls, and those girls were like groupies and superstars, not that I was. But, I knew those girls had power and respect for their sex appeal, and that femme fatale quality that Faye has.
"When those girls would walk into the room, or backstage, or in a recording studio, all heads would turn and Faye was that girl, so I knew those girls.
"I wish I was one of those bold, incredibly sexy girls who just went for it, and really had their sex appeal forward. There's no game, no mystery, not on the outside.
"The thing about Faye is there's so much nuance that's being guarded by that exterior, so she was right at skin-deep for me, I was ready for that character.
"When I saw her I felt almost possessive like I've never felt about a character before, thinking 'I've got this! Give me those go-go boots and let me step into them, let's go.'
"She always seemed like someone I'd known, she seemed like an amalgamation of a number of girls I'd run into... honestly I felt a great liberation with her because I had permission to go for it, which I did. I looked for every opportunity I could to express that, especially with the banter between her and Spike."
The Cowboy Bebop anime and movie are available to stream on Funimation.