Netflix's 'Cowboy Bebop' Cast: Every Actor in the New Live-Action Remake
Shinichirō Watanabe's Cowboy Bebop features some of the most iconic and beloved characters in anime: Spike Spiegel, Faye Valentine, Jet Black and Edward.
So, the makers of the Netflix live-action version certainly had their work cut out when it came to casting actors to play the bounty hunters.
Here's your guide to the actors starring in Netflix's Cowboy Bebop.
Spike Spiegel
Spike is the leader of the Bebop crew. A former hitman for the Red Dragon Syndicate, he left the organization and became a bounty hunter alongside Jet Black.
He is played by John Cho, who is no stranger to sci-fi reimaginings after taking on the role of Sulu—George Takei in the original series—in the Star Trek reboot franchise.
Cho is also known for his appearances in the Harold & Kumar films alongside Kal Penn and for independent movies such as Columbus and Searching.
Jet Black
Jet is the owner of the Bebop ship who works closely with Spike on missions. He is a former investigator in the Intra Solar System Police and became a bounty hunter after losing his arm when his partner betrayed him.
Mustafa Shakir plays Jet in the live-action remake. He previously starred in the second season of Netflix's Luke Cage as John "Bushmaster" McIver.
Faye Valentine
Faye joins the Bebop crew after crossing paths with Spike and Jet on bounty-hunting missions. She appears to be around 23 years old but is actually aged 77—and spent more than five decades in a cryogenic sleep.
Daniella Pineda plays Faye and is best known for her role as Sophie Deveraux in The Originals.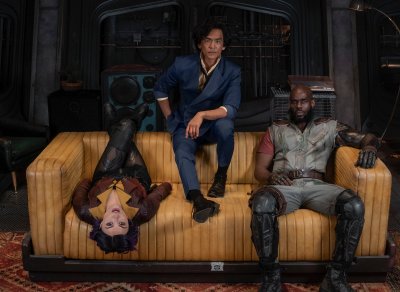 Vicious
As the name suggests, Vicious is the main antagonist of the series and Spike's sworn enemy. The pair were friends in the Red Dragon Syndicate but their relationship went awry after Spike had an affair with Vicious' girlfriend Julia.
Alex Hassell portrays Spike's arch-nemesis. The actor previously appeared in Amazon Prime Video's The Boys as superhero Translucent and is also in Joel Coen's new film The Tragedy of Macbeth.
Julia
Julia is also a member of the Red Dragon Syndicate and became romantically involved with Spike during their time in the organization.
Spike was so enamoured with Julia he even offered to desert the group so they could elope, despite this being an offence punishable by death.
The character is played by Elena Satine, who previously appeared in Revenge and the 2017 Twin Peaks series.
Cowboy Bebop will be released on Netflix on November 19.