If there were any doubts about Donald Trump's outsized influence over the Republican Party, they'll likely be wiped away after this weekend's Conservative Political Action Conference (CPAC) in Florida.
One of the most prominent annual gatherings for conservatives, CPAC 2021 — operating under the banner "America Uncanceled" — will give a glimpse of the state of the GOP as it faces a civil war over its future.
"The party apparatus from the state and local level to the national level has pretty much remained in control of Trump loyalists," Evan Siegfried, a Republican strategist and commentator, told Newsweek.
He added, "Everybody at CPAC is beholden to him and he owns that crowd."
GOP consultant Mark Weaver echoed that sentiment, telling Newsweek: "Among the Republican base there's still a lot of energy surrounding the Trump record and the Trump priorities, and the CPAC agenda that reflects that."
Speakers include Mike Pompeo, Trump's secretary of state; Ben Carson, his secretary of Housing and Urban Development; Sarah Huckabee Sanders, a former White House press secretary; and Larry Kudlow, Trump's director of the national economic council.
Other appearances include some of Trump's biggest congressional supporters, including Florida Congressman Matt Gaetz, Missouri Senator Josh Hawley and Texas Senator Ted Cruz.
The four-day event will feature a seven-part series on "protecting elections," as well as panels on everything from "fighting for freedom of speech" to "cancel culture" and "California socialism."
It will all culminate in a keynote address from Trump himself, in what will be his first public appearance on a national stage since leaving office on January 20. The former president, who has given some of his lengthiest speeches at past CPAC conventions, is slated to speak at 3:40 p.m. Eastern time on Sunday.
Weaver, who will be in attendance at the convention this weekend, said he expects an airing of grievances by the former president on everything from his impeachment trial to the 2020 election.
"Donald Trump at his rallies developed what can only be described as a presidential stand-up routine, where he would riff on whatever was bothering him to the crowd's delight," he said. "I expect that's what we'll see."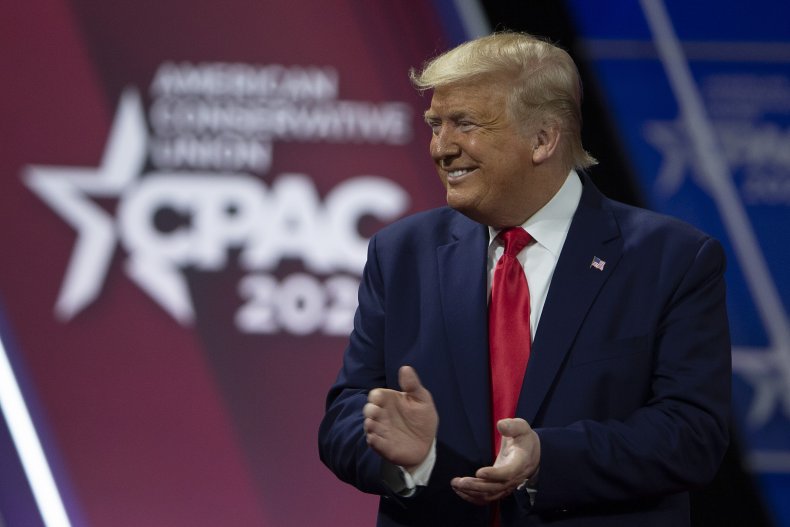 The growing divide between those who want the Republican Party to distance from Trump and those who see the former president as instrumental to the GOP's future has been on full display since the violent insurrection at the U.S. Capitol on January 6.
A small number of Republicans, including Senate Minority Leader Mitch McConnell, publicly broke away from Trump in the aftermath of the insurrection, his baseless claims about the 2020 election and his second impeachment trial.
But polls show that Republican voters overwhelmingly want Trump to remain an active GOP voice. Just days after the Senate acquitted Trump in his second impeachment trial, three out of four Republicans — 75 to 21 percent — told Quinnipiac they would like to see him play a prominent role in the party.
The rift over the GOP's future was highlighted in an awkward moment between two party leaders on Wednesday. House Minority Leader Kevin McCarthy and Conference Chair Liz Cheney disagreed on Trump while standing feet apart at a press conference.
McCarthy said that Trump should be present at CPAC 2021, while Cheney noted her opposition to the former president.
"That's up to CPAC," the Wyoming Republican said. "I've been clear about my views about President Trump and the extent to which, following Jan. 6, I don't think he should be playing a role in the future of the party."
Siegfried noted that while some members may want to move on from Trump, the grassroots base of the Republican Party wants to see more of him.
"While Mitch McConnell and others might be ready for the party to move on from Trump, they know that this is not something that you can do in an instant," he said. "It's like trying to turn a giant yacht on a dime. You can't. It has to be done very slowly and gradually."