A rescue mission to save a three-legged tiger from poachers is underway in a forest in Thailand.
Photos of the crippled animal, captured by wildlife protection organization Freeland, show the tiger feasting on a local farmer's buffalo in the Khao Laem National Park, where poachers have recently been operating.
Tigers throughout south and Southeast Asia are critically endangered. In Thailand, poaching remains a substantial threat to the species. Conflicts between humans and tigers have also increased in recent months. In January, a villager was attacked by three tigers inside the park. Ten days later, five men were found in the park with two dead tigers in their possession, preparing the fur for sale.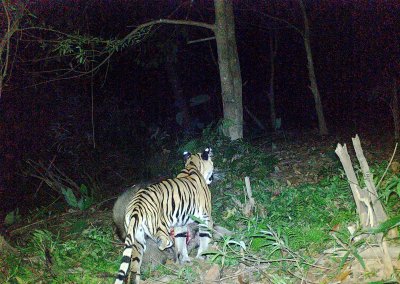 It is suspected that this tiger could have been the third involved in the attack. It may also have fallen victim to the poachers, which could explain its missing leg.
In the photos, the tiger's missing hind leg is visible as it paces around the dead water buffalo.
In a Facebook post, which can be found here, Freeland said that the female tiger—nicknamed I-Douan—is not only at risk from poachers but starvation, as her injury will cause difficulty catching prey. Freeland said this could explain why the domesticated buffalo was hunted.
"Normally tigers will feed on deer, wild boar and other animals, but as these species have declined to lower numbers it makes the incursions of domesticated animals into their forest homes too tempting for the tigers, especially a wounded hungry one, to pass up," the post said.
Working with Thailand's department for National Parks, Wildlife and Conservation (DNP), Freeland hopes to catch the tiger with a tranquilizer dart and move it to a government facility where it can be safe and given veterinary care.
Freeland said the process of finding her will not be easy, as the area is very remote and can only be reached by boat.
Freeland told The Associated Press that they plan to wait near the remains of the dead buffalo. They will then shoot her with a dart.
The DNP director for this area Niphon Chamnongsirisak said: "The only way to prevent further accidents to both people and tigers is by restricting all access to this area and moving this injured tiger."
There are less than 200 Indochinese tigers remaining in the wild. To thrive, tigers need large pristine areas with abundant wild prey. Freeland said that conflicts will inevitably occur if the sanctity of the tiger's habitat is not respected by humans.