Watch Happy Siberian Tiger Roll Around in Snow: 'You Big Doofus'
A video showing a rescued Siberian tiger happily rolling around in the snow has been released by a big cat sanctuary in Oregon.
The footage, taken at Wildcat Ridge Sanctuary (WRS) in Scotts Mills, shows the tiger, named Atticus, lying in the snow on his back with his legs in the air.
Head keeper at Wildcat Ridge Tiffany Lopez told Newsweek that Atticus is the largest of all the tigers at the sanctuary.
She said: "Atticus is one of our more playful and gentle giants. He absolutely loves playing in his pool throughout the year, whether it's raining, sunshine or snow! Siberian tigers playing in the snow is not too far off from their normal behavior.
"Our Tigers absolutely love to play in the snow and really any chance they get. We are grateful to provide them with a safe and relaxing home for the rest of their lives and away from the public eye here at Wildcat Ridge.
"He has a personality as big as he is! We believe that Siberian tiger is in his background, due to his size, light coloring and much thicker coat."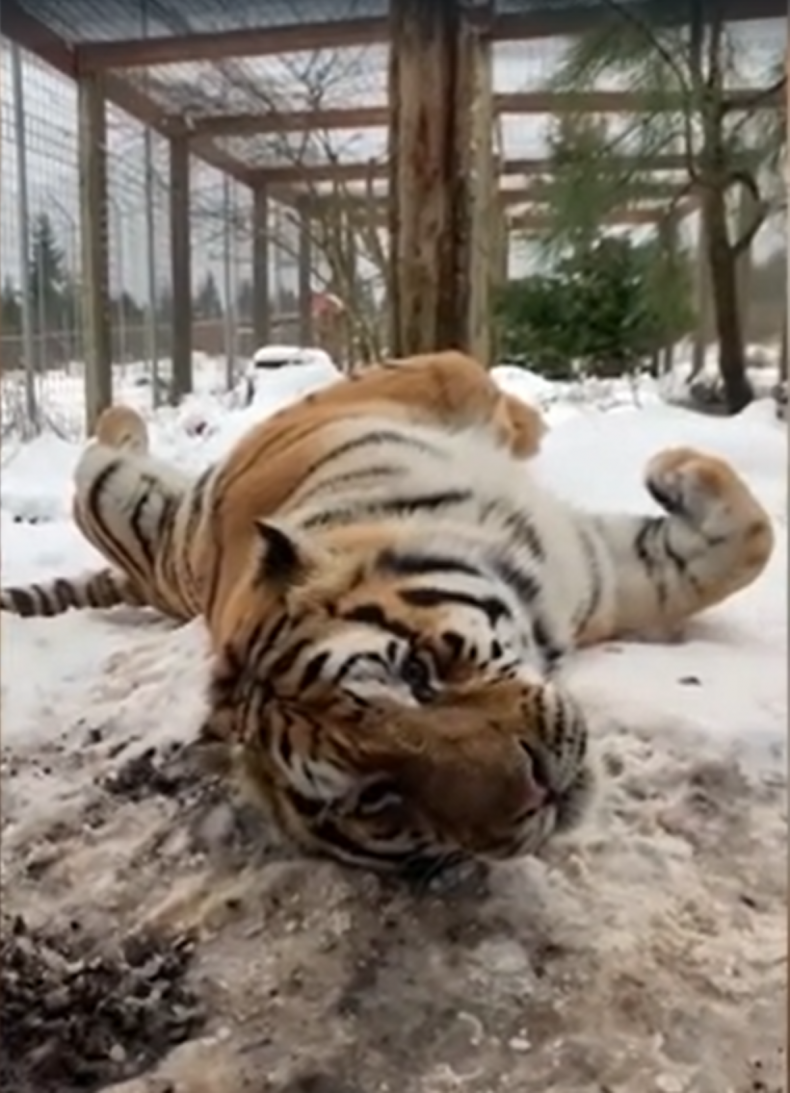 In the footage, Atticus appears to growl happily as he plays in the snow on his back. Senior keeper at the sanctuary, Lynx DeFrees, can be heard laughing from behind the camera and saying: "Atticus, what are you doing? Are you stuck?"
Atticus then pauses, as if in response to her comments before he continues with his game.
DeFrees then says: "Do you love the snow, you big doofus?"
Atticus was born in 2014 at a "notorious" breeding facility in Florida with his brother, Scout.
The brothers were pulled from their mother and sold to a roadside zoo called Serenity Springs Wildlife Center where they were used as "photo cubs" for the first 12 weeks of their lives, meaning visitors could pose and take photos with them.
Lopez said that at the roadside zoo, they lived in small, barren pens, with nothing but stone to walk on and a cement bunker as shelter.
The United States Department of Agriculture had written up the facility multiple times over neglect and improper care of its animals.
Then in October of 2016, Serenity Springs Wildlife Center sold the facility, including all the animals, to a wildlife refuge.
The refuge went to work finding homes for over 100 big cats with other sanctuaries across the United States. Atticus and his brother Scout arrived at WRS on January 1, 2017.
According to International Fund for Animal Welfare based in Massachusetts, there are 10,000 big cats in captivity across the U.S.
In 2020, the House of Representatives passed the Big Cat Public Safety Act, which aims to protect big cats in the U.S. by banning public interaction with them, such as using them as selfie photo opportunities.
Correction January 18 2.37 a.m. ET: This article has been corrected to say Lynx DeFrees was speaking in the video.