'Crisis Isn't Over': Progressives Push Biden to Revive Unemployment Benefits Amid Pandemic
Progressives lawmakers, including Representatives Jamaal Bowman and Alexandria Ocasio-Cortez, have urged President Joe Biden to revive the federal pandemic-related unemployment benefits that will expire Monday for millions of jobless American workers amid the ongoing pandemic.
About 7.5 million unemployed workers will lose all their unemployment benefits and an additional 3 million will no longer receive a $300 weekly boost provided by their state when three federally funded jobless aid programs lapse Monday, according to estimates from the Century Foundation.
"We need to extend the expanded UI for millions of unemployed workers because this crisis isn't over. People are not only dealing with COVID surges; they're dealing with impacts of climate change, from extreme flooding in my district to heat waves and fires in the West," Bowman, a New York Democrat, said in a statement to Newsweek.
A spokesperson for Representative Ayanna Pressley told Newsweek that she has been "pressing to extend unemployment benefits and has been in active conversation with both the White House and Congressional leadership for months about an extension and the need for additional layers of protection for workers and families impacted by the pandemic."
The benefits have previously been renewed after lapsing, but the Biden administration said it will allow them to expire on Labor Day.
Treasury Secretary Janet Yellen and Labor Secretary Marty Walsh said that it's "appropriate" to let the expanded $300 weekly unemployment boost expire on September 6 as scheduled in a letter sent to lawmakers in August. And while the Biden administration has encouraged states to reallocate existing federal funds to continue aid to the jobless, none have moved to do so.
Representatives Ocasio-Cortez, Ilhan Omar and Cori Bush, three members of the "Squad," have already called for extending the benefits. Ocasio-Cortez told Insider the benefits expiration is a "major concern," Omar said a revival of the benefits was "necessary," and a spokesperson for Bush confirmed she supports an extension.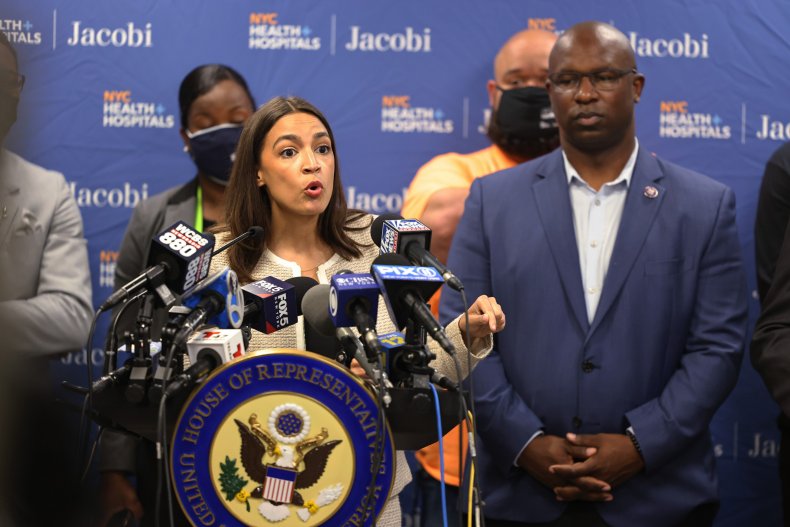 But other prominent progressive lawmakers—including Senators Bernie Sanders and Elizabeth Warren, and Representatives Maxine Waters and Pramila Jayapal—who are otherwise outspoken on wealth inequality have remained noticeably quiet on the expiration of the federal jobless aid. According to Insider, the 96-member Congressional Progressives Caucus are still in discussion on whether to press Biden for a revival of the benefits.
Any push to revive benefits will hit a roadblock in the Senate. With a slim majority, all 50 Senate Democrats must vote to pass an extension and moderate Senator Joe Manchin of West Virginia has said he won't support it. House leaders have also shifted focus to advancing a $3.5 trillion reconciliation bill to push Biden's infrastructure plan through Congress.
In renewing the benefits in March, the Biden administration and policymakers had expected that the economy would largely recover from the pandemic by September with an aggressive vaccine rollout. But the unforeseen surge of the highly contagious Delta variant, which now accounts for nearly 95 percent of U.S. coronavirus cases, has impeded the plan.
According to data released by the Bureau of Labor Statistics on Friday, 235,000 jobs were created in August, a drastic decline from the 1.1 million jobs created in July and well below economists' projections of 733,000 jobs.
"We're still in a pandemic, and the latest jobs numbers prove that. Doing our part to support Americans right now includes extending expanded [unemployment insurance benefits] and passing the $3.5 trillion infrastructure package to invest in our people and economy," said Bowman.
Newsweek has reached out to representatives for Maxine Waters, Alexandria Ocasio-Cortez, Ilhan Omar, Cori Bush, Pramila Jayapal, Bernie Sanders and Elizabeth Warren for comment. This story will be updated with any response.
This story has been updated with comment from Ayanna Pressley.