Crisis Looms as 26,000 NYC Workers Miss Vaccine Mandate Deadline: Firefighter Union Chief
New York City is gearing up for a possible crisis next week after more than 26,000 municipal workers missed Friday's mandated vaccine deadline and will be sent home without pay, threatening the service capacity of fire fighters, police and other first responders.
On Friday, the president of the Uniformed Firefighters Association, a nonprofit that represents NYC firefighters, warned that emergency response times could be "through the roof" starting on Monday.
"We can't even keep fire houses open today. New York City is going to come to a crisis on Monday morning," Andrew Ansboro told CBS New York on Friday.
New data released by the city found that while vaccination rates among the city's police officers, firefighters, garbage collectors and other municipal workers rose by at least 7 percent on Friday, only 83 percent of them were vaccinated by 8 p.m. City workers had until 5 p.m. Friday to get at least one jab and claim a $500 bonus, or otherwise be sent home without pay starting Monday.
According to the data, the NYPD's vaccination rate rose to 84 percent on Friday, up from 79 percent the day prior. The fire department's rate from 69 percent to 77 percent, and the sanitation department went from 67 to 77 percent. But even so, thousands of city workers will likely be sent home on Monday, leaving city officials scrambling to form contingency plans to address staffing shortages.
As a result, the fire department said it may be forced to close up to 20 percent of its companies and have up to 20 percent fewer ambulances in service, while also changing schedules, canceling vacations and turning to outside providers, according to the Associated Press. NYPD police commissioner Dermot Shea said the police force may be forced to reassign personnel to different areas to address shortages.
Additionally, Mayor Bill de Blasio said the sanitation department will move from their usual 8-hour shifts to 12-hour shifts, and begin working Sundays to ensure trash doesn't pile up across the five boroughs.
Some neighborhoods across the city have already begun warning residents of possible delays to services. On Friday, Manhattan Community Board 12 sent out an email to residents warning of possible firehouse closures, according to WYNC/Gothamist.
"As early as this weekend, you may see firehouses closed due to workforce shortages," read an email obtained by news outlet. "This will result in longer response times for fires and medical emergencies. Residents in Inwood may need to wait for companies in the Bronx to show up. I know Engine 95 and ladder 36 is short-staffed this weekend with the possibility of closing. These closings could be fatal!"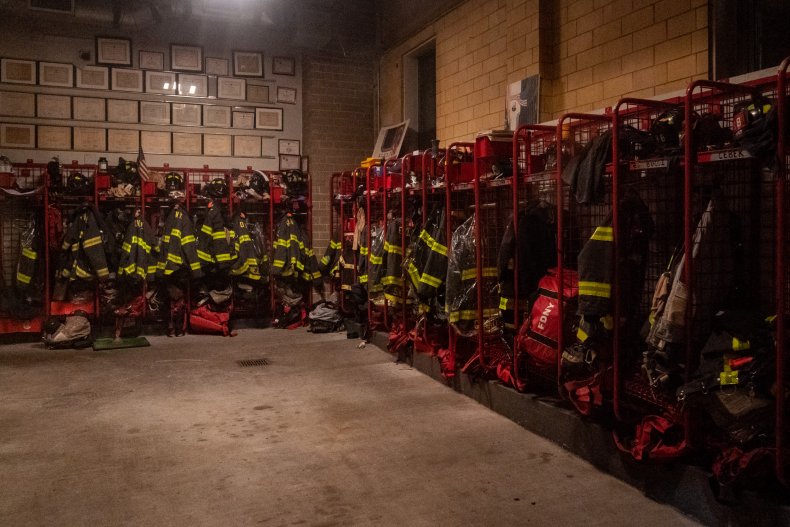 Newsweek contacted de Blasio's office for additional comment but did not hear back in time for publication.