La Liga, Spain's top-flight soccer league, has been suspended for two weeks and Real Madrid players have been told to self-isolate due to the coronavirus outbreak.
"LaLiga has decided given the circumstances that have come to light this morning, such as the quarantine put in place at Real Madrid and possible positive cases at other clubs, to continue with the next phase of the protocol of action against COVID-19," it said in a statement on Thursday morning.
"Said decision will be reevaluated after the completion of the quarantines undertaken in the affected clubs and in other possible situations that may arise."
As of Thursday morning, more than 2,200 cases have been reported in Spain, with 55 deaths and 183 people recovered, according to Johns Hopkins University which has been tracking the outbreak using combined data sources.
The decision came shortly after Real Madrid told its players to self-isolate, after a player of the club's basketball team had tested positive to COVID-19.
"The recommendation has been made to quarantine both the basketball first team and the football first team, given that the two squads share facilities in Ciudad Real Madrid," the club said in a statement.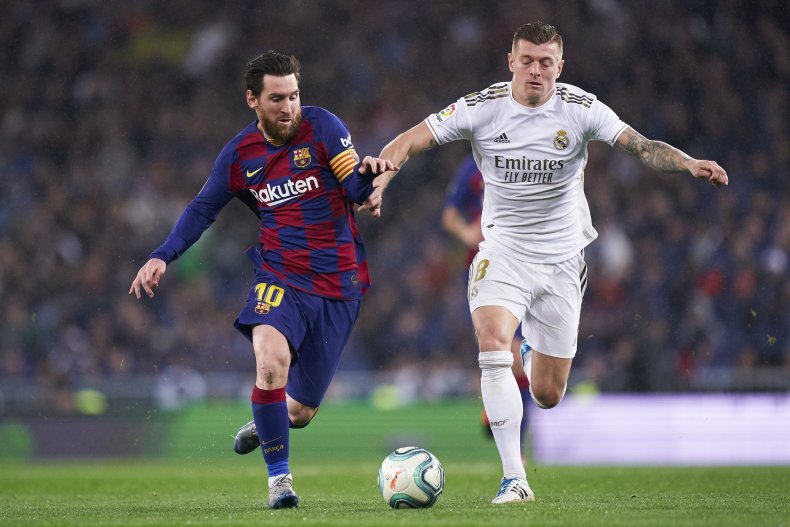 Real is second in the league two points behind Barcelona with 11 games to go and was due to host Eibar on Friday and then face Manchester City away in the second leg of the Champions League round of 16 next week.
La Liga is the second major European soccer league to be called off, after Italy's Serie A.
Juventus players, including Cristiano Ronaldo, are also self-quarantining after defender Daniele Rugani tested positive for COVID-19 on Wednesday.
Ronaldo traveled back to Portugal earlier this week to visit his mother, who recently suffered a stroked, and Portuguese newspaper A Bola suggested he will remain in self-isolation in his home in Madeira.
While La Liga and Serie A have been called off, games in France will go ahead behind closed doors, with similar measures in place for a number of fixtures in Gemany.
Manchester City's home game against Arsenal, which was scheduled for Wednesday, is so far the only Premier League being postponed because of coronavirus.
At the time of writing, Premier League fixtures are expected to go ahead as planned this weekend.
In the U.S., meanwhile, the NBA has been suspended until further notice after Utah Jazz center Rudy Gobert tested positive to COVID-19 and the NCAA announced it will hold March Madness behind closed doors.
"The NBA is suspending game play following the conclusion of Wednesday's schedule of games until further notice," a statement from the league read. "The NBA will use this hiatus to determine next steps for moving forward in regard to the coronavirus pandemic.''
NCAA president Mark Emmert said the decision to play games without fans had been taken in the best interest of public health.
"This decision is in the best interest of public health, including that of coaches, administrators, fans and, most importantly, our student-athletes," he said in a statement. "Today, we will move forward and conduct championships consistent with the current information and will continue to monitor and make adjustments as needed."
Earlier this week, Italy's Olympic committee suspended all sporting events in the country until April 3. As this map provided by Statista shows, with over 12,400 cases Italy has the second-highest number of COVID-19 cases in the world after mainland China.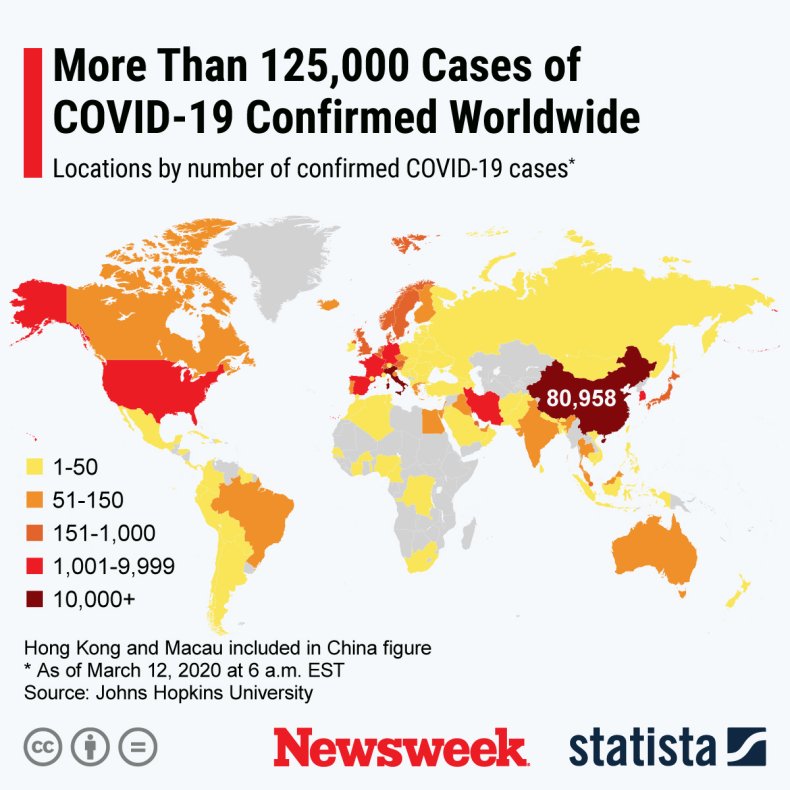 About the writer
Dan Cancian is currently a reporter for Newsweek based in London, England. Prior to joining Newsweek in January 2018, he was a news and business reporter at International Business Times UK. Dan has also written for The Guardian and The Observer.