As the debate over critical race theory rages on, a conservative group has said teachers in states where it is banned are getting around the rules behind closed doors.
Accuracy in Media (AIM) said it found through undercover interviews in Idaho and Tennessee that school administrators had admitted to racial-oriented and other curriculum components being taught under different names. Both are Republican states where laws have been passed to prevent CRT from being a part of the curriculum.
The teaching of critical race theory, which holds that racism is embedded in America's legal system and institutions, has become a political battleground between liberals and conservatives.
"What was abundantly clear from many administrators is that they are quite clever with coming up with ways to get CRT into the curriculum even when it's illegal," said AIM President Adam Guillette.
"It's diabolical the ways they come up with to rebrand the law," he told Newsweek.
Video recordings from Idaho and Tennessee show school officials describing how teachers are still able to address the same subjects with students despite a ban, Guillette said.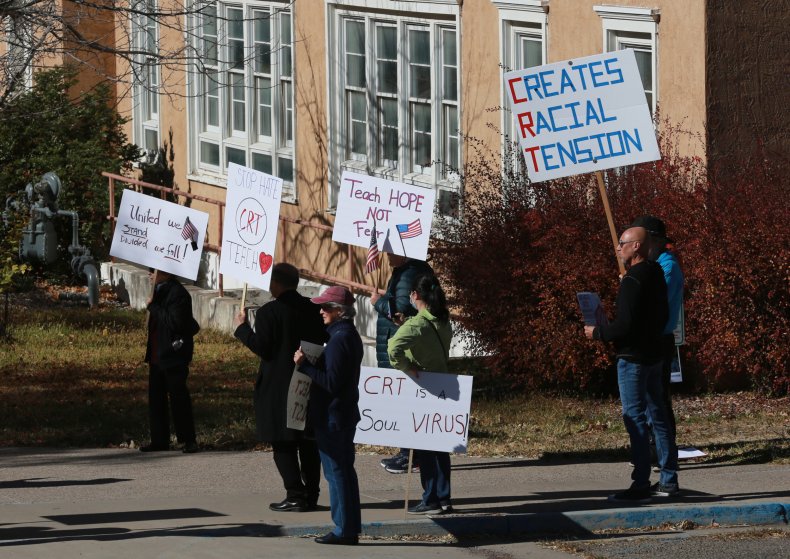 "It's the fox guarding the hen house because these administrators are all for these concepts being taught in classrooms," said Guillette.
"Parents should be alarmed and terrified because one overarching theme from administrators that we found around the country again and again is that at the end of the day, teachers can close the door and do whatever they want.
"If this is what happens in states where it's illegal, what's happening in other states?" he asked.
Conservatives say that teaching children about critical race theory is divisive while liberals say it is important for a better understanding of society and for countering racism.
The battle over critical race theory has brought accusations from some parents that its concepts are being brought into other parts of the curriculum, such as social-emotional learning classes.
In Caldwell, Idaho, Melissa Langan, the chief academic officer of the Caldwell School District told Guillette in the video that she recently attended a superintendents' meeting at which it was recommended to refer to social-emotional learning as "Behavior Adaptations."
"Changed the label, same stuff. And I thought, it's kind of a bummer they have to do that, but at the same time it was kind of brilliant," she said in the taped video. "Because they don't care about this, even though it's the same as this. But it's the label. So I thought it was brilliant on their part."
Newsweek reached out to Langan for comment.
In Idaho's Nampa School District, Cindy Dion, a district instructional coach also told Guillette that the phrase "social emotional learning" is now frowned upon.
"Social-emotional learning, we can't say that anymore ... so you know it's just our mental health curriculum—who's against mental health curriculum? Not me," said Dion, noting that staff there are trying to make that transition. "... So you know we're not doing social-emotional learning – it's all mental health. It's just the different words you have to use and of course we don't do CRT. We don't. So, yeah..."
"We're just learning how to worm around all of those weird things that are out there," added Dion.
Later in the video, she also acknowledged that while the 1619 Project—The New York Times initiative that aims to reframe U.S. history by incorporating the consequences of slavery and the contributions of Black Americans as central to the country's narrative— was off-limits, the district staff has access to other resources from companies such as Newsela.
Newsela is an ed-tech startup company brands its platform as "taking real and new content from trusted providers and turning it into learning materials." Its standards-aligned informational content is said to serve 37 million K-12 students and 2.5 million teachers. It is also a direct partner of the 1619 Project.
"...When you ban something called critical race theory, they rebrand it as social and emotional learning. When you ban social and emotional learning, they call it mental health. When you ban the 1619 Project, they sign up for a service called Newsela, which pushes the exact same ideas," said Guillette, in the video's narration. "It's clear that the only solution to this is school choice."
In a statement to Newsweek, the Nampa School District noted that AIM's video was unauthorized and described Dion as not authorized to speak officially on behalf of the district.
"The Nampa School District does not now, nor has it ever, ascribed to a position of teaching content that is objectionable to our community. Our top priority is providing a safe and enriching environment where children can learn and prepare for the next stage of life," the statement read.
It also noted that the clip shows the employee's responses in a way that misinterprets their meaning.
"The district has not changed the name of SEL; rather, adding the words "mental health" seeks to help clarify what is being taught. Similarly, important social studies topics such as civil rights history continue to be taught, although as the employee pointed out, some less experienced teachers might shy away from deeper discussions due to the current political climate," it also read.
Guillette said the tenets of critical race theory are often taught under the "equity" guise as he noted to Mark Jones, administrator of student programs for the Boise School District.
"Yes, and well, we have ... we started ... part of our strategic plan deals with equity," responded Jones in the video. "And we have ... One of our supervisors is "World Studies, Social Studies and Equity."
Guillette acknowledged the belief of many school officials that teaching CRT is what's best for students.
"Administrators aren't evil one-dimensional villains—they think they're doing what's right for the children. But what they think is right for your child might not be what a parent thinks is right for their child," Guillette told Newsweek.
His non-profit group also made an undercover video showing school officials in Tennessee describing how teachers are able to teach CRT components despite a ban by the state legislature. In all, seven states have banned the teaching of CRT in schools.
"It's not actively being taught, but it's not actively not being taught," said Kimberly Shurett, director of early grades academic support in the state's Marion County Schools.
"This law was really well-crafted and accomplishes nothing," added Todd Wigginton, director of social studies for the Metro Nashville Public Schools.
For his part, Guillette reiterated the group's investigation confirmed time and again that ultimately teachers that want to teach CRT in their classroom often find a way to do so.
"I think it's morally outrageous that administrators and educators are ignoring state laws to push racist Marxist ideas," said Guillette. "It speaks to the ineffectiveness of the CRT bans that might placate voters but don't accomplish anything."
Updated on 03/29/2022 at 06.22 a.m. ET with additional material.