Critics have taken aim at Speaker of the House Nancy Pelosi, accusing the top Democrat from California of "hypocrisy" after she attended a crowded White House ceremony without wearing a mask while the House of Representatives continues to fine members that choose not to wear masks.
Pelosi was filmed Thursday walking through the crowded East Room of the White House as she hugged and interacted with other lawmakers and officials in attendance as President Joe Biden signed the COVID-19 Hate Crimes Act—which aims to address hate crimes targeting Asian and Pacific Islander Americans. Meanwhile, Republicans have already strongly criticized Pelosi for refusing to lift the House's masking requirements despite the Centers for Disease Control and Prevention significantly rolling back federal mask guidance last week.
"Just watched a video of Nancy Pelosi not wearing a mask in a crowded room despite fining her GOP colleagues for following the science & no longer wearing the mask!" former President Donald Trump's former press secretary Kayleigh McEnany tweeted on Thursday.
"For those interested in Pelosi's mask hypocrisy, ENJOY," McEnany added, sharing a link to a video of Pelosi at the White House event.
"Despite fining House members who don't wear masks, Nancy Pelosi wears no mask while walking through a maskless crowd," the official Twitter account for Republican National Committee (RNC) Research tweeted.
Representative Thomas Massie, a Kentucky Republican, shared a clip of the video as well. "Meanwhile, @SpeakerPelosi fined me and @RepMTG and @RepBrianMast and other republicans $500 for not wearing a mask in the House chamber this week. Hypocrite!" Massie wrote.
The criticism came as the House, under Pelosi's leadership, continues to fine representatives for refusing to comply with masking requirements—even if they are vaccinated. Last week, the CDC updated its federal guidance, saying that vaccinated individuals no longer need to wear masks outside or indoors, except in specific settings or under certain circumstances. While Senate leaders of both parties have chosen to forgo mask wearing after the CDC change, Pelosi has insisted on continuing to fine members that don't wear the face coverings.
"We have to wait for them to be vaccinated, because they are selfishly a dangerment [sic] to other people, including staff people here," Pelosi said earlier on Thursday at her weekly press conference, before attending the signing ceremony at the White House.
"So while we are hopeful, and I join the president in being hopeful that we can reach a place where it is safe for people to be. What is this, the honor system? The honor system, as to whether somebody's been vaccinated? Do you want them breathing in your face on the strength of their honor?" the Democratic lawmaker said.
Guests attending the Thursday bill signing were informed that fully vaccinated guests would not be required to wear masks or socially distance. Full vaccinated means that they had to have received their final dose at least two weeks prior. Meanwhile, all non-vaccinated or partially vaccinated guests were asked to wear a mask and maintain social distancing.
"The Speaker was required to attest to her vaccination status and required to submit a negative test result in order to attend this event," Pelosi spokesperson Drew Hammill told Newsweek in a statement.
Representative Mariannette Miller-Meeks, an Iowa Republican and a physician, was fined $500 this week along with a number of other GOP lawmakers for choosing not to wear a mask. During a Thursday interview with Fox News, Miller-Meeks argued that Pelosi "wants to fine the science, not follow the science."
"This is an issue that's very important to me," Miller-Meeks told Fox News. The GOP lawmaker said that she herself, as a doctor, has been administering vaccines and noticed a drop in the number of people looking to get the shots. Miller-Meeks suggested that hesitancy has been driven partly by people's confusion over leaders still wearing masks despite being vaccinated.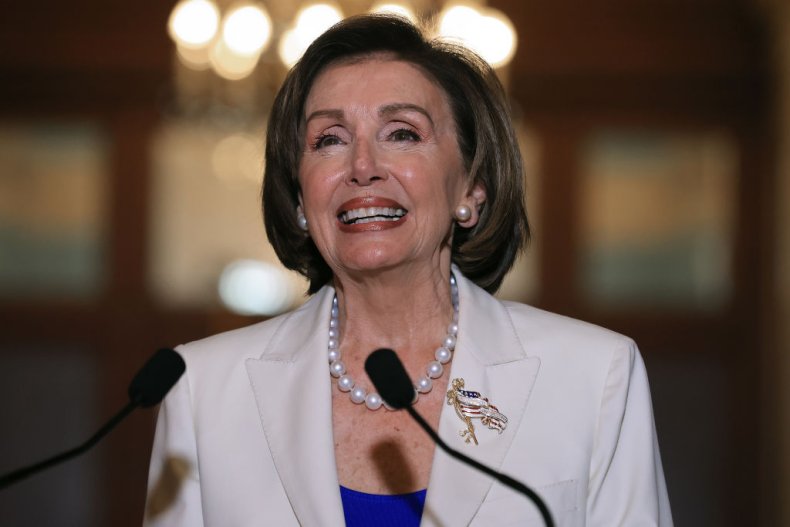 According to the updated CDC guidance, "Fully vaccinated people can resume activities without wearing a mask or physically distancing, except where required by federal, state, local, tribal, or territorial laws, rules, and regulations, including local business and workplace guidance."
This article was updated with additional background and a comment from Pelosi's spokesperson.