Critics Slam Trump for Receiving 'Participation Trophy' After NRSC Presents Inaugural Award
The National Republican Senatorial Committee (NRSC) awarded former President Donald Trump an inaugural Champion for Freedom award over the weekend—and critics were quick to call the accolade a "participation trophy."
GOP Senator Rick Scott of Florida, chairman of the NRSC, on Monday tweeted a photo of Trump smiling while holding the award, which was taken during a Republican event on Saturday.
"This weekend I was proud to recognize President Donald Trump with the inaugural @NRSC Champion for Freedom Award. President Trump fought for American workers, secured the border, and protected our constitutional rights," he wrote.
In a statement, the NRSC announced that Scott "presented President Donald J. Trump with the NRSC's inaugural Champion for Freedom Award."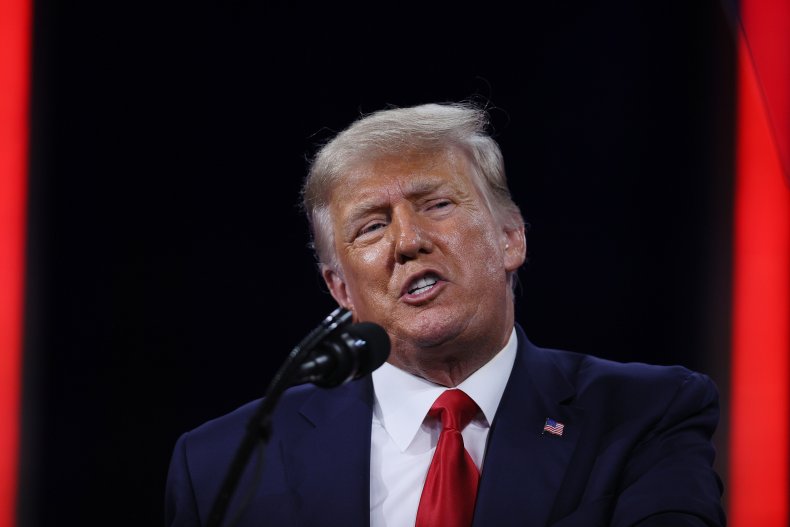 "This award is presented to conservative leaders who have worked tirelessly to create good jobs, protect the values that make our country great, and stop the Democrats' socialist agenda," the statement read. "As president, Donald Trump delivered for the American people by appointing three pro-Constitution judges to the Supreme Court, cutting taxes for the middle-class families and job creators, and securing the border."
The award comes amid an escalating intra-party battle for the heart of the GOP between the Trump wing and the establishment wing impatient to end his influence on the party.
Trump delivered the keynote address at a GOP donor retreat at Mar-a-Lago in Palm Beach on Saturday night, which was expected to raise millions for the Republican Party. Despite losing the 2020 election to President Joe Biden, Trump has remained a key figure in U.S. politics.
Democrats and critics of the controversial ex-president took to Twitter on Monday to slam Republicans for giving Trump the award, with some calling it a "participation trophy." On the other hand, some conservatives praised the body and expressed their belief that the accolade was deserved.
PoliticusUSA, an independent left-leaning news site, published a story by Jason Easley titled, "This is just sad: Republicans are giving fake awards to Trump."
Similarly, Florida Politics published a story titled, "Rick Scott invents award for Donald Trump."
Tim Miller, who was the political director for Republican Voters Against Trump, said, "The NRSC made up a new award, bought a down market brass bowl from World Market and presented it to Donald Trump this weekend as if he were the winner of a c-list pro-am golf tournament."
"What a disgusting joke," tweeted Jennifer Rubin, a conservative anti-Trump columnist for the Washington Post and contributor for MSNBC.
"Everyone really does get a trophy, huh?" @MamaLawyer3 wrote.
Writer Christopher Budd tweeted, "I thought Republicans were against participation trophies. When did that change?"
"Hey look, a participant trophy," said AV Club writer Dennis Perkins.
Newsweek reached out to Trump representatives for comment.