Cops Surprised by Crocodile During Drug Bust at California Home
Police in California found a 4-foot-long crocodile during a drug bust at a property outside Los Angeles.
Officers encountered the reptile while raiding the home of Donny Askar in Oxnard, halfway between Malibu and Santa Barbara.
The crocodile was "submerged in a poorly secured tank with rancid water" and police said it could have easily escaped into a nearby waterway, ABC 7 reported.
The property is close to the Channel Islands Harbor, a marina that runs alongside a naval base and extends more than a mile inland.
Police allegedly found heroin, methamphetamine and cocaine during the search, ABC7 said. Askar, 44, faces drug and animal cruelty charges.
The California Department of Fish and Wildlife was alerted and took the animal to a safe location.
Newsweek has contacted the Oxnard Police Department for further comment.
Not all species of crocodile attack humans, but they can be dangerous.
Last summer a 6-year-old boy was left in a critical condition after being dragged underwater by a crocodile near El Palmar beach in Ixtapa, Mexico.
The crocodile held the boy below the surface for roughly 10 minutes. The child suffered bites on the head, arms, chest and legs.
The local boy, from the municipality of Zihuatanejo, had wandered away from his parents on the beach with his sister.
According to a Mexico News Daily report, the pair explored a nearby estuary, next to the Pacifica Resort, which has a fenced-off area and a bridge above it. It is a known hotspot for crocodiles.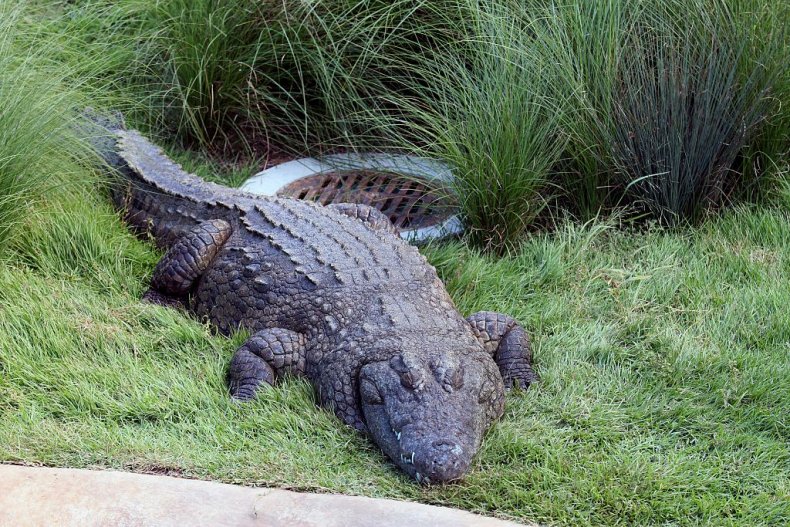 Crocodiles usually hunt fish, insects, small frogs, lizards and small mammals. Some animal rights activists believe that feeding crocodiles is dangerous for both crocodiles and people, as the creatures begin to associate humans with food.
Feeding alligators, a relative of crocodiles, is against the law in Florida. "Alligators may become accustomed to handouts and grow dependent on humans—a risky proposition for both feeders and animals," states the Animal Rights Foundation of Florida.
Last May, a woman who attempted to get a closer look at an alligator in Kiawah Island— around 25 miles southwest of Charleston, South Carolina—was killed by the reptile, according to the Charleston County Sheriff's Office.
Cynthia Covert, a 58-year-old resident of nearby Johns Island, was reportedly dragged into the water by the alligator. A friend who witnessed the attack said Covert was at the friend's home when she moved closer towards the pond.
″[The witness] kept yelling for her friend [Covert] to get away and saw her friend was about four feet from the edge of the water when the big alligator came up and attacked her friend," the sheriff's report said.