Crocodiles 'Everywhere' After Teenager Attack Amid Flooding: Official Warns
Crocodiles may be "everywhere" after a teenager was attacked this week amid evacuations due to severe flooding in Australia's Northern Territory (NT).
According to ABC NT, a 17-year-old male was bitten by a crocodile in the Northern Territory community of Kalkarindji. The attack happened while the teenager was in the floodwaters who told the news outlet that he was bit "on the back of the leg." According to the BBC, the teenager sustained a "minor laceration" and was treated at a nearby clinic.
While speaking with ABC NT, local government minister Chansey Paech warned about possible crocodiles in the floodwaters and said, "So just being water-safe and croc-wise is going to be really important in the coming months following this event."
In a statement sent to the BBC, a spokesperson for Paech's office, added, "When the river bursts its banks, they're everywhere," in regard to the fierce reptiles.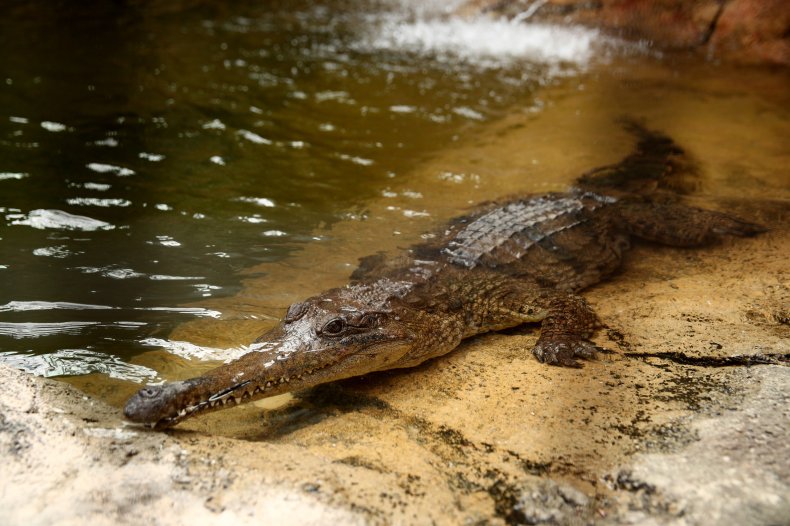 The crocodile attack comes amid large evacuations in the country's Northern Territory due to flooding. In 2017, data from the Australian government showed that there was approximately one crocodile attack in the nation each year, dating back to 1985.
In a statement on its website on Friday, Defence Australia said, "At the request of the Northern Territory Government, via the National Emergency Management Agency (NEMA), Defence is assisting the territory's emergency authorities to evacuate up to 600 people from flood-affected areas."
The statement continued: "The evacuees are from remote communities in the Kalkarindji, Pigeon Hole and Daguragu areas, which have been inundated by rising waters from the upper Victoria River as heavy rain continues across the state. Air Force's C-27J Spartan fixed-wing transport aircraft are carrying people from Kalkarindji (Kalkgurung) Aerodrome to Katherine and other locations as required. Defence remains ready to provide additional support to State Emergency Services should a request be received from the NEMA."
On Thursday, Paech shared an update on the evacuation efforts on Twitter, "Of the approximately 700 people in Kalkardindji, 35 have medical needs and were evacuated yesterday alongside their carers. Defence Australia has given us three big planes – two C130s and one C27 – and they're working to fly evacuees from Kalkarindji to Katherine."
"My team and I are still here if you need us – and we'll be working closely with government and non-government agencies to help get you home. As soon as I know more, so will you," Paech said in another series of tweets on Friday morning.
Meanwhile, Deputy Chief Minister Nicole Manison warned of extensive cleanups following the flooding.
"There's going to be a hell of a lot of clean-up to do and understanding that these poor people, many of them have lost all of their possessions, all the things that they have because it has been a significant flooding event," Manison said, according to ABC NT.
Newsweek reached out to Defence Australia for further comment.